Jerusalem artichokes are fondly known in our house as Fartichokes, for reasons that will be obvious. Once you have them growing in your garden, as we do, you have them forever. They are very hard to eradicate.
When the French explorer Samuel de Champlain discovered this vegetable in South America he sent samples back to France, saying that the flavour reminded him of globe artichokes. The Jerusalem part of the name is a corruption of the Spanish word girasol which means sunflower.
Jerusalem artichokes grow to a height of about two metres and produce a large yellow sunflower. In winter, after they've died down, you dig up the tubers which have formed under the plants, like potatoes. They look like very knobbly ginger which makes them a pain to peel, so we don't bother. Just trim and scrub with a nail brush or similar. Matthew has some Darwinian theory that if he saves and replants only the more uniform tubers, then next year's crop will be less knobbly. This theory has yet to be proven, but he's working on it.
This recipe is loosely-based on one by Gordon Ramsey.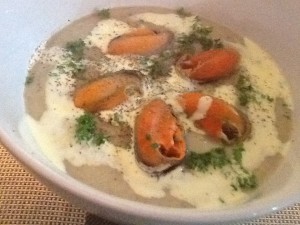 Soup:
25g butter
1 large onion, finely chopped
1 kg Jerusalem artichokes, trimmed and scrubbed
1 litre chicken or vegetable stock, preferably home-made
1 cup cream
Salt and freshly ground black pepper to taste
Mussels:
1 kg mussels in shell, scrubbed and beards removed
25g butter
1 medium onion, finely chopped
1 cup white wine
1 sprig fresh thyme
To serve:
Extra cream
2 Tbs finely chopped parsley
Soup: melt butter in a large heavy-based pan and cook the onion, gently, until soft and translucent. Add artichokes and stock and simmer for 20-30 minutes, or until tender. Cool a bit then blend in a blender with the cream, until smooth. Put back into a clean saucepan. Can be prepared ahead to this stage.
Mussels: heat butter in a large heavy-based pan and cook onion, gently, until soft and translucent. Add mussels, wine and thyme, cover and cook for 5-10 minutes until mussels have opened and are cooked. Tip into a colander and reserve the liquid. When cool enough to handle, remove mussels from shells.
To serve, add the reserved liquid from the mussels to the soup and check for seasoning. Reheat and ladle into soup bowls. Arrange mussels on top (reheat 30 secs in microwave if they have got cold) and garnish with extra cream, chopped parsley and coarsely ground black pepper.
Serves 4-6