This delicious, creamy Mediterranean-style soup can be on the table in less than 15 minutes. With crusty bread it's a meal in itself.  You want the fish to stay in chunks and not disintegrate, so be careful not to over-cook it.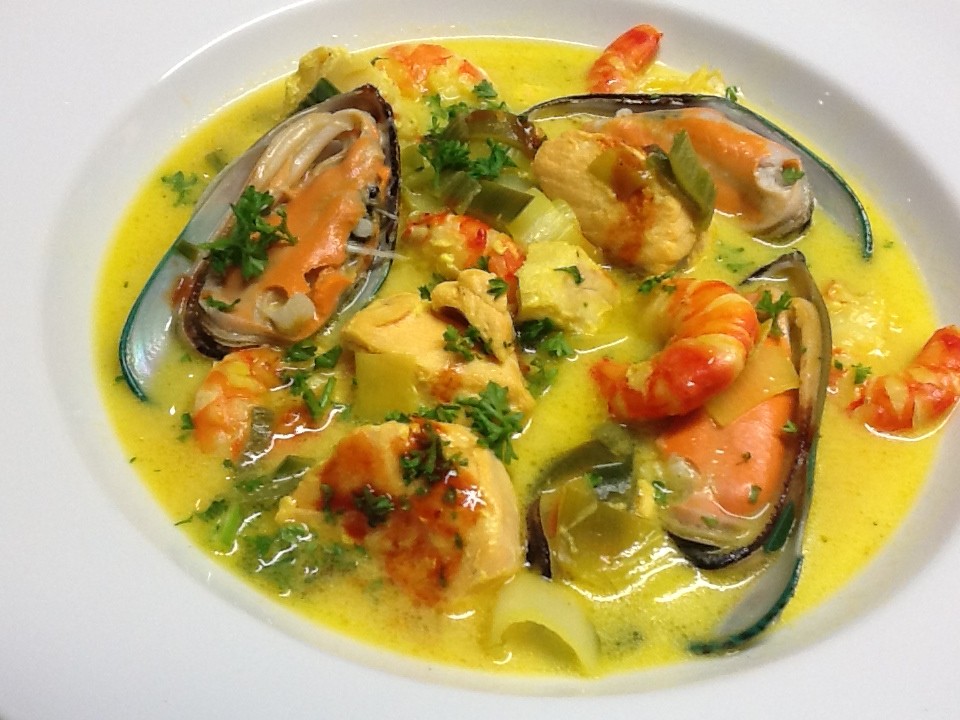 25g butter
1 leek, finely sliced or 1 lg onion, chopped
1 cup white wine
About 12 mussels, fresh or frozen, in shell, scrubbed
3 cups boiling water
1 vegetable stock cube
1/3 cup cream or sour cream
350-400g fish (I like half white fish and half salmon)
200g raw peeled prawns
pinch saffron or turmeric
1 tsp sugar
Salt and freshly ground black pepper, to taste
Tabasco sauce (optional)
2 Tbs finely chopped fresh parsley
In a large heavy-based saucepan, melt butter and cook leek or onion gently for 5 minutes until soft but not brown. Add wine, water, stock cube and mussels and bring to the boil, then turn down to simmer. As soon as mussels have opened remove them from the pan and when cool enough to handle open and discard the empty shells. Meanwhile cut fish into large chunks and add to the pan with the prawns, cream and saffron or turmeric. As soon as fish is tender – just a few minutes – return mussels to pan, add sugar and season to taste. Ladle into soup bowls and serve with a drizzle of Tabasco, chopped parsley and crusty bread to mop up the juices.
Serves 4
Note: I bought a kilo of frozen New Zealand mussels from the supermarket which was enough to make this soup twice.