Roast chickens were half price when I did my supermarket shopping this week. They are always handy to have in the fridge to whip up one or two quick meals.
I used one drumstick and one thigh to fill a couple of wraps for lunch. Onto the wraps I spread some home-made mayonnaise, then topped with the chicken, a few roasted pumpkin cubes with pesto (leftover from the previous night's dinner), some lettuce leaves, grated carrot and a little Tomato Kasaundi – a delicious curried chutney which isn't on Café Cat yet, but will be in due course. You could use another chutney. Invented on the spur of the moment, this wrap filling was a winning combination.
In an attempt to follow a fairly low carb diet we don't eat a lot of pasta – maybe once or twice a month. When we do, I like to make something tasty with lots of additions, so it's not all pasta. The only thing I had to nip to the corner shop for was the spinach, everything else was in the fridge or pantry. If you don't have a cooked chicken in the fridge you could pan-fry one chicken breast instead.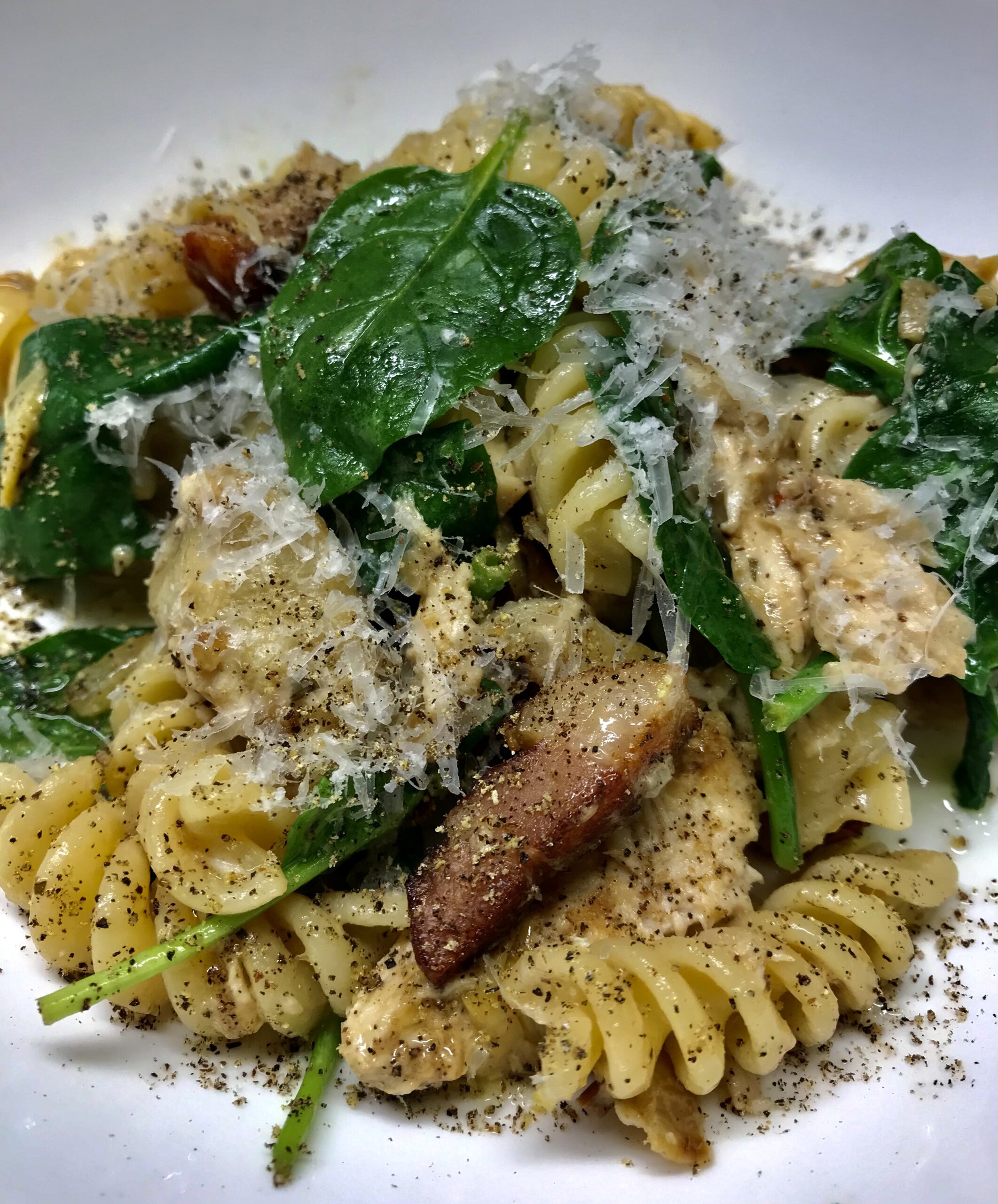 250g pasta of your choice
80-100g chunky bacon bits (lardons)
2 Tbs olive oil
1 onion, chopped
1 cooked chicken breast, shredded or chopped
Salt and freshly ground black pepper
3 cloves garlic, crushed
1 cup artichoke hearts (from a jar or can), sliced
2 cups baby spinach leaves, firmly packed
1/3 cup cream
To serve:
Freshly grated Parmesan cheese
Cook pasta in boiling salted water until al dente. Drain, keeping 1 cup of the cooking water, then put back into the pan with the reserved liquid.
Meanwhile cook the chunky bacon bits in a non-stick frying pan until browned and crispy. Remove from the pan. If you like discard the bacon fat but I usually keep it. Add the oil and onion to the pan and cook, stirring often, until soft and starting to brown. Add the onions to the pasta with the bacon, chicken, garlic, artichokes, spinach and cream. Turn on the heat just long enough to heat everything through, stirring. Season to taste.
Serve the pasta topped with grated Parmesan and freshly ground black pepper.
Serves 2-3