We grow Jerusalem artichokes so I'm always looking of new ways to serve them. If you look in the index you will find several recipes.  This is a slightly adapted recipe from Maggie Beer. I made half this recipe to serve two.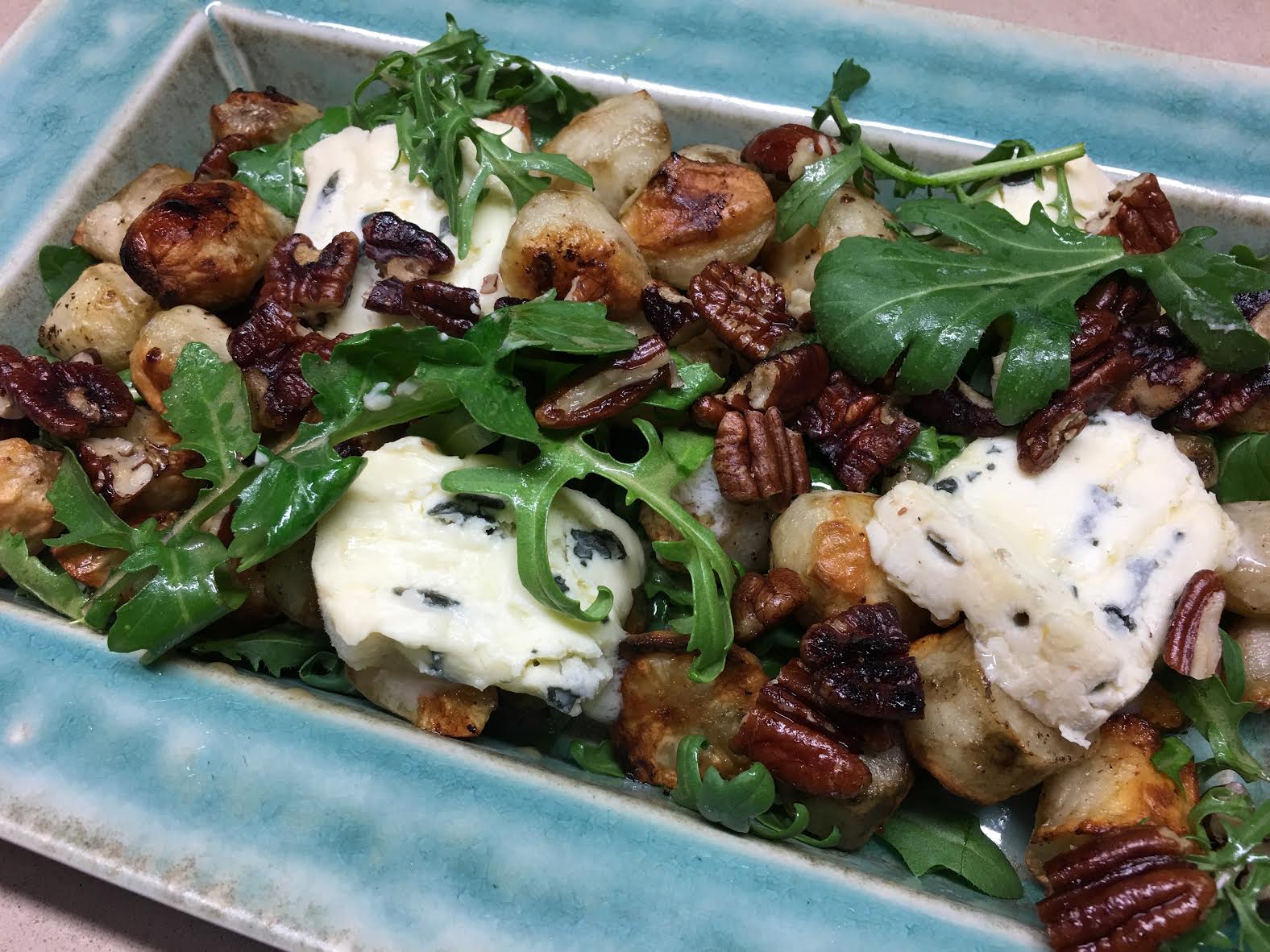 1kg Jerusalem artichokes
2 Tbs olive oil
2 Tbs butter, melted
½ cup walnut or pecan nut halves
2 tsp maple syrup and 2 tsp olive oil
1 bunch rocket
100g creamy blue cheese, cut into wedges
Salt and freshly ground black pepper
Dressing:
1 tsp Dijon mustard
2 Tbs verjuice (or substitute white wine or cider vinegar)
2 Tbs walnut (or substitute olive oil)
Wash, scrub and trim the artichokes. Slice thickly or if small cut them in half. Preheat oven to 200°C. Mix artichokes with the oil and butter in a bowl then spread on a baking sheet lined with baking paper. They should be in a single layer, so you may need two baking sheets. Roast for 45 minutes to an hour, or until tender and golden brown.
Place walnuts or pecans in a small frying pan with the maple syrup and olive oil and stir over moderate heat until slightly glazed. Cool, then coarsely break them up. Place dressing ingredients in a jar with a lid and shake well.
Arrange artichokes, rocket and cheese on serving platter. Scatter over the nuts, drizzle with a little dressing and season lightly with salt and pepper.
Serves 4 as a side dish or starter
Variation: use parsnips or carrots instead of the artichokes