My friend Jurate who lives in the Sydney suburb of Haberfield gave me 3 green mangoes. Actually the tree is in her neighbour's garden, but he's happy for her to take the fruit that hangs on her side of the fence.
We've been to Thailand so many times, I've lost count. When travelling back to Australia from Europe we find a few days of relaxation, massage, great food and swimming is the perfect way to break the journey and get over some of the jet lag.
I used the mangoes to make one of our favourite Thai dishes, Green Mango Salad and it was delicious.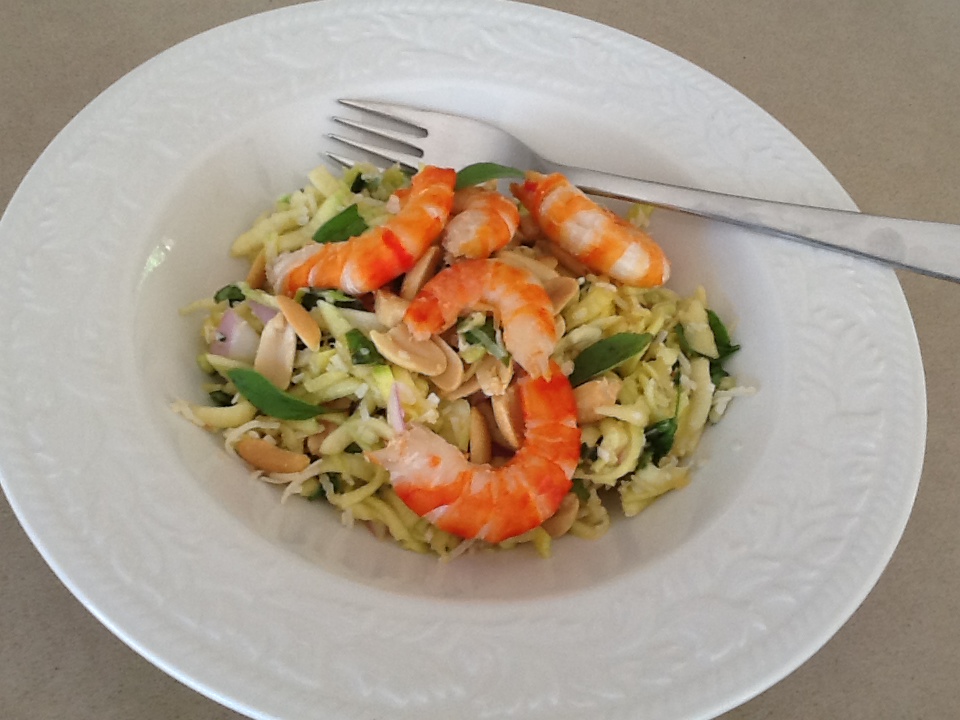 3 green mangoes, peeled and coarsely grated or cut into fine julienne
3 spring onions or 1 small red onion, finely sliced
½ cup fresh grated coconut or desiccated coconut
¼ cup Thai or ordinary basil, shredded
¼ cup coriander, coarsely chopped
Dressing:
Juice of 2 limes
2-3 Tbs palm sugar, crushed, or brown sugar
1 Tbs Thai sweet chilli sauce
1 small red chilli, seeded and finely chopped
2 Tbs fish sauce
To garnish:
Roasted peanuts, roughly chopped
About 20 cooked prawns, peeled
Mix salad ingredients in a bowl. Mix dressing and taste – it should have a nice balance of sweet, salty, sour and hot. Mix dressing with salad, then serve garnished with the peanuts and prawns.
Serves 4
Note: green mangoes are usually available in Asian shops. If liked you can bulk up this salad by adding 2-3 cups of beansprouts.