Alistair Sawday's French Bed and Breakfasts – or Chambres d'Hôtes as they're called in French – was our bible during the four years we were posted to Paris. Our copy is old and starting to come apart, but we still use it when we return to France for a holiday. A fabulous way to get to know the country without spending a fortune on accommodation.
Over the years we've stayed in many picturesque villages – farmhouses as well as a few small chateaux – and enjoyed the company of a wide variety of hosts, both French and ex-patriot. Having dinner with your hosts, usually by pre-arrangement, is a very intimate experience and doesn't suit everybody, but we love getting to get to know the locals.
Of all the places we stayed La Gaxottière sticks in my mind for two reasons. Firstly because we enjoyed our stay there so much and secondly because our hostess gave me a couple of great recipes.
Françoise Gaxotte is a gregarious lady of a certain age, as they say in French. She has never married and, since retiring as a pharmacist, has run a successful B & B in Compiègne in Picardy. We chose it for its proximity to Charles de Gaulle airport as we were flying out the following morning, but it turned out to be a little gem, worth going back to for no reason at all.
Tall, imposing and matronly, Madame wears her snow-white hair in a traditional bun. She greeted us warmly, showed us our room and explained that dinner would be at seven o'clock sharp.
We were the only guests that night and as we knocked on the door of the converted barn, which forms the main part of the house, we were greeted by an elderly gentleman. He had been playing chess with Madame in front of a roaring log fire and was just leaving. Madame offered us an aperitif from her extensive collection and shortly afterwards we sat down for dinner. We could have been close friends or relatives enjoying an intimate dinner party for three.
For the main course we had some delicious scallops. Madame Gaxotte explained the recipe and I made a mental note. As we ate breakfast in the kitchen next morning she was busy making Rabbit with Dijon Mustard for guests who were due to arrive that night. This time I had a pen and paper to hand! I haven't made it as often as the scallops, but when I do I am reminded how delicious rabbit can be, when you have a good recipe.
There aren't many places where you can enjoy a fabulous four course meal, including cheese, an aperitif and wine, for 20€ a head. After breakfast we paid the bill and headed off to the airport.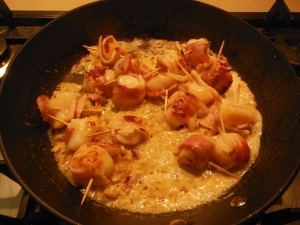 10-12 large scallops without roe
About 6 slices streaky bacon
2-3 French shallots finely chopped
1 Tbs butter
½ cup cream
Pepper
To garnish:
Snipped chives
If scallops are frozen, thaw them in a little milk and water which will plump them up – a tip I learnt from Madame. Drain and dry thoroughly with paper towels.
Remove rind from bacon and cut each slice into two or three horizontal slices about as wide as the scallops are thick and long enough to go round the outside with a bit extra. Wrap a piece of bacon around each scallop and secure with a toothpick, pushing it right through and out the other side. Leave on paper towels so they continue to drain. It's important for the scallops to be very dry and the pan very hot, so they brown nicely.
Heat butter in a frying pan large enough to hold the scallops in one layer and cook the shallots for a few minutes, gently, until soft and golden. Remove from pan. Add the scallops and cook for a couple of minutes each side, till lightly browned. Return shallots and continue to cook for about a minute, stirring and spooning the sauce over the scallops. Add cream and cook until slightly thickened, gently turning the scallops so they are well covered with the sauce. You may need to add a little extra cream.
Season with pepper (there's probably enough salt from the bacon) and serve on a bed of mashed potatoes – nice and smooth with lots of butter and a little milk added – or steamed rice. Place potatoes or rice in a sausage shape down the middle of each serving plate, then arrange the scallops on top, in a line. Remove toothpicks, spoon over sauce and garnish with the chives.
Serve as a main course with mashed potatoes or steamed rice and a green salad, or steamed green vegetable such as snow peas, green beans or asparagus. Or as a starter in smaller portions.  Served individually, on Chinese spoons, they make a great aperitif.
Serves 2 as a main course or 4 as a starter
Note: I use d'Orsogna Premium Rindless Streaky Bacon which comes in a packet from most Woolworths shops. If you can't find it have a look at their website for a list of stockists.