When Tetsuya Wakuda opened his restaurant Tetsuya's in Sydney in 1989 it was a culinary breath of fresh air and Australians were literally wowed. By combining French cooking techniques he had learnt while working at Kinsela's for Tony Bilson with the pure clean flavours of his heritage this smiley Japanese chef was an overnight success.
The Sydney Morning Herald Good Food Guide gave Tetsuya's their highest possible award every year from 1992 until 2009. Not bad for a guy who arrived in Sydney in 1982 with nothing more than a small suitcase and a love of food.
This delicious starter appeared in a newspaper article about Tetsuya some 20 years ago and I cut it out. I've been making it ever since and it always goes down well. Scallops are quite expensive but three per person is enough for a light starter.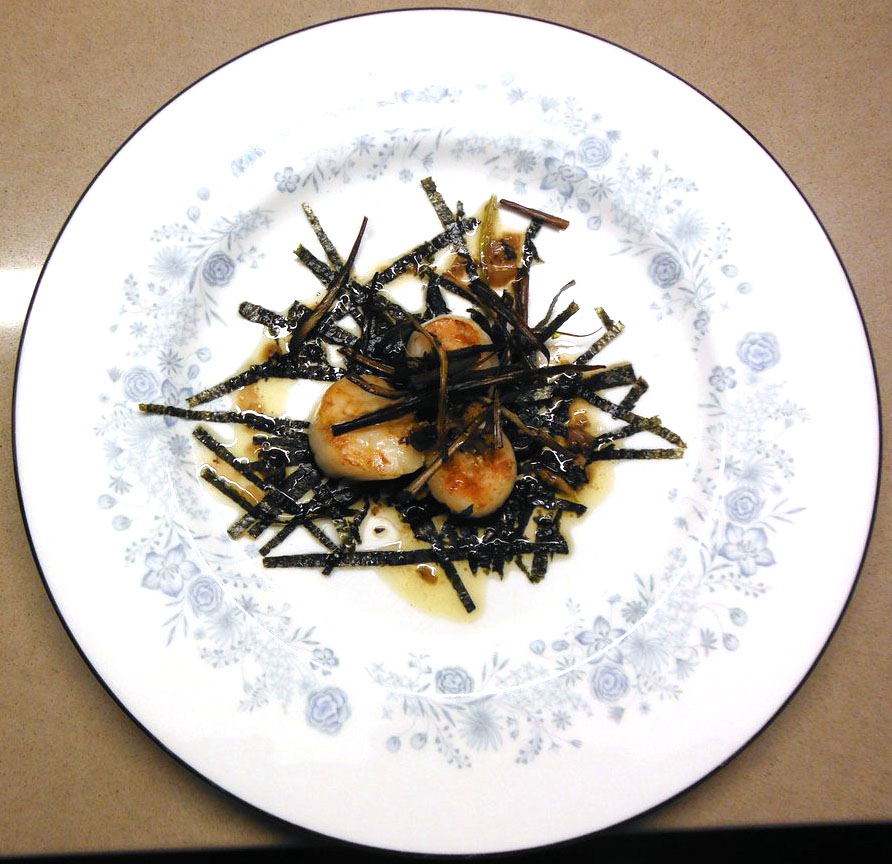 24 large scallops, without roe
1 leek, white part only, cut into fine julienne
oil to fry
3 Nori sheets, very finely sliced*
Dressing:
¾ cup vegetable or light olive oil
¼ cup salted black beans, finely chopped*
¼ cup finely chopped shallots
3 Tbs rice wine vinegar*
2 Tbs mirin*
1 clove garlic, crushed
2 Tbs fresh ginger, grated or finely chopped
1 tsp soy sauce
Thaw scallops if frozen and dry thoroughly with paper towels. Place dressing ingredients in a jar with a lid and shake well. Taste and add a bit more rice wine vinegar if necessary, to get the right balance. Deep fry leeks in hot oil until crispy then drain on paper towels. Recipe can be made ahead to this stage.
To serve, arrange the nori "straw" on 8 serving plates. Brush or lightly spray scallops on both sides with some oil, then sear on a hot pan or griddle for 1-2 minutes each side or until golden. Arrange three scallops on each plate, drizzle with some of the dressing, then garnish with the crispy leeks.
Serves 8
Notes: * ingredients marked with an asterisk are available from Asian food stores. Leftover dressing will keep for a week or two in the fridge and goes well with grilled fish or chicken. The black beans come in tins or packets. If you buy them in a tin, drain and rinse well. Large raw prawns can be used instead of scallops and if you don't have any nori, serve on a bed of finely shredded rocket.