Pork belly has become a regular addition to restaurant menus over the past couple of years. Its popularity is an indication that people aren't so scared about eating a bit of fat every now and then, which is good. Succulent, juicy meat with a golden crispy skin, often served with creamy mashed potatoes, pumpkin or sweet potato and some wilted greens, with maybe a tangy sauce or glaze. Delicious.
Getting the pork right takes time, so it's not something you can whip up in the half hour before dinner. Fortunately most of the work can be done in advance, which is how they achieve perfect results every time you order pork belly in a good restaurant. With this recipe you can do the same. Start the recipe in the morning or even the night before.
I use my coffee grinder to grind up the spices. Son James, a serious coffee drinker, says this is sacrilege. But I do give it a good wipe out afterwards and it makes the next brew of coffee interesting!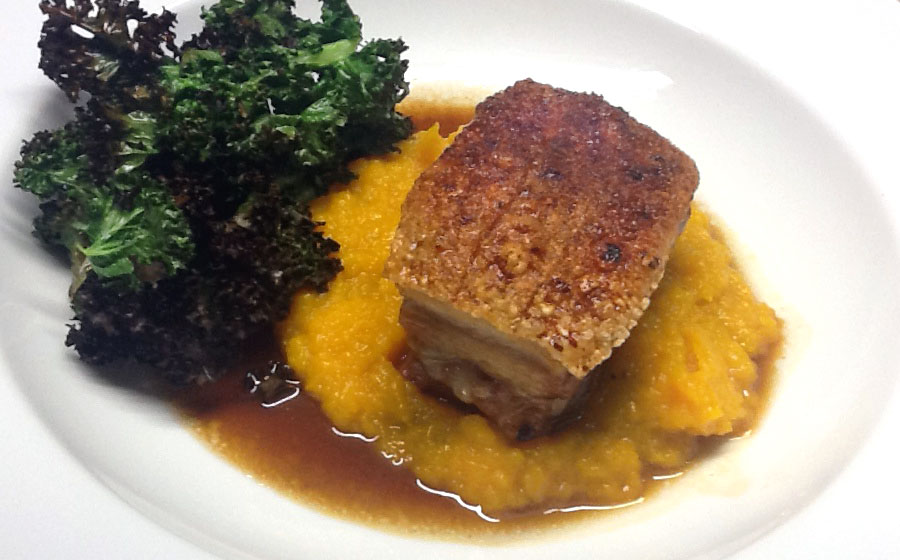 1.5 kg boneless pork belly, skin scored
2 Tbs olive oil
Spice Mix:
3 tsp dried thyme
1 star anise
1 tsp juniper berries or all spice
1 tsp fennel seeds or coriander seeds
6 whole cloves
½ cup salt
2 cloves garlic
½ tsp freshly ground black pepper
Sauce:
Reserved pan juices
1 Tbs honey
1 Tbs lemon juice
To serve:
Creamy mashed pumpkin (or potatoes or sweet potatoes)
Wilted buttered spinach or kale or roast kale (see below)
Place pork in a shallow dish. Grind thyme and spices in a spice or coffee grinder, or use a mortar and pestle. Mix with salt, garlic and pepper. Rub half over one side of pork, then turn it over and rub the rest into the other side. Refrigerate for 4 hours or overnight, turning from time to time.
Preheat oven to 150ºC. Rinse pork under cold water and pat dry with paper towels. Place skin side up on a rack in a roasting pan. Add enough boiling water to come 2-3 cm up the sides of the pan, but it shouldn't touch the meat. Cover with foil and roast for 4 hours. Check from time to time to see if water needs topping up. Remove pork from oven and cool. Strain pan juices, place in the fridge and when cold remove and discard the fat from the top. A spoonful of this fat mixed into our dog's biscuits and he's in heaven! Use a very sharp knife to cut pork into six neat rectangular servings – you might even get eight, depending on the size you want. Recipe can be prepared ahead to this stage.
About an hour before dinner preheat oven to 200ºC. Place oil in a cold frying pan large enough to take all the pork pieces and swirl to cover the bottom. Choose a pan with a handle which can go in the oven. Rub pork skin with a little salt then arrange the pieces on top of the oil, skin side down. Turn on heat and cook for 15 minutes on medium, or until skin is golden and crunchy. Turn pork over so it's skin side up and place in the oven for 15-20 minutes to brown the bottom of the meat and heat through.
Meanwhile boil the pumpkin, or potatoes or sweet potatoes and mash them with lots of butter, salt and pepper and maybe a dash of cream. Cook spinach or kale in a little butter until wilted, then season, or roast – see below.
Remove pork from the oven. Place pork pieces on a plate and keep warm while you make the sauce. Tip off all the fat from the pan. Add reserved pan juices, honey and lemon juice and cook over high heat, stirring, for a couple of minutes, until slightly thickened.
Serve pork on a bed of mashed pumpkin (potatoes or sweet potatoes) with some greens on the side. Drizzle the sauce over and around the pork. If liked serve with apple sauce on the side – see below.
For a low carb version just skip the mashed potatoes or pumpkin and serve with more kale or some spinach or other green vegetable.
Serves 6
Roast Kale: An unusual way to cook kale is to roast it. Break off pieces of kale 3-4 cm long and arrange on a baking tray lined with foil. Spray with oil, sprinkle lightly with salt, then place in a hot oven (with the pork) for 5-8 minutes or until turning a bit brown and crispy on the edges. Watch carefully as it burns quickly.
Apple Sauce: peel, core and slice two large Granny Smith apples or cooking apples. Place in a small pan with half a cup of water and 2 Tbs sugar and simmer until soft. Use a potato masher to crush the apples into a chunky sauce and serve at room temperature.