Aldi had Tomahawk steaks on special so I bought one. Never having cooked this cut of beef before, I had a look on Google and learnt that it's the rib-eye or Scotch fillet with the bone left in.
There was a fair amount of fat on the meat so I decided to cook it simply, on a very hot BBQ, in order to render most of it off and crisp up the rest. The result was delicious and very tender.
Whisky-Glazed Carrots – an old recipe from the 1970s – and some good mustard completed the meal. We didn't feel the need for potatoes or other accoutrements which might have detracted from the simple combination of succulent savoury beef with sweet carrots.
After a week of abstinence, a very good bottle of Padthaway Shiraz we had been saving for a special occasion, or in this case no occasion at all, went down a treat.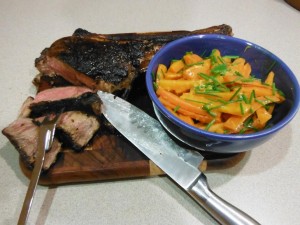 1 Tomahawk Steak weighing 1.3-1.5kg
Salt and freshly ground black pepper
500g carrots cut into sticks
Juice and grated rind 2 oranges
1 tsp sugar or honey
2 Tbs whisky
Salt and pepper to taste
1 Tbs butter
Snipped chives
To serve: your favourite mustard
Pre-heat BBQ on maximum for 10 minutes until very hot. For medium-rare, cook steak for 7-8 minutes each side, then a further 7-8 minutes each side. In addition, cook for about 5 minutes on the curved long side of the steak – you may need to hold it in place with some tongs while it cooks on this third side. Place on cutting board, cover loosely with foil and rest for 10-15 mins.
Meanwhile cook the carrots. Place in a saucepan with the orange rind and juice, sugar or honey, salt and pepper to taste. Cover and cook for 10 minutes or until almost cooked. Remove lid, add whisky and butter and cook for a few minutes more, shaking pan often, until liquid has been absorbed and carrots are just cooked and slightly glazed. Add chives and serve.
Slice meat downwards, across the grain and serve with mustard and carrots.
Serves 4-6