Moroccans make their casseroles in earthenware cooking dishes with domed lids called tajines. So the word "tajine" is used to refer to both the cooking pot and the casserole you make in it. Recipes often combine meat or poultry with dried or fresh fruit and sometimes include some honey and a few nuts.
We planted a quince tree about three years ago and recently picked our first quinces. Just two. So I decided to use them in a Moroccan lamb and quince casserole. Instead of using my traditional cooking pot, which I bought when we were holidaying in Marrakesh, I made it in my slow cooker.
Fresh or frozen pomegranate seeds add a nice splash of colour, but they're not essential. They freeze well – so stash some away when they're in season. A little goes a long way as a garnish.
I made a large stacking ring by removing the top and bottom from a 425g can of tuna and used it to arrange the couscous in the centre of the plate with the lamb on top.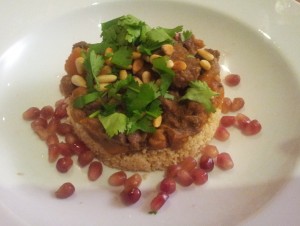 2 Tbs olive oil
1.2kg lean lamb, cut into 2cm dice (leg or shoulder)
1 onion, peeled and finely chopped
2 cloves garlic, crushed
1 tsp ground ginger
1 tsp chilli powder or flakes
1 tsp turmeric
1 cinnamon stick, broken in two
½ tsp saffron threads
2 quinces, peeled, cored and cut into eighths
2 Tbs honey
4 Kaffir lime leaves (optional)
2½ cups chicken stock (or water and a cube)
1 Tbs fish sauce
1 large sweet potato, peeled and cut into 2cm cubes
1 can chickpeas, drained and rinsed
To serve:
Couscous
Chopped fresh coriander
1 cup lightly toasted pine nuts
Pomegranate seeds (optional)
Heat oil in a large frying pan and brown meat on both sides in two or three batches. Remove meat and place in slow cooker. Add garlic and onion to pan and cook gently, stirring, for 5-10 mins or until softened. Add the five dry spices and cook for one minute, stirring.
Add the spice and onion mixture to the slow cooker with the quinces, honey, stock, lime leaves and fish sauce. Cover and cook on High for 5-6 hours (or on Low for 8-10 hours), adding the sweet potato and chickpeas about halfway through the cooking time. Slow cookers vary, so you will have to adjust the cooking time as you go. If possible check and stir the tajine every hour or so.
Serve tajine on a bed of couscous, garnished with chopped coriander, pine nuts and pomegranate seeds.
Serves 8
Note: if preferred, cook the casserole in a heavy casserole dish with a lid in the oven at 170°C for about two hours, adding the sweet potato and chickpeas about halfway through.