This Moroccan-style casserole makes a delicious mid-week family dinner.
If you have more time to cook at the weekend, it will keep in the fridge for 3-4 days and the flavour actually improves with keeping. Or you can double the recipe and freeze half.
If you don't have any ground cloves just leave them out. The preserved lemon gives a very distinct flavour and is worth getting. You can buy them in specialty shops or make your own from this recipe for preserved Kumquats – just use lemons instead. They keep for months, even years, without refrigeration.
Couscous is a quick and easy accompaniment to serve with this casserole. Place a cup of dry couscous in a bowl and add a cup of boiling water or stock. Stir then cover and leave for 2-3 minutes to swell up. Fluff up with a fork, season to taste and voila, it's ready to serve.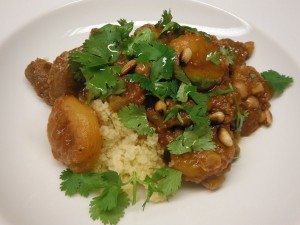 2 Tbs oil
1 medium onion, finely chopped
2 cloves garlic, crushed
500-600g lean lamb cut into 2-3cm cubes
½ tsp each ground cumin, coriander and mixed spice
¼ tsp each ground nutmeg, cloves and chilli or cayenne pepper
1 Tbs grated fresh ginger
1 can chopped tomatoes
1 can chick peas, drained
1 cup beef stock or water and 1 stock cube
½ cup dried apricots, cut in half if large
2 tsp sugar
1 Tbs preserved lemon rind, chopped (optional)
Salt and freshly ground black pepper to taste
To serve:
Couscous, cooked
Fresh coriander, chopped
2 Tbs pine nuts, lightly toasted
Heat oil in a large non-stick frying pan or a heavy-bottomed saucepan. Add onion and garlic and cook, stirring for 2-3 mins until softening but not brown. Add the meat and continue to cook over moderately high heat until the meat has browned. Add all the spices and continue to cook, stirring, for 1-2 mins. Add remaining ingredients and season to taste. Simmer for 15-30 mins or until meat is tender, adding a little water if necessary. Serve with couscous and garnished with the coriander and pine nuts.
Serves 4
Variations: use raisins, dates, prunes or figs instead of apricots. Use parsley instead of coriander, toasted slivered almonds instead of pine nuts and serve with rice or mashed potatoes instead of couscous.