My friend Franca raved about this Chicken and Leek Gratin by Annabel Langbein so I couldn't wait to try it. It lived up to its reputation and got a big tick firstly because it's delicious and secondly because it's quick to make.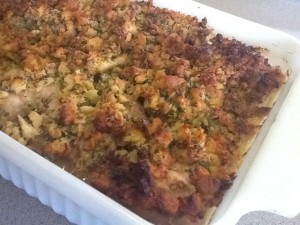 Creamed Leeks:
2-4 leeks, depending on size
3 Tbs butter
Salt and freshly ground black pepper ½ cup cream
Chicken layer:
8-12 boneless skinless chicken thighs
2 tsp Dijon mustard
2 Tbs Worcestershire sauce
1 Tbs fresh or 1 tsp dried thyme
½ tsp cayenne pepper
½ tsp salt
Crust:
2 cups sourdough breadcrumbs (left quite chunky)
2-4 cloves garlic
1 cup chopped parsley
3 anchovies
1 tsp fresh rosemary
Grated rind 1 lemon
½ cup grated Parmesan cheese
50g butter
Wash, trim and chop the leeks, using all the white and a bit of the green part . Heat butter in a medium frying pan and cook leeks for 5-10 mins or until softened. Add the cream and season to taste. Spread leeks over the base of a buttered ovenproof lasagne-type dish.
For the chicken layer, if liked cut each chicken piece in two then mix with remaining ingredients and arrange over the leeks.
For the crust, make the crumbs first in a food process then add the remaining ingredients and pulse a few times to chop and combine, but don't over-do it. Spread over the chicken.
Recipe can be made ahead to this stage and kept in the fridge for up to 24 hours, covered or out of the fridge for an hour or two. Allow to come to room temperature.
Cook in a preheated oven at 180°C for 50-60 minutes or until nicely browned and chicken is tender when pierced with a skewer.
Serves 6-8