Having offered to take a dessert to a family picnic for more than twenty people I decided that a slice, which could be cut into 20 or 30 squares, was the answer.
For some time I've been wanting to create a lemon version of Galaktoboureku, the traditional Greek Custard Slice. I thought I would make a lemon-flavoured custard instead of the usual vanilla one, sandwich it between layers of crispy fillo pastry and drizzle it with lemon syrup, rather than a plain syrup which the Greek version uses.
Well here is the result. Matthew enjoyed the leftovers which I called Lemon Slice for his benefit. Any mention of custard would have put him off. For a smaller version just halve the recipe and make it in a standard 22cm cake tin.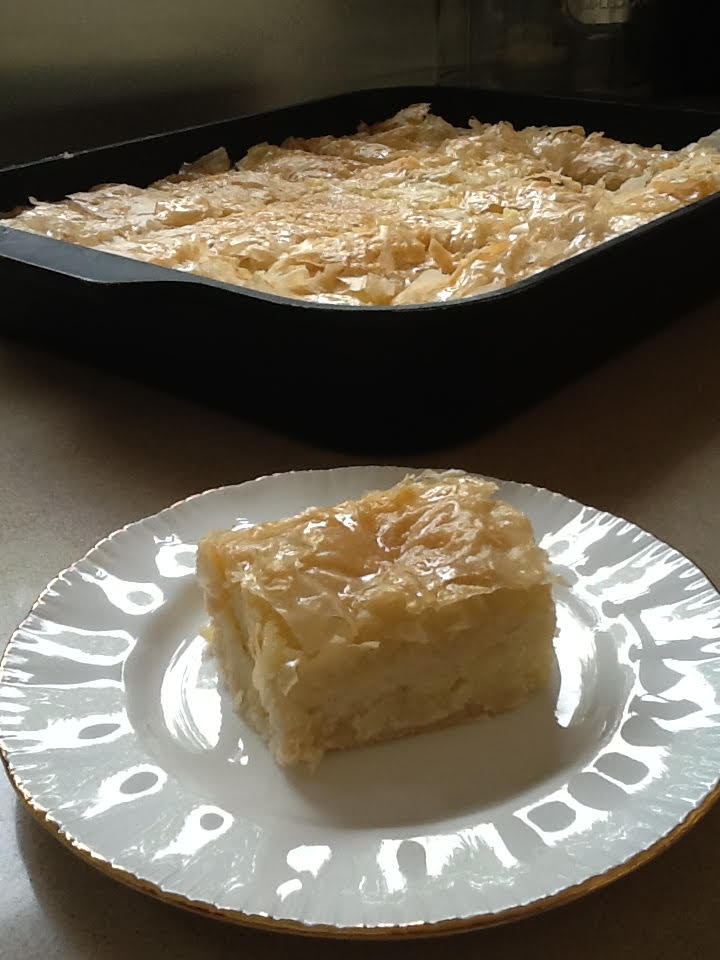 125g butter, melted
About half a packet of Fillo pastry, thawed if frozen (about 16 sheets)
2½ cups milk
2 cups cream
1 cup sugar
1¼ cups (200g) semolina
4 eggs, beaten
2 cups Lemon Curd (preferably home-made)
Syrup:
Juice of 1 large or 2 smaller lemons
¾ cup sugar
To serve:
Whipped or pouring cream (optional)
Line a buttered 20x30cm roasting pan or deep baking tin with about 8 layers of fillo pastry, brushing each sheet with melted butter and cutting or overlapping the sheets as necessary. If the pan is non-stick you don't need to line it with baking paper, but if in doubt you're better off doing so.
Preheat oven to 160°C. Heat milk, cream and sugar until simmering point, then add semolina and cook, stirring, until thickened. Add lemon curd and beaten eggs and mix thoroughly. Pour into the pan and spread evenly. Cover with another 8 layers or so of fillo pastry, brushing each one with melted butter.
Bake for 45 mins or until set and lightly golden. Meanwhile heat lemon juice and sugar in a small saucepan and simmer the syrup for a minute then cool a bit.
Remove slice from the oven and drizzle the warm lemon syrup evenly over the top. Cool then cut into squares. Serve warm or cold, with or without whipped cream or pouring cream.
Cuts into about 20 or more small squares