Bryony Hill came to our wedding, so we go back a long way. She lives in England in the county of Sussex where she writes, cooks, grows vegetables and keeps chickens. Bryony has written several books on subjects such as gardening, cooking and dogs and recently published My Gentleman Jim about her late husband Jimmy Hill, the famous and much-loved British football commentator.
Bryony recently posted her recipe for Beetroot Coleslaw on Facebook. I'm a big fan of beetroot, especially when it's raw, so I made a note to make it as soon as we got back from our recent travels.
It goes very well with grilled or barbecued meats, keeps for a couple of days in the fridge and makes a great filler for sandwiches or wraps.
Of course the beetroot turns everything pink so I did consider renaming it Bryony's Pink Slaw.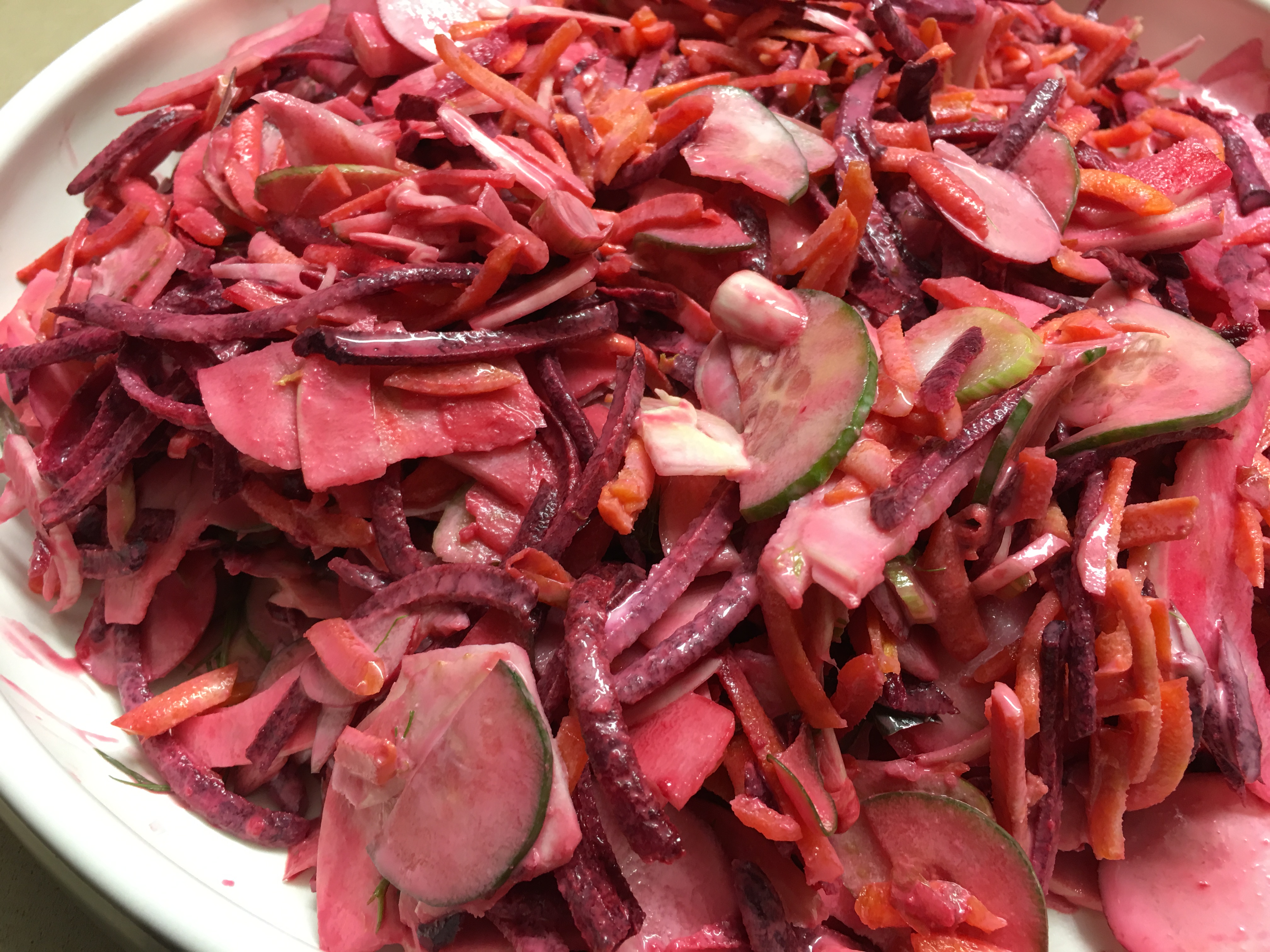 3-4 beetroots, peeled
1 Lebanese cucumber
3 spring onions, thinly sliced on the diagonal
1 bulb fennel
1 kohlrabi
2-3 carrots, peeled
A handful of radishes
2 stalks celery
¼ cup light mayonnaise (preferably home-made)
¼ cup plain Greek yoghurt
Juice of ½ to 1 lemon, to taste
Salt and freshly ground black pepper, to taste
Coarsely grate, thinly slice or shred all the vegetables and place in a large bowl. I used a large (5mm) grating disc on my Magimix for the beetroots and carrots, then the thin slicing disc for everything else. I thinly sliced the cucumber, then cut the slices in half.
Add mayonnaise, yoghurt, lemon juice and seasoning to taste. Add a bit more mayonnaise or yoghurt if necessary.
If you're missing any of the vegetables (I didn't have any kohlrabi) just leave it out or substitute something else such as white or red cabbage.
Serves 4-6