In the past 10 years or so sushi have taken off around the world, providing a healthy fast food solution for people who are fed up with burgers, fried chicken, pizza and tacos.
We've eaten sushi in all sorts of unlikely places. The most unusual place was Quito, capital of Ecuador, where we found a fabulous sushi restaurant through Trip Advisor called Shibumi. The owner/chef is a local who learnt to make sushi while living in Denmark. He also learnt Danish, married a Dane and had a son. The son is now grown up, the owner got divorced and moved back home to open the restaurant with his son.  We sat at the bar right in front of where they were making the sushi and as you can see we got the full story. There's only enough room for 8 diners in this "hole in the wall" so it's very intimate.
Our daughter Catherine and her husband went to a sushi restaurant some years ago and sat next to the open kitchen where they were able to watch the sushi-maker doing his thing. In fact I think they went back three nights in a row. In our family, when it comes to food, we like to be where the action is.
Catherine and Sacha are now the family sushi experts and I have to admit that I didn't roll the ones in the photos. But having watched how it's done I feel confident to have a go next time. A sushi mat is not essential but makes the rolling easier.
There are some excellent Japanese restaurants in Bangkok and while passing through recently we ordered these delicious sushi, garnished with crispy fried vermicelli. I made a note of what was in them – as I do when I'm travelling – and we re-created them on a recent trip to Newcastle to see Catherine & Co.
In Bangkok the sushi had an additional garnish of salmon caviar which was delicious, but we didn't have any when we made the ones in the photos.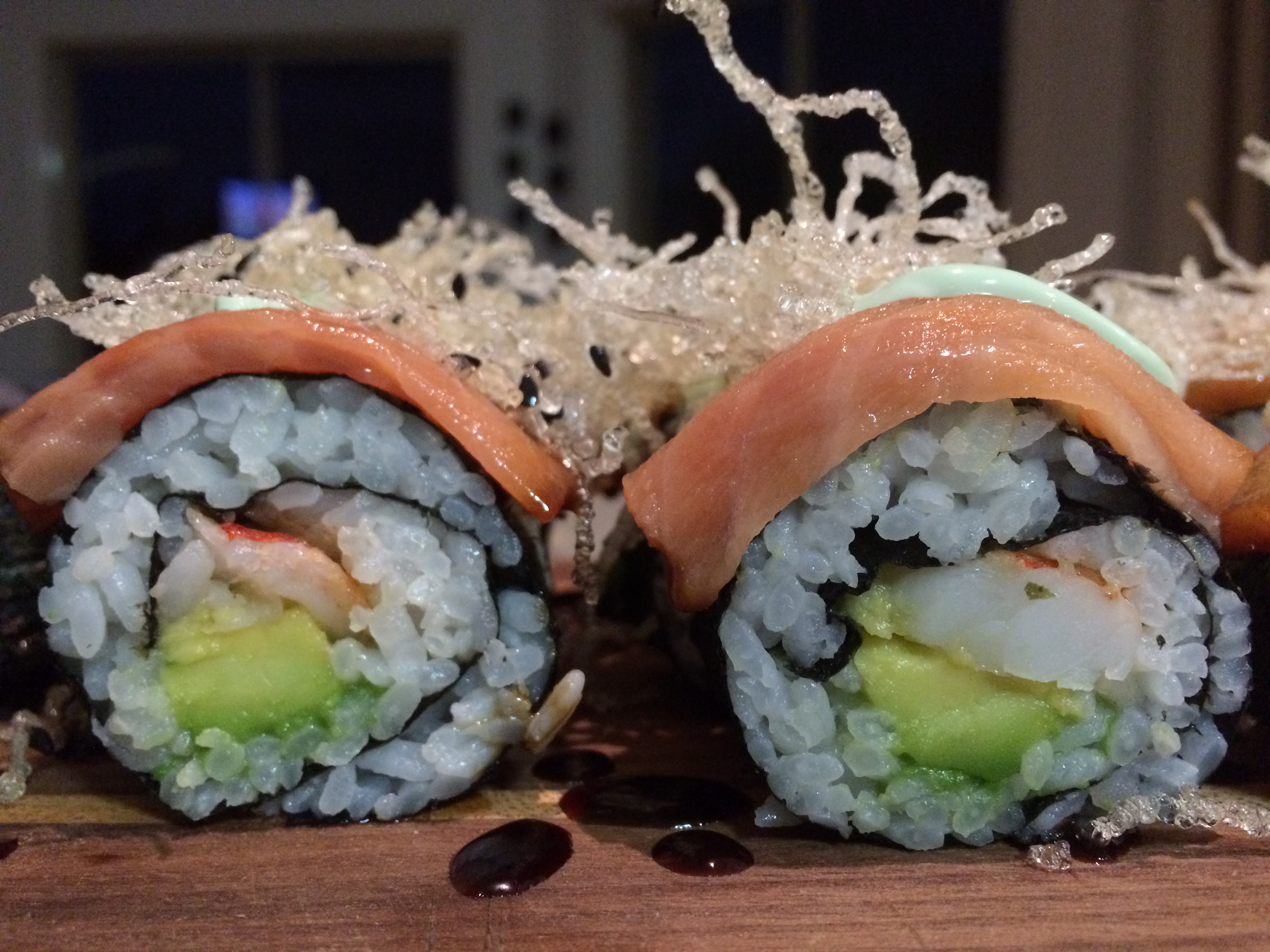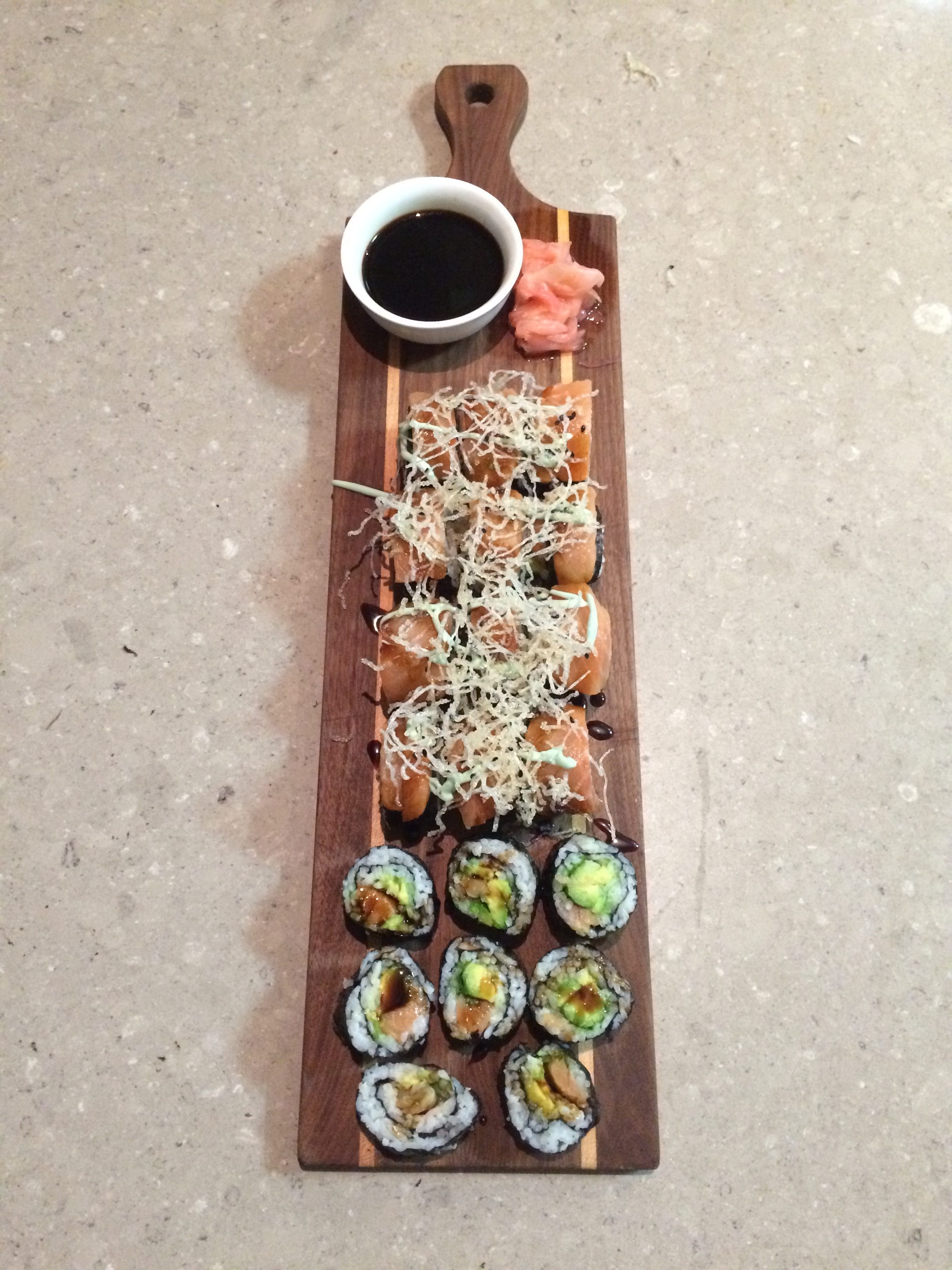 1 cup Sushi rice
1½ cups water
2-3 Tbs rice vinegar, to taste
5 sheets of Nori (seaweed)
1 salmon fillet (180-200g)
10 cooked prawns, halved lengthwise
1 large avocado, halved then cut into thin slices
To serve:
Japanese sweet soy sauce (it's thicker than normal soy sauce)
Pickled ginger
Wasabi paste
1 cup rice vermicelli noodles
Oil to fry vermicelli
Place rice in a sieve and rinse thoroughly with cold water from the tap, until water runs clear. Place rice in a saucepan with the 1½ cups of water. Bring to the boil then cover and simmer on as low a heat as possible, until rice is cooked but still has a bit of bite. This takes about 10 mins and water will have all been absorbed.
Tip rice out into a shallow bowl and spread it out so it cools quickly and doesn't continue to cook. After about 10 mins mix in the rice vinegar and allow it to cool completely.
Prepare prawns and the avocado. Slice salmon into thin slices downwards, discarding skin. Lay first sheet of nori on a sushi mat (if available – you can do it without) and spread about a fifth of the rice over. Rice should not be in a thick layer, there should be some small gaps. Arrange about a fifth of the avocado and four prawn halves in a row across one side of the nori sheet, then roll up tightly into a cylinder. Repeat with remaining nori sheets, rice, avocado and prawns.
Heat 2-3 cm of oil in a small frying pan and deep fry the vermicelli noodles until crispy. Drain on paper towels.
To serve, slice sushi into 2cm slices and arrange on a serving dish on their sides. Place a slice of salmon on each one and garnish with crispy fried vermicelli. If you don't have enough salmon pieces to do them all, arrange the ones without salmon, cut side down, as shown in the photo. Drizzle a little soy sauce here and there then put some in a small dish and, if liked, mix in a little wasabi paste.  Arrange a small pile of pickled ginger near the soy sauce. Serve as finger food or with chopsticks.
Serves 4 as an aperitif or finger food
Note: if you can't find them in your local supermarket, nori sheets, sushi rice, wasabi, pickled ginger, rice vermicelli noodles, Japanese soy sauce and rice wine vinegar are sold in Asian specialty shops.