We eat a vegetarian dinner at least once a week. Our favourite vegetable is eggplant – it's very filling and leftovers are always good for lunch.
Many eggplant recipes include tomato and cheese, so this one's a bit different. I used a can of lentils to speed things up. If you prefer to use dry lentils you will need to add more stock and cook it for longer. The lentils will be ready at about the same time as the eggplant comes out of the oven, so everything will be hot and you can serve the dish straight away. If one or the other has got a bit cold, just put the dish in the oven to heat through, before topping with the hummus, herbs and nuts.
If you're making your own hummus half the recipe (one drained can chickpeas) is more than enough.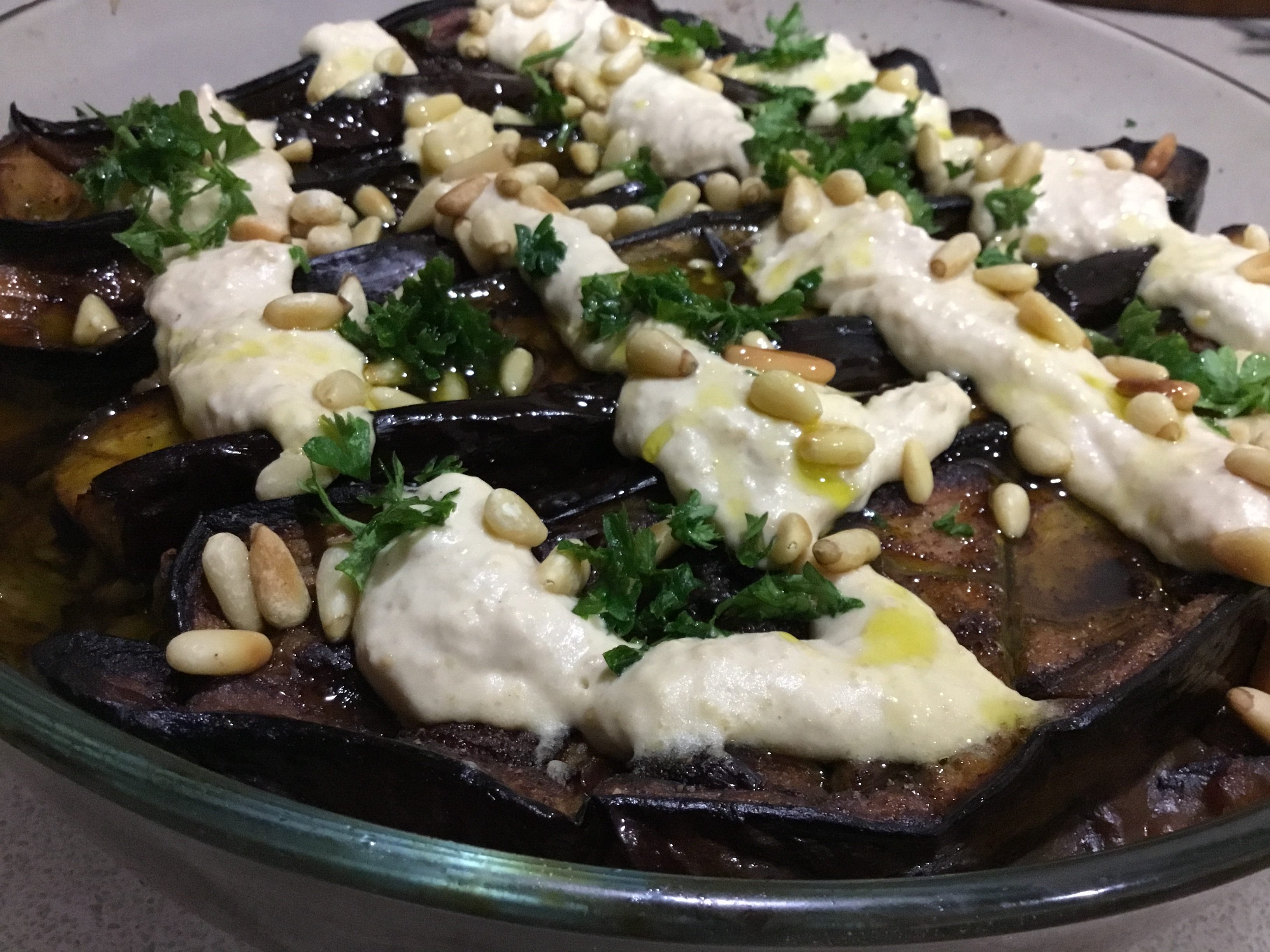 For the eggplant:
2 large eggplants
4 Tbs olive oil
Salt and freshly ground black pepper
Fresh rosemary sprigs
For the lentils:
2 Tbs olive oil
1 cup diced carrots
1 cup diced celery
1 large onion, diced
3 cloves garlic, crushed
1 can lentils, drained and rinsed
2 cups vegetable stock
1 Tbs balsamic vinegar
To serve:
¼ cup pine nuts, lightly toasted
Hummus (preferably homemade)
Chopped fresh coriander or parsley
Extra virgin olive oil to drizzle
Preheat oven to 200°C. Line a baking tray with baking paper or foil. Cut eggplants in half horizontally. Lay them on the tray then score the flesh in a criss-cross pattern with a sharp knife. Brush all over with the olive oil, going back over so you use it all.  Season and sprinkle with the rosemary. Bake for 25-35 mins or until tender and slightly charred. Discard the rosemary.
While eggplant are baking, heat oil in a large frying pan. Add carrots, celery, onion and garlic and cook for about 10 minutes, stirring often, until softened but not brown. Add the lentils and stock, then simmer until thick. Add the balsamic vinegar and check seasoning.
Spread mixture in a shallow baking dish and arrange the eggplant halves on top. If necessary put the dish into the oven to heat through.
Taste the hummus and, if necessary, add a bit more lemon juice and/or crushed garlic to give it a bit more zing and make it less thick. Serve the eggplant drizzled with hummus and sprinkled with the pine nuts and fresh herbs. If liked drizzle with some extra virgin olive oil.
Serves 4
Variations: use a drained can of chickpeas or kidney beans instead of lentils. Add a can of chopped tomatoes when adding the stock.