Cinnamon doughnuts are a guaranteed winner with kids. You'll be their best friend for life.
I recently came across this quick and easy recipe based on choux pastry and decided to make them for afternoon tea while the grandkids were staying. Traditional doughnuts contain yeast, which means making the dough in advance and I never seem to get around to it when we have a house full.
You don't need a deep fat fryer – I just used a wok. The doughnuts don't come out as perfect rounds, but it doesn't matter, they taste delicious.
Sixteen cinnamon doughnuts were made and polished off in less than half an hour. You know you've hit the jackpot with the grandkids when instead of saying "Try it, you might like it" you're saying "Okay how many have you had?" in order to work out who gets the last one.
The grown ups liked them too. You could serve them as dessert for "big kids" with chocolate sauce and a scoop of vanilla ice cream.
Love the half-peeled lurid green nail polish, don't you?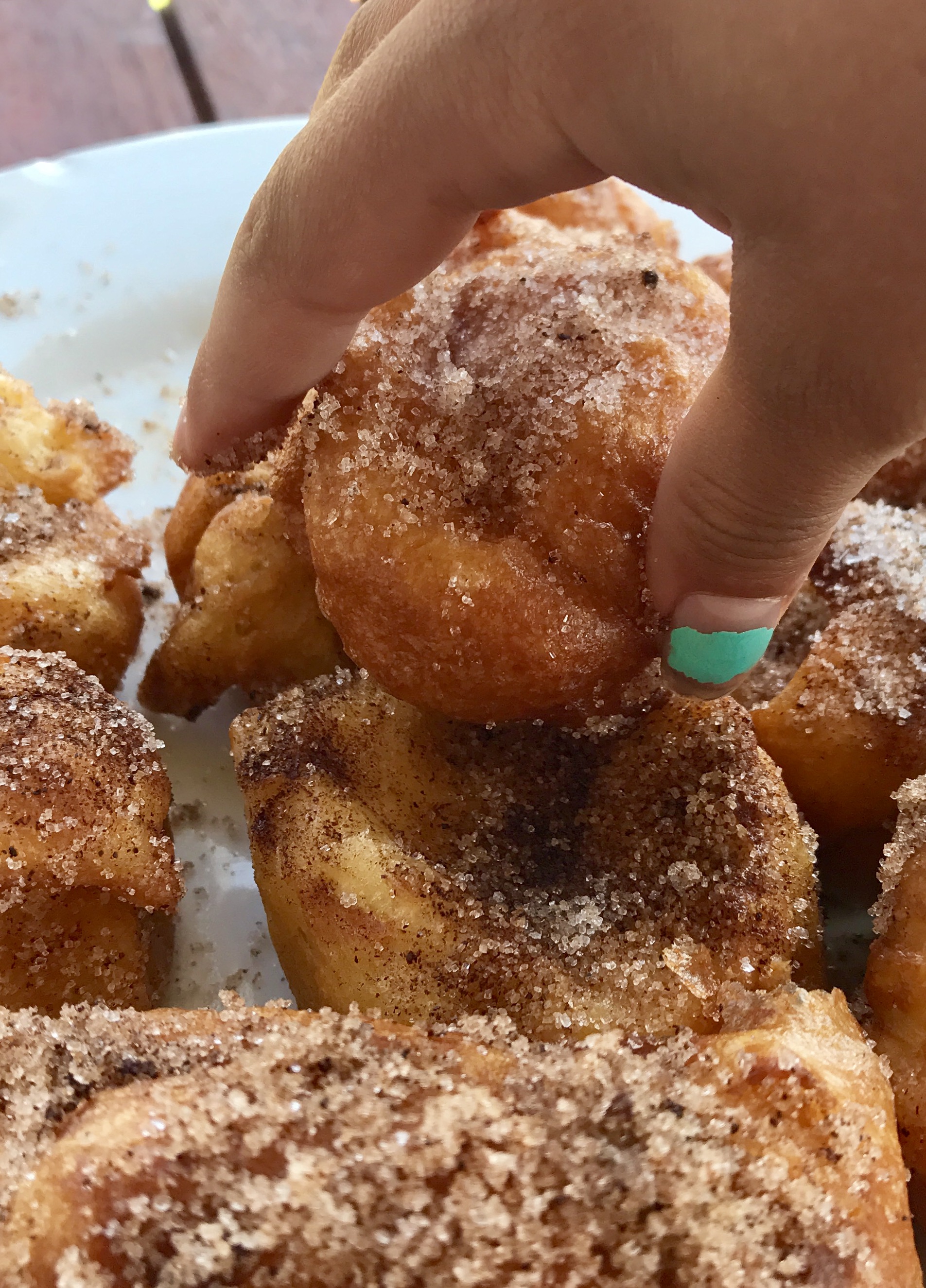 100g butter
½ tsp salt
1 Tbs sugar
1 cup SR flour
4 eggs
About half a litre vegetable oil
To coat the doughnuts:
3-4 Tbs sugar
1 tsp cinnamon
Place butter, salt and sugar in a medium saucepan and heat until butter has melted. Remove from the heat and using electric beaters add the flour and mix until combined. Beat in the eggs, one at a time. If you have time you can refrigerate the mixture for a while at this stage to make it firmer for scooping. I didn't have time.
Meanwhile heat the oil in a wok or deep saucepan until hot enough to cook the doughnuts – test it by putting a small bit in. Cook about 8 doughnuts at a time, using a large spoon or an ice cream scoop to make them. Cook on one side for a minute or so then then flip them over.
Remove doughnuts from the oil with a slotted spoon and roll them in the mixed sugar and cinnamon. Serve immediately.
Makes about 16