While staying with our son and daughter-in-law in London they served this unusual rice salad from Yotam Ottolenghi's latest cookbook Plenty More.
It's delicious on its own, but they served it on individual plates, topped with a portion of pan-fried salmon with crispy skin. For a recent buffet dinner I made one and a half times the rice salad, then baked a one kilo side of skinned and deboned salmon (from Costco), brushed with Thai sweet chilli sauce, at 200°C for 8-10 minutes and placed it on top of the salad. I prepared all the ingredients for the salad earlier in the day and mixed everything together 10 minutes before serving. The salmon can be hot or at room temperature.
I couldn't find wild rice in Coles, Woolworths or Aldi. The health food store had a packet of 125g for $9.95 which works out at $80 a kilo. Ridiculous! Black rice, which costs around $10 a kilo can be found in all major supermarkets in Australia. It's a very good substitute and a great colour contrast to the basmati, so I used that.
Ottolenghi cooks the basmati rice by the absorption method. I prefer to cook it in plenty of boiling water, the same as the wild/black rice and the quinoa, so you have more control over when to stop the cooking process. You want all the grains to have a bit of bite to them – al dente as the Italians say.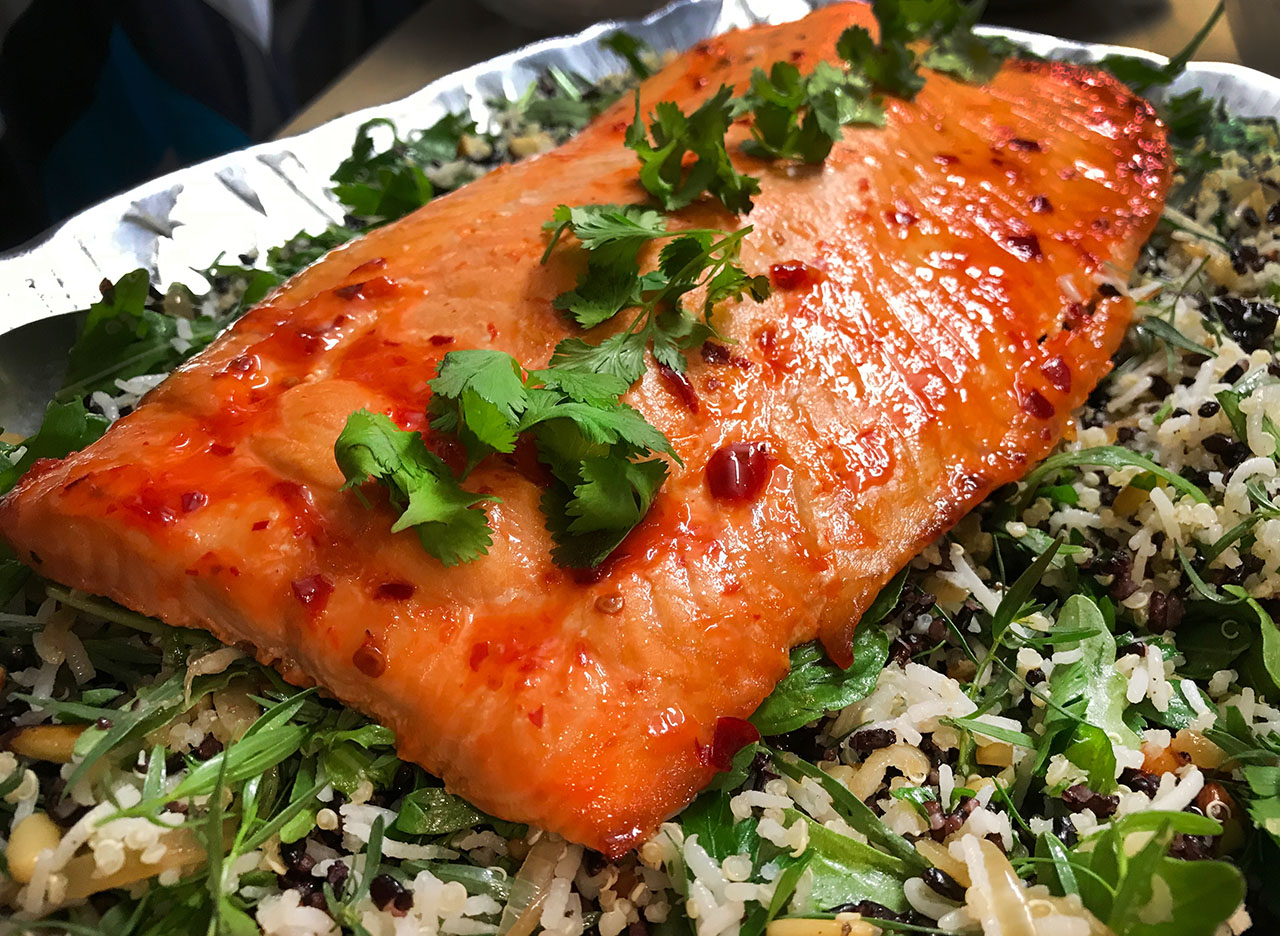 1 cup wild rice or black rice
1¼ cups basmati rice
4 Tbs olive oil
2/3 cup quinoa
60g almonds, skins on, coarsely chopped
60g pine nuts
3 Tbs sunflower oil
2 medium onions, thinly sliced
1 cup chopped flat leaf parsley
2/3 cup chopped basil leaves
1/3 cup chopped tarragon leaves
2 cups rocket leaves
2/3 cup dried sour cherries (I bought them in Costco)
¼ cup lemon juice
Grated rind 1 lemon
2 cloves garlic, crushed
Salt and freshly ground black pepper
Grilled salmon portions to serve (optional)
Place wild rice in a pan, cover with plenty of water, bring to the boil then simmer for 35 minutes until cooked but firm. Drain, rinse under cold water, drain again. Cook basmati rice in plenty of boiling salted water until cooked but firm. Drain, rinse and drain.
Cook quinoa in boiling water for 9 mins then drain, rinse and leave to drain. Place the almonds and pine nuts in a small frying pan with one tablespoonful of olive oil and a pinch of salt. Cook stirring until just starting to colour then set aside. Heat sunflower oil in a large frying pan and add the onions, a pinch of salt and some ground black pepper. Cook over high heat for 5-8 minutes, stirring often, until onions are soft with a few crispy bits. Drain on paper towels.
In a large salad bowl place all the grains, chopped herbs, rocket, fried onion, nuts and sour cherries. Add the lemon juice and zest, the remaining 3 Tbs olive oil, the garlic, half a teaspoon of salt (or to taste) and some pepper. Mix well then stand for 10 minutes before serving.
Serve the salad as it is or topped with grilled, pan fried or baked salmon.
Serves 8
Substitutions: 
use dried cranberries instead of sour cherries
use black rice or brown rice instead of wild rice
use skinned almonds if that's all you have
use more parsley and basil if you don't have any tarragon
if you don't have any quinoa just leave it out