This recipe was given to me some years ago by my friend Donelle. She made it with Pak Choi but today I decided to use fresh spinach from the garden, because we have copious amounts.
I'm not sure if you can buy packets of crispy noodles everywhere in the world. If you can't find them substitute crushed corn chips. Just something to give a bit of crunch.
The pomegranate arils weren't in the original recipe, but they add a touch of colour. Some supermarkets sell these either fresh or frozen. I keep them in the freezer and just scrape out a few as required to sprinkle over the top of salads.
Full of iron and other good stuff, this recipe is very healthy!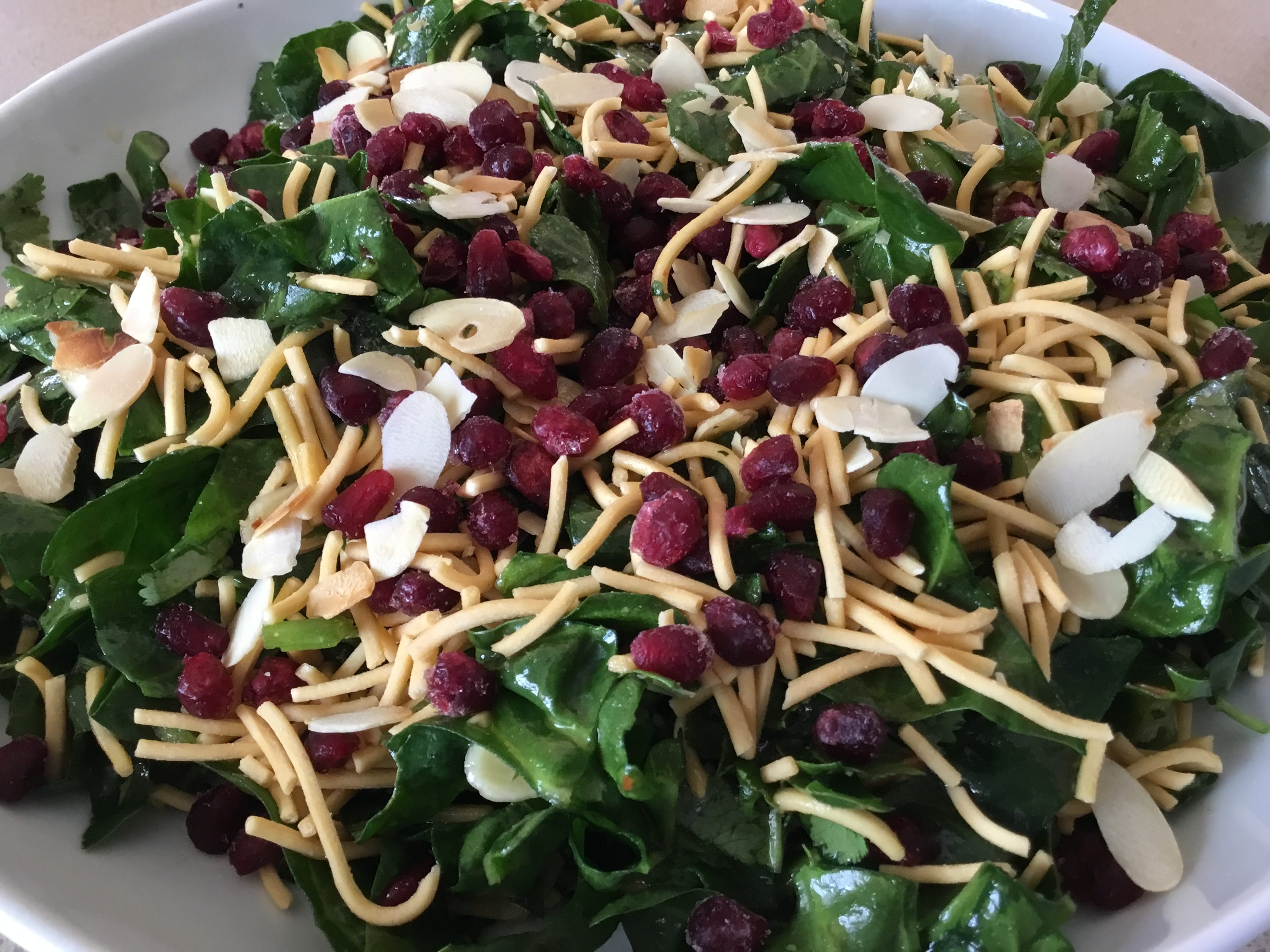 1 bunch Pak Choy (or substitute spinach or kale)
1 bunch spring onions, thinly sliced (use the white and most of the green)
1 bunch coriander, chopped
¾ cup flaked or slivered almonds (or substitute pine nuts)
1 packet (100g) crispy noodles
Dressing:
2 Tbs lemon or lime juice
¼ cup olive oil
2 tsp soy sauce
1 Tbs fish sauce
1 clove garlic, crushed
1-2 tsp grated fresh ginger
Dash of Siracha (or other chilli sauce,) to taste
Freshly ground black pepper
1 Tbs brown sugar
To serve:
Pomegranate arils (optional)
Wash, spin dry and shred the Pak Choy, spinach or kale with a large sharp knife. Place in serving dish with the nuts, which have been lightly toasted in a dry frying pan over moderate heat. Add spring onions and coriander.
Place all ingredients for dressing in a jar and shake well. Mix dressing with salad and top with the crispy noodles. If liked garnish with pomegranate arils and serve immediately.
Serves 4-6