If you like sticky Asian chicken dishes you'll like this one. I used less than half the amount of sugar in the original recipe (which I thought was a bit over the top) and it worked well.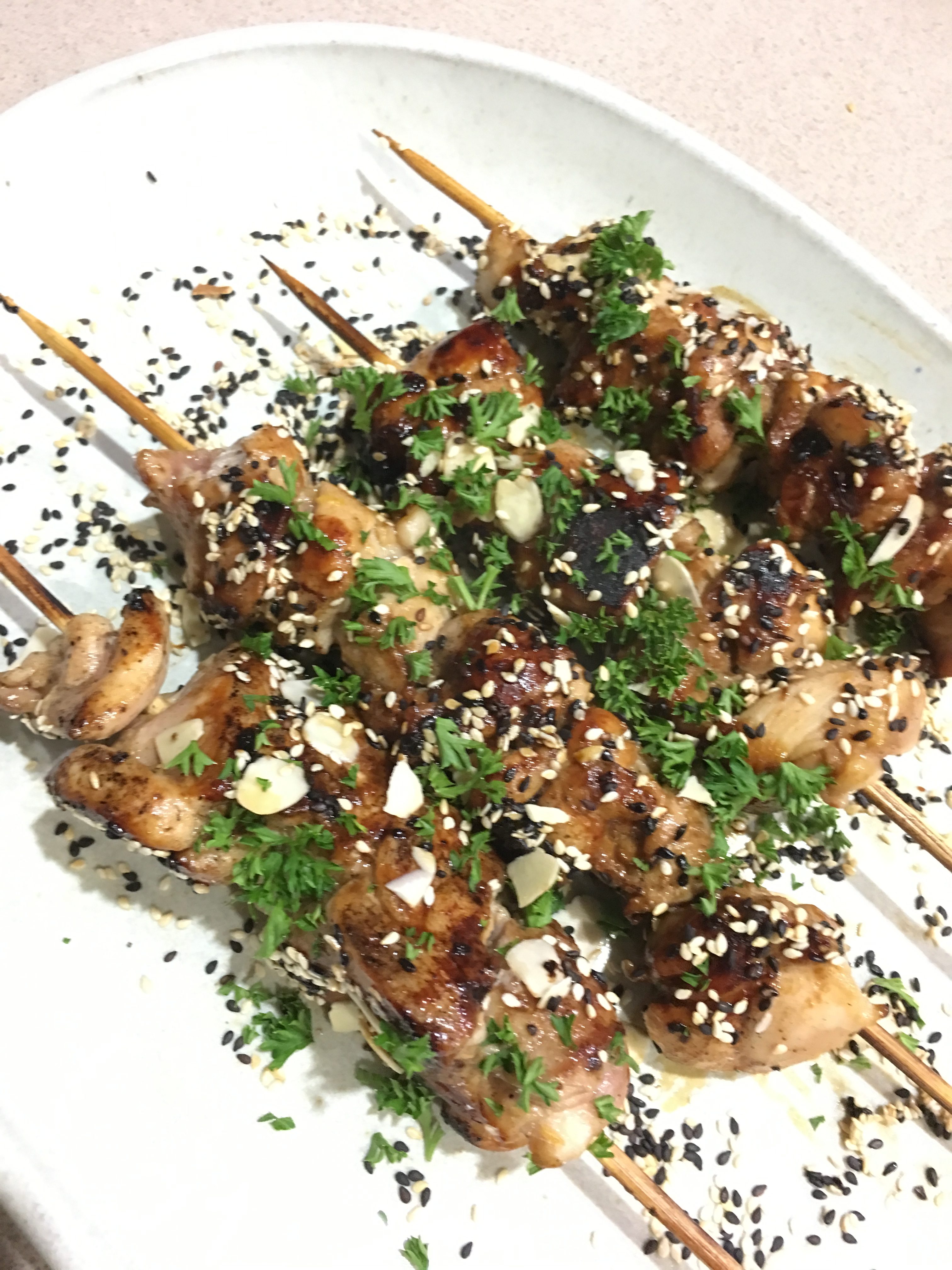 1.2 kg skinless, boneless chicken thighs
2 Tbs Asian fish sauce
1 Tbs brown sugar
1 Tbs lemon juice
Glaze:
1/3 cup brown sugar
2 Tbs Asian fish sauce
3 Tbs lemon juice
2 Tbs rice vinegar
1 Tbs honey
2 cloves garlic, crushed
1 Tbs grated fresh ginger
To serve:
2 Tbs white sesame seeds
2 Tbs black sesame seeds
2 Tbs flaked almonds
Thinly sliced spring onions, or chives
or chopped parsley
Cut chicken into 2.5cm (1 inch) chunks. Mix with the fish sauce, brown sugar and lemon juice and marinate for an hour or two.
Place all ingredients for the glaze in a small saucepan. Bring to the boil then simmer for a few minutes to thicken.
Thread chicken onto 8 bamboo skewers which have been soaked in cold water. Cook on a grill or BBQ for about 8 minutes, brushing regularly with the glaze, or until cooked through. Cook for about 2 minutes on each of the four sides.
Place sesame seeds and almonds in a dry frying pan and stir over moderate heat for a few minutes or until golden.
When kebabs are cooked place on serving dish and brush again with the glaze. Sprinkle with the sesame seed mixture and the spring onions or herbs. Serve with steamed rice and a cucumber and onion salad.
Serves 4