I recently made this dessert from one of my favourite chefs, Yotam Ottolenghi. The flavour combination of chocolate, nutty spice mix, slightly sweetened crème fraîche and orange oil is amazing. But Ottolenghi says to bake the chocolate ganache and although I only baked mine for 8 minutes it was rather dry. And I don't think you need the eggs or the sugar in the ganache.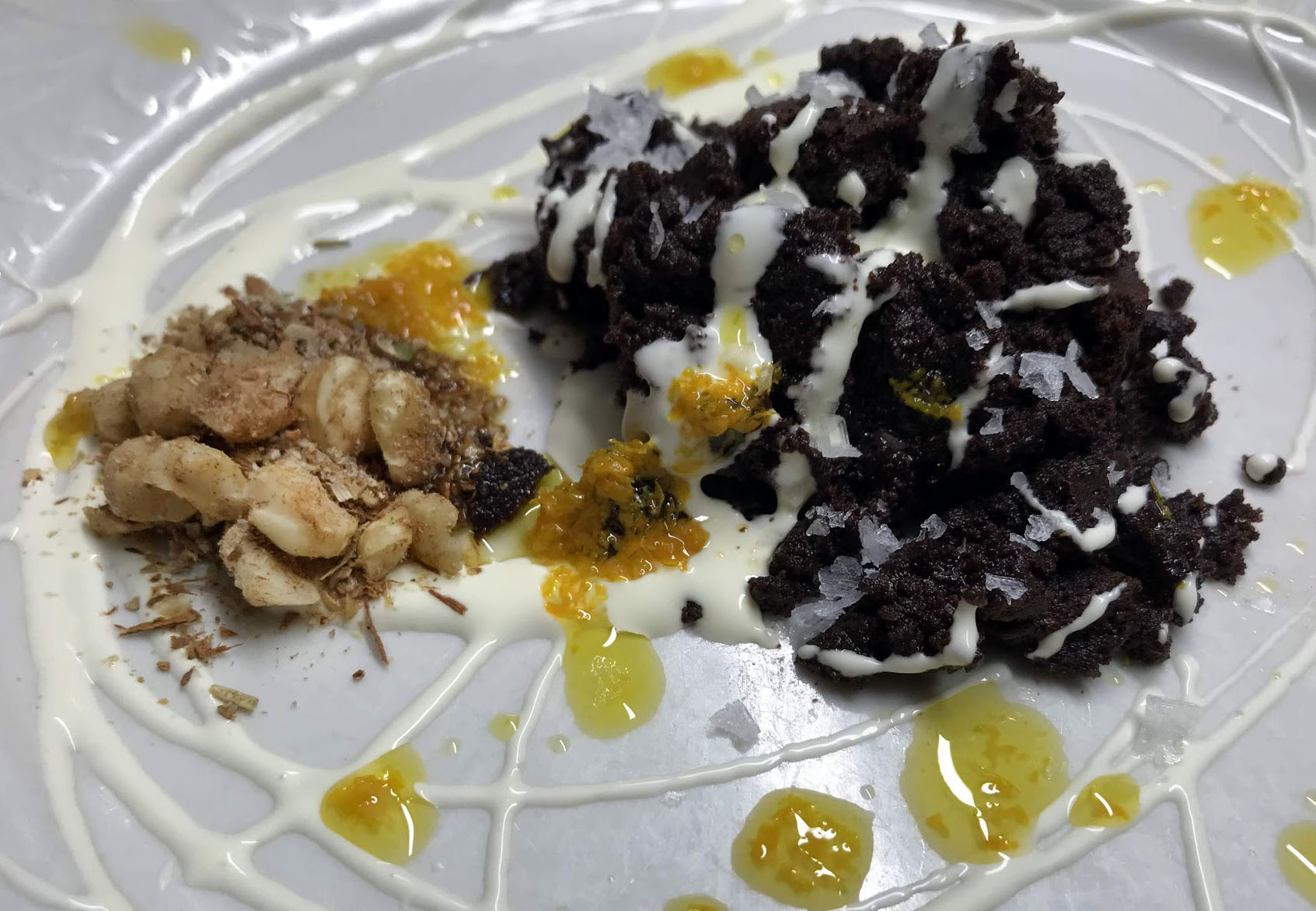 So the second time I made my usual chocolate ganache (which unlike YO's doesn't contain eggs, uses cream instead of butter and doesn't contain any sugar) and I didn't bake it. You could still plate it as above but I served it in little tea light glasses with the crème fraîche, nutty spice mix and a drizzle of orange oil on top, as you can see in the second photo. I doubled the orange oil as there wasn't enough the first time.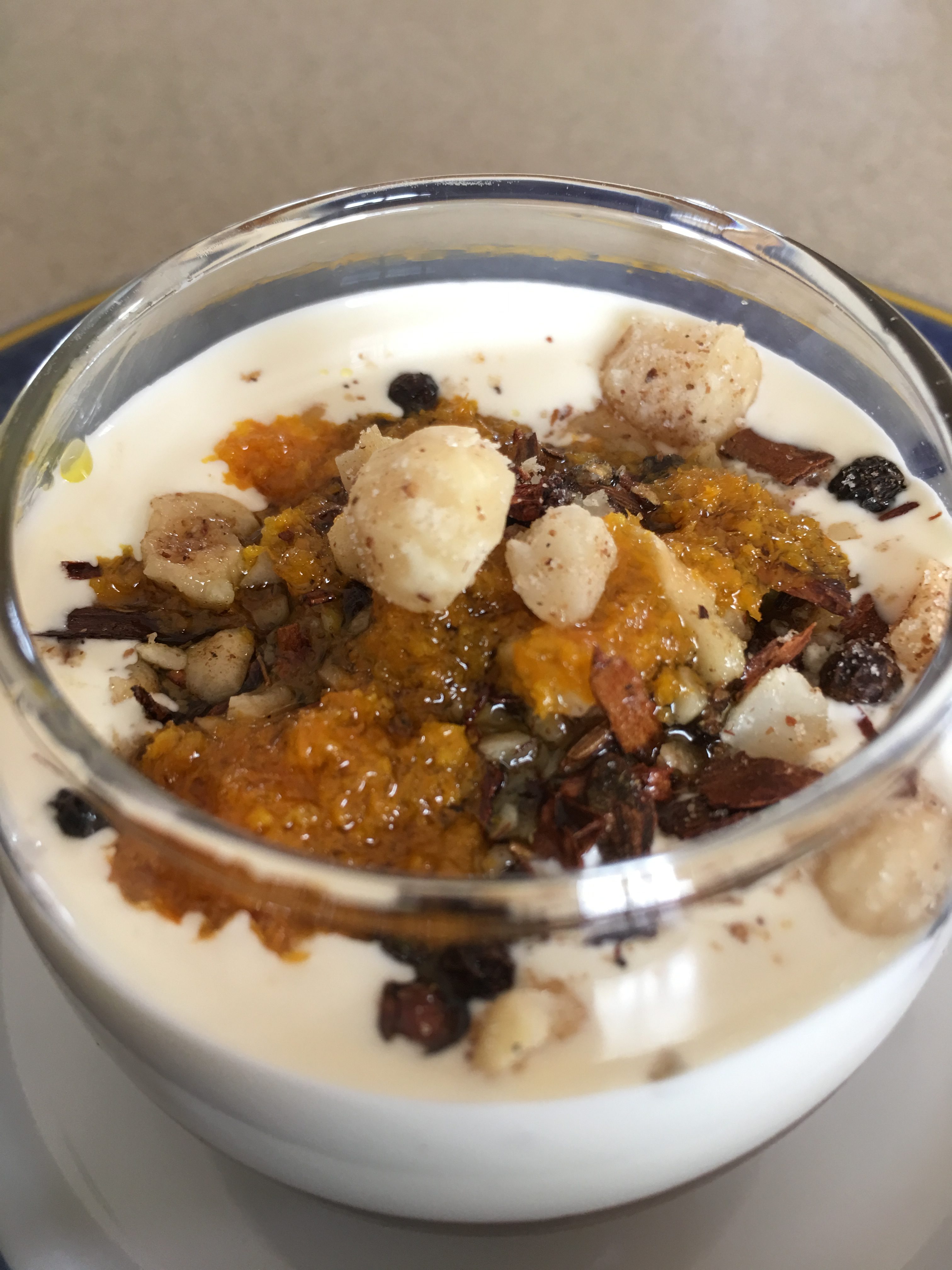 Chocolate Ganache:
250g dark chocolate (70-80% cocoa solids)
300ml thick or whipping cream
Creme Fraiche:
300g crème fraîche or sour cream
2½ tsp sifted icing sugar
Hazelnut Spice Mix:
2 tsp coriander seeds
¾ tsp black peppercorns
1 small cinnamon stick
1 whole star anise
8 cardamom pods
¾ tsp caster sugar
2 Tbs hazelnuts
Orange Oil:
Finely grated zest of 1 orange
2-3 Tbs olive oil
To serve:
Maldon salt flakes
Ganache: heat cream to boiling point in a saucepan. Add chocolate broken into squares, remove from the heat and allow chocolate to melt. Stir till smooth then scrape into a shallow bowl, cover and refrigerate for several hours or overnight.
Hazelnut Spice Mix: place all ingredients except sugar in a frying pan and stir for 2-3 mins until lightly toasted and fragrant. Transfer to a spice grinder or mortar and pestle and grind until fairly fine. Mix in the sugar.
Orange Oil: place both ingredients in a jar with a lid and shake.
Just before serving mix icing sugar and crème fraîche or sour cream. Don't do this ahead of time as the sugar can make the cream go runny.
Check the chocolate ganache and if it's rock hard remove it from the fridge a couple of hours before serving.
Arrange some hazelnut spice mix on 8 plates. Scoop a heaped tablespoon size portion of the chocolate ganache onto each plate, using a spoon dipped in hot water and re-dipping each time. Garnish with the crème fraîche and orange oil. Finish with a tiny pinch of salt flakes.
Alternative way to serve: pour chocolate ganache into 8-10 small shot glasses or tea light glasses and refrigerate. Serve topped with a dollop of cream, a sprinkle of the hazelnut spice mix and a drizzle of the orange oil. Finish with the salt flakes.
Serves 8