It's often the garnishes which make Yotam Ottolenghi's recipes unique. This soup, with its unusual crunchy topping of caramelised pumpkin seeds, is no exception.
They can be used to garnish any soup and are a delicious addition to salads, so you might like to double or triple the recipe. They keep for a couple of weeks in an airtight container in the fridge.
Ottolenghi cooks the seeds in the oven, but I prefer to use a frying pan where I think you have more control. I have a bad track record of burning nuts and seeds in the oven.
You need about 750g of vegetables which can be all pumpkin, all carrot, or a combination of the two.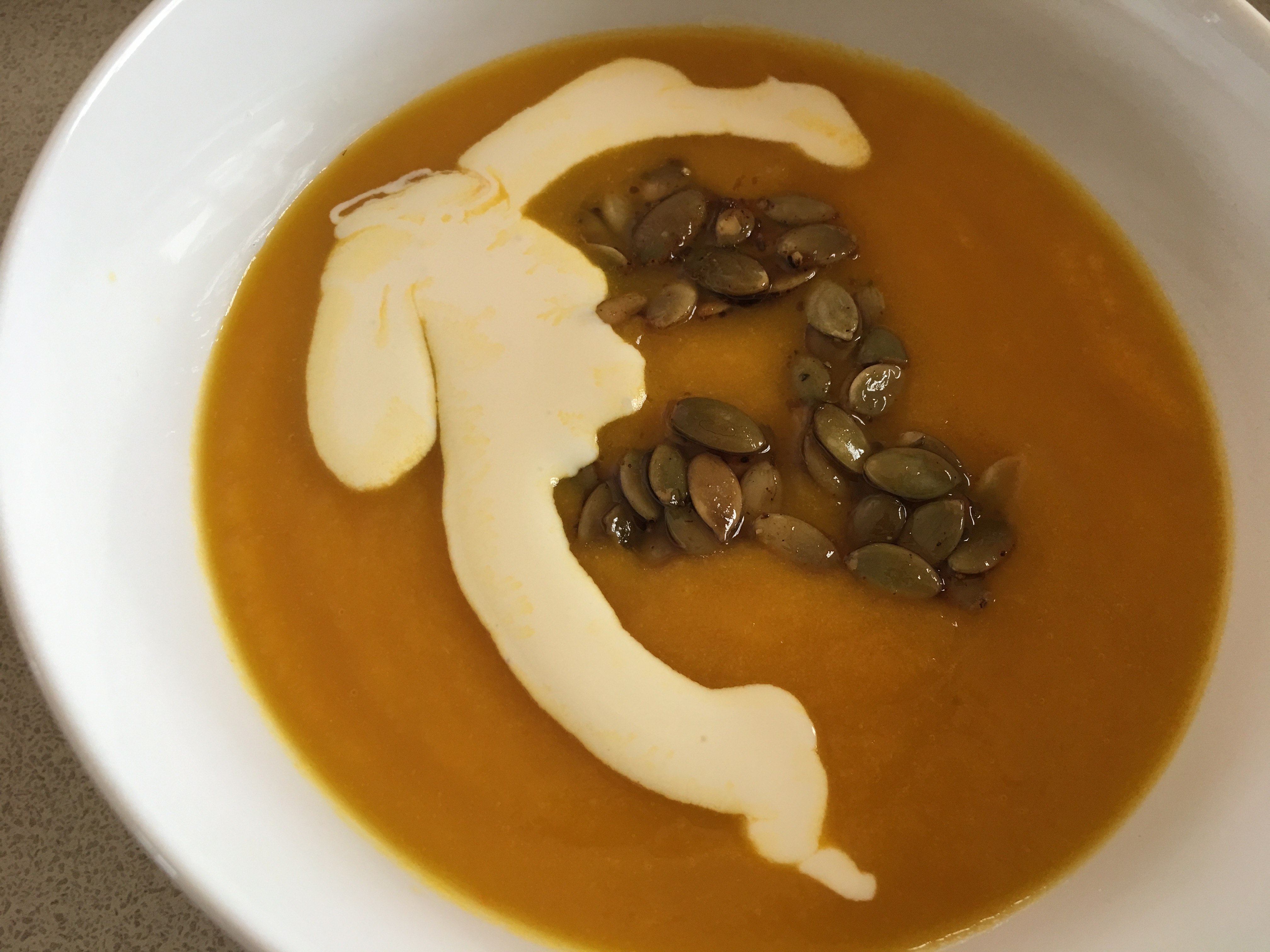 2 Tbs olive oil
1 large onion, chopped
550g pumpkin, cut into 2cm cubes
2 medium carrots, sliced
1 tsp saffron fronds or a pinch of saffron powder
1 litre vegetable stock
2 tsp grated orange zest
6 Tbs sour cream or crème fraîche
Salt and freshly ground black pepper, to taste
For the pumpkin seeds:
1 tbsp sunflower oil
60g pumpkin seeds
1 Tbs maple syrup or honey
½ Tbs soft brown sugar
Salt and freshly ground black pepper, to taste
1 pinch cayenne pepper
Put the pumpkin seeds into a non-stick frying pan with the other ingredients. Stir over moderate heat for a few minutes, or until starting to colour. Cool. If they stick together it doesn't matter as you can break them apart when serving.
Heat the oil in a heavy-based saucepan, add the onion then cook over high heat for a minute or so, stirring all the time. Reduce heat to low and cook for 10-12 minutes, stirring occasionally, until soft and golden brown, but not very dark. Add the pumpkin, carrot, saffron, stock and bring to the boil. Lower the heat, cover and simmer for 15 minutes, until pumpkin and carrots are almost tender. Add the orange zest and simmer for five minutes longer. When vegetables are thoroughly cooked, blitz the soup in a food processor or blender, or with a stick blender. Add extra water or stock if it is too thick. Season to taste.
Serve in soup bowls with a dollop of sour cream and a sprinkling of the caramelised seeds.
Serves 4