Another Yotam Ottolenghi recipe I tried recently. As you can see, I rather overdid the saffron, which made the yoghurt sauce a rather lurid yellow, but it was still delicious. Pomegranate seeds add a lovely splash of red, but if you don't have any use chopped roasted red peppers or perhaps a few dried goji berries, soaked briefly in hot water, then drained.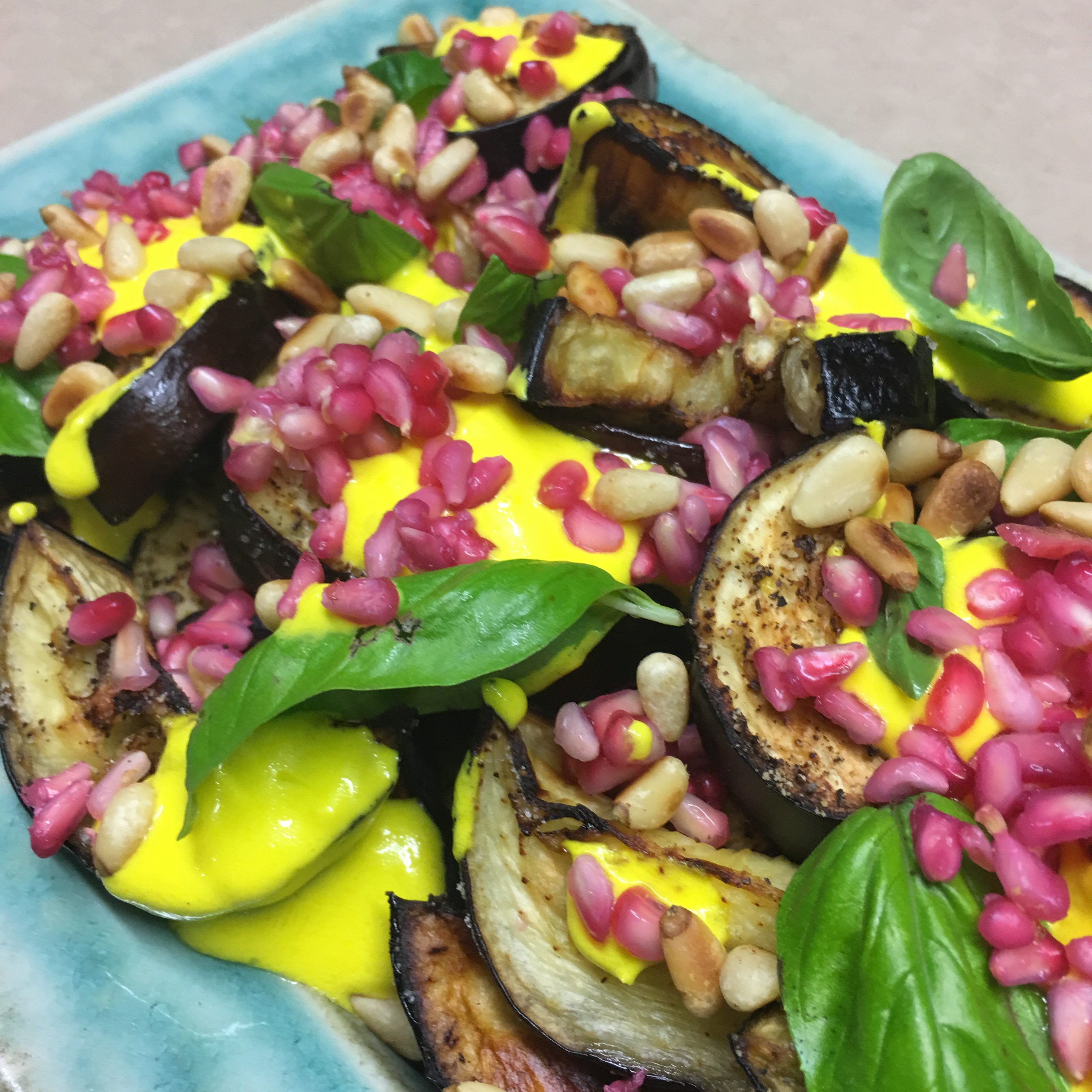 3 medium eggplants, cut into 2cm slices or wedges
Olive oil for brushing
2 Tbs toasted pine nuts
A handful of pomegranate seeds
A few basil leaves
Salt and freshly ground black pepper
Sauce:
A pinch of saffron strands or powdered saffron
3 Tbs hot water
180g thick Greek-style yoghurt
1 clove garlic, crushed
2½ Tbs lemon juice
3 Tbs olive oil
Salt and freshly ground black pepper, to taste
Make sauce by infusing saffron in hot water for 5 minutes, then whisking in the remaining ingredients. Sauce will keep in the fridge for up to 3 days.
Preheat oven to 220°C. Place eggplant on an oven tray, brush both sides with olive oil and season with salt and pepper. Roast for 20-35 minutes, or until golden brown. Cool. Eggplants will keep in the fridge for up to 3 days. Bring to room temperature before serving.
Arrange eggplant on a serving platter, slightly overlapping. Drizzle with the sauce, sprinkle with the pine nuts and pomegranate seeds, then scatter with a few basil leaves.
Serves 4