When he was eleven I asked our eldest son James to go into a bakery in a ski resort in France and buy "Deux baguettes s'il vous plaît" while I was double parked outside. I had been round the block twice and there was absolutely nowhere to park.
We sat outside the bakery for what seemed like a very long time with me saying come on you can do it and James saying he really didn't want to. His more outgoing younger sister wanted him to hand over the money so she could go. But she didn't need a confidence booster and I wanted him to do it. Eventually James went into the bakery and came out, beaming from ear to ear, one baguette under each arm.
I had completely forgotten this incident until James (now married with kids of his own) reminded me. He says he remembers it whenever he has to do something challenging, like speaking in public.
A couple of weeks ago I decided to use the No Knead Bread recipe to make deux baguettes instead of the usual round loaf you make in a Le Creuset pot. I wasn't sure if it would work, but decided to give it a go. Well the baguettes were amazing and I've made them three times since. Crisp and crunchy on the outside, soft and tender on the inside, the recipe makes two small baguettes or one very large one, which probably wouldn't fit in my oven.
3 cups plain flour
1 heaped tsp salt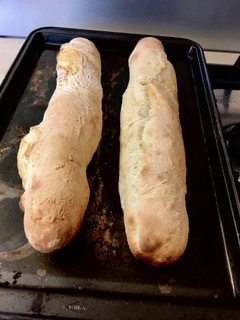 1 Tbs olive oil (optional)
¼ tsp dried yeast
1½ cups very hot water from the tap
Extra flour
Sesame seeds (optional)
Place all ingredients in a large bowl and mix thoroughly with the blade of a knife. Cover bowl with plastic wrap or a tea towel and leave for a few hours. The amount of time you can leave it is flexible and varies a bit according to the weather. In the middle of summer it will be ready to go to the next stage in about three hours, but it's okay if you leave it longer. When ready the dough will have doubled in size.
Sprinkle extra flour on work surface and scrape out the dough. Using a little extra flour as necessary, form dough into a non-sticky round, then cut in two and form each into a sausage shape about 30cm or 12″ long. Place side by side on a lightly greased oven tray, sprinkle with sesame seeds if liked, then leave aside while the oven heats up.
Heat the oven to 220°C. Bake bread for 15-20 minutes or until golden brown and crisp all over. Cool on a cake rack. Bread freezes well.
Makes 2 small loaves or 1 large