My son in law makes this "no-knead bread" and says it's so easy, so I thought it was time I had a go. The time involved in making it is less than five minutes, plus baking time. Minimum mess, quick and easy and tastes fantastic – just like a shop-bought ciabatta. If you look on Google you will find that there are heaps of variations of this recipe, though I believe it was first published in the New York Times. Here's our version.
3 cups plain flour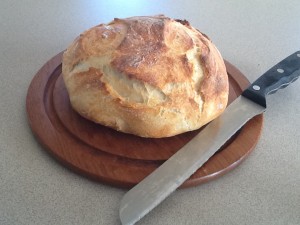 ¼ tsp dry yeast
1 heaped tsp salt
1 Tbs olive oil (optional)
1½ cups very hot water from the tap
Place all ingredients in a mixing bowl and mix thoroughly. Cover bowl with plastic wrap and leave at room temperature until you're ready to bake the bread. In summer anywhere will do, but in the middle of winter it's probably a good idea to put it somewhere cosy like the microwave or the oven, making sure you tell people not to switch it on! Recipes on Google vary on how long the dough needs to rise, so I reckon it's fairly flexible. Anywhere between 4 and 24 hours you can go to the next stage.
At this stage, i.e. after the 24 hour rising period, the dough can be refrigerated for up to 3-4 days and this time in the fridge actually improves the flavour of the bread.
Place an iron pot with a lid in the oven – a le Creuset-type pot holding 6-8 litres – and turn the oven on to 250C or as high as it will go if it doesn't go that high. Meanwhile tip the bread dough out onto a floured surface. Fold and flip it over on itself a few times, then form into a ball with the seams underneath and place on a piece of baking paper. Turn on the oven and let the bread rise a bit while it comes up to temperature. This could take around half an hour. If the dough has been in the fridge for a couple of days then give it 2 hours to come to room temperature and rise before baking.
When the oven is up to temperature use the paper to put the bread into the pot on the paper and make two slashes in the top with a pair of scissors. Cover with the lid and bake for 30-40 minutes. Remove lid and bake for a further 5-10 minutes or until nicely browned. It depends on your oven how fast it browns, so keep an eye on it. In such a hot oven it browns fast. Remove and cool on a rack.