I've made some lifelong friends through chance encounters – on trains, planes, buses, in doggy parks and supermarket queues. The kids say "Mum talks to everyone", but I like to think that when two lives cross there's a reason.
Eva Rishan works as a doctor's receptionist and we got chatting while I was waiting for my turn. Eva was born in Syria, emigrated to Australia in 1989 and has since been joined by her parents, several siblings and their families.
Eva invited me and my family to join her family for what she called a Syrian all day breakfast. Number one son James and I went early, so that Eva's mother Renelle could show us how to make pita bread and falafel. Renelle's English is limited but cooking is an international language and it wasn't long before we were both busy chopping and mixing.
The large back verandah has been enclosed with a corrugated iron roof and roll-down plastic blinds, in order to accommodate big family gatherings and keep the smokers out of the main house. Smoking – both ordinary cigarettes and flavoured tobacco smoke, inhaled through a hookah pipe – is still very popular among Syrians.
The rest of our family (three) and the rest of Eva's family (I lost count) arrived in time for lunch. There were over 30 of us altogether, including numerous kids. The mountain of pita bread was soon disappearing, filled with crispy warm falafel, hummus and a selection of pickles and salads. My contribution was an Apple Strudel which went down well for dessert with some strawberries and whipped cream.
It was great fun to be part of a Syrian family for a day.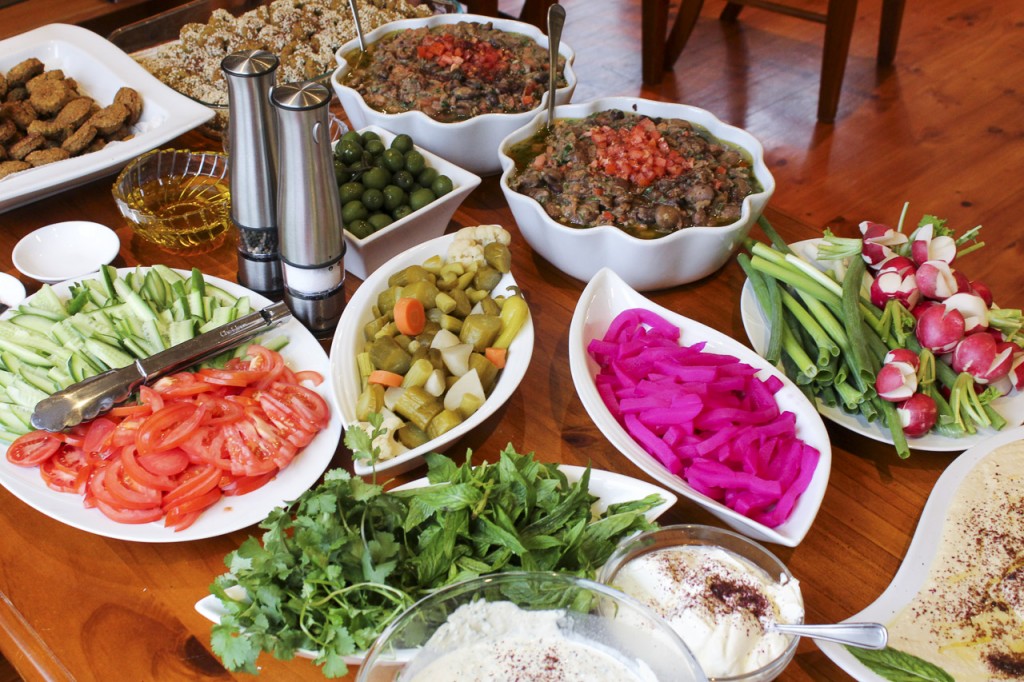 Pita bread
3½ tsp dry yeast
¾ cup warm water
6 cups plain flour
1½ tsp salt
½ tsp sugar
1 Tbs olive oil
About 1½ cups warm milk
Mix yeast with warm water and put aside for 10 minutes. Place flour, salt and sugar in a bowl. Make a well in the middle and add  yeast mixture, gradually adding enough warm milk to hold the dough together. Knead dough until smooth and elastic but very slightly sticky, then leave in a bowl in a warm place – near a heater for example – covered with plastic wrap for an hour or two to rise, while you make the falafel.
Cut dough into 12 and roll into balls. Preheat oven to it's highest setting and heat up a pizza stone in the oven if you have one. Roll out each ball to a circle about 20 cm in diameter, then bake for 5-10 mins or until puffed and slightly browned. This will result in pocket-style pita breads which you can fill with falafel and salad. If preferred, stretch the circles out into much thinner pita breads, about 40 cm in diameter, as you can see in the photos. There's quite a knack to this, but Renelle can do it in her sleep! These are rolled around the fillings like a wrap.
Makes 12
Falafel
375g dry chick peas
½ tsp bicarbonate of soda
1 onion, peeled and quartered
1 cup chopped parsley
1 cup chopped coriander
1 tsp salt and freshly ground black pepper
¼ tsp bicarbonate of soda, extra
4 cloves garlic, peeled
2 tsp cumin
1 tsp coriander
¼ tsp each ground ginger, cinnamon, allspice and nutmeg
2 Tbs olive oil
3 Tbs plain flour
Oil for frying (canola, sunflower or rice oil)
Sesame seeds
Place chickpeas in a bowl and cover generously with cold water. Mix in bicarbonate of soda and leave to soak overnight then drain. Using a food processor or a meat mincer, finely chop chick peas, onion, garlic, parsley and coriander. Add flour, salt, pepper, spices, extra bicarbonate of soda and oil. By hand or using a special gadget called a falafel scoop form mixture into small patties, dipping it into cold water between each.
Heat 4-6cm oil in a large deep frying pan or wok. When hot fry falafel on both sides until golden, remove and drain, then roll immediately in sesame seeds. Don't overcrowd the pan – falafel should cook quite quickly otherwise they will be dry. Serve warm with pita bread, salads and hummus.
Makes about 50
Hummus
This recipe using canned chickpeas is quick to make and easy to halve.
2 cans chickpeas, drained and rinsed
1 tsp salt
4 cloves garlic, crushed
2/3 cup tahini paste, stirred
¼ cup lemon juice
¼ cup olive oil
Garnish: (optional)
Chopped parsley
Toasted pine nuts
Extra olive oil
Paprika
Place chick peas in food processor with remaining ingredients. Process, adding enough water to give the consistency of a dip. Keep in the fridge, covered, until needed. To serve, add a little water if Hummus has become too stiff, then spread onto a shallow dish and decorate with chopped parsley, toasted pine nuts, paprika and a drizzle of olive oil. The garnish is optional, but it looks and tastes great. Serve at room temperature with pita bread.
Makes about 3 cups