I found this recipe in a book of Greek recipes called Taking you Home that I borrowed from the public library. It's not proper pita bread because it doesn't contain any yeast and when cooked it doesn't form a pocket. To make proper pita bread use this recipe.
However, they taste good and you can make them in less time than it takes to nip down to the shops and buy some. A great accompaniment to dips and to serve at BBQs. Another big plus is that they reheat extremely well the following day in the oven, in a frying pan or in the toaster.
The original recipe calls for 500g self-raising flour and 500g Greek yoghurt, plus a tablespoon each of baking powder and salt. I decided to make just over half the recipe and next time I will cut down on the baking powder and salt as they were a bit too overpowering. My adjusted quantities are below.
They would make perfect individual pizza bases.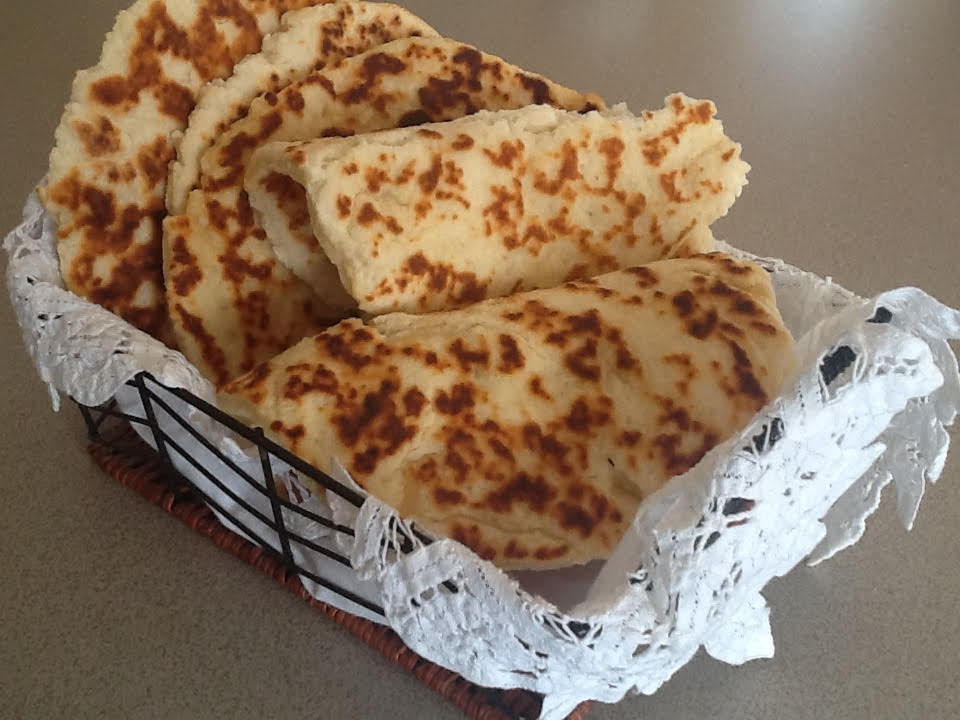 300g self-raising flour
300g thick Greek yoghurt
1-2 tsp salt, to taste
1 rounded tsp baking powder
Extra flour for dusting
Olive oil or Canola spray
Mix flour, yoghurt, salt and baking powder in a bowl until combined. If it seems too stiff add 1 or 2 tablespoons of water – just enough to get it all to stick together. Tip onto a floured surface and knead gently for 30 seconds – just enough to get it all combined. Cut dough into six and with a floured rolling pin roll each piece into a circle about 15cm (6 inches) in diameter. If you want them smaller cut dough into 8 or 10 pieces.
Heat a non-stick frying pan over medium heat and spray the bottom with oil. Cook the pita for about 2 minutes on each side, or until nicely browned. Cook remaining pitas, making sure you spray each side with oil.
Serve warm.
Makes 6-10 pitas
Note: store any leftover pita in a plastic bag in the fridge. Reheat for a few minutes in a moderate oven or for a minute or two on each side in a dry frying pan. Or cut them in half and zap them in the toaster.