We recently hosted a 60th birthday dinner on a balmy summer's evening, for a friend who follows a gluten-free, dairy-free diet.
Watermelon and Feta squares went down well with drinks on the verandah, then we started the meal with Gin-Cured Salmon with Kewpie Mayonnaise and Pickled Grapes and finished with Big Mary's Mexican Bombe. I replaced the dairy cream with Organic Coconut Whipping Cream, made by The Tender Table and sold in some specialty shops. With six candles, one for each decade, this dessert doubled as a birthday cake.
For the main course I served this chicken dish which was given to me by my daughter's friend Mel over a decade ago. Mel is a fabulous chef and now makes special cakes to order in Canberra.
A chicken supreme is a boneless breast with the skin and first section of the wing left on. If you're not sure what it looks like watch this video. There's a shop in a nearby shopping mall that specialises in chicken. They didn't have supremes on display, but the butcher knew what I wanted and prepared them for me.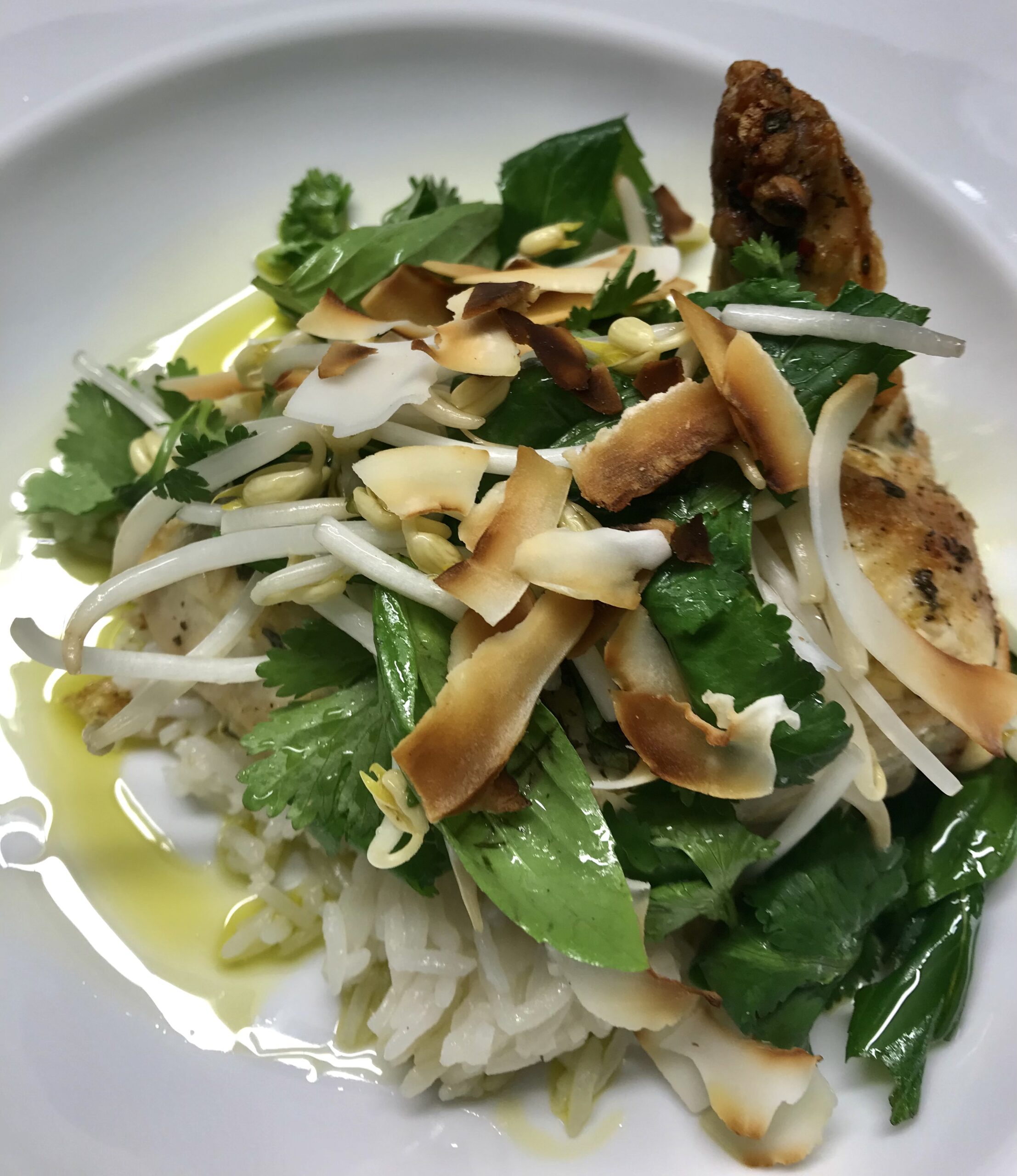 Chicken:
6-8 chicken supremes (boneless breasts with skin & first piece of wing attached)
Grated rind 1 lemon
1-2 small red chillies, very finely chopped
2 Tbs finely chopped coriander
2 Tbs olive oil
S and P
Pilaf:
2 Tbs  butter (or olive oil to keep it dairy-free)
2 cups basmati rice
1 x 400ml can coconut milk or cream and about 2 tins water
Juice of 1 lime or half a lemon
Salt and freshly ground black pepper to taste
Salad:
2 cups beansprouts
2 cups coriander leaves – broken off, not chopped
2 cups Vietnamese mint leaves (or ordinary mint)
2 cups purple basil leaves (or ordinary basil)
Dressing:
2 Tbs sugar
2 Tbs vinegar
To serve:
toasted shredded coconut
Trim any untidy bits off the chicken and if you think they look a bit too big, remove the fillets and keep them for a stir fry another day. Mix the chicken with the marinate ingredients and leave for several hours, or overnight if possible, in the fridge. Arrange chicken on a shallow baking tray (lined with baking paper if liked) and bake for 25-30 mins at 180°C, or until cooked and tender. Be careful not to overcook it, or it will be dry.
For the pilaf melt butter, add rice and stir to coat. Add coconut cream or milk and stir over low heat until the rice starts to thicken. Add water, lime juice, salt and pepper. Bring to the boil, then cover tightly and cook on a very low heat until liquid has all been absorbed. You may need to add slightly more or less water, so don't add it all at the beginning and see how it goes, stirring and adding more if necessary. You can also do the rice in a rice cooker, just putting all the ingredients in together and adding a bit more water towards the end, if necessary.
Remove any stringy bits from the beansprouts. For the salad dressing, heat vinegar and sugar in a small pan, bring to the boil. Boil for a minute then cool. Mix all the salad ingredients together and at the last minute add the dressing, mixing gently using your fingers, so you don't bruise the leaves.
To serve, divide rice among six serving plates. Place chicken on rice, top with the salad and finally the toasted coconut. I used large dried coconut from Aldi, stirred in a dry frying pan over moderate heat until lightly browned.
Serves 6-8