This delicious gin-cured salmon (inspired by a dish I had at one of our favourite Canberra eateries, Lambsheds is great to have ready in the freezer for the holiday season, whether you're living in the northern or southern hemisphere. It's so easy to make and guaranteed to impress your guests. I buy the salmon from Costco because they do a great job of deboning, you don't even have to check. This recipe is a variation on a traditional Gravlax.
Serve the salmon as a starter or light lunch, or on Chinese spoons, as appetisers. I've been collecting Chinese spoons from second-hand stores for some time and have well over fifty. When asked to bring a plate to an end of year gathering this is what I have been taking this year.
If you don't have time to make the cured salmon, the recipe works well using plain raw salmon (top sashimi quality, remove any brown bits and slice thinly) with the kewpie mayonnaise and pickled grapes. Kewpie mayonnaise is a Japanese product available in most supermarkets. Juniper berries and pink peppercorns (which are actually not peppercorns at all) are available from specialty shops such as The Essential Ingredient.
The grapes in the photos are very small ones we grow ourselves, so I leave them whole. They are delicious with cured salmon, smoked salmon, or on oysters, with a sliver of spring onion, for those who don't insist in eating them "au naturel".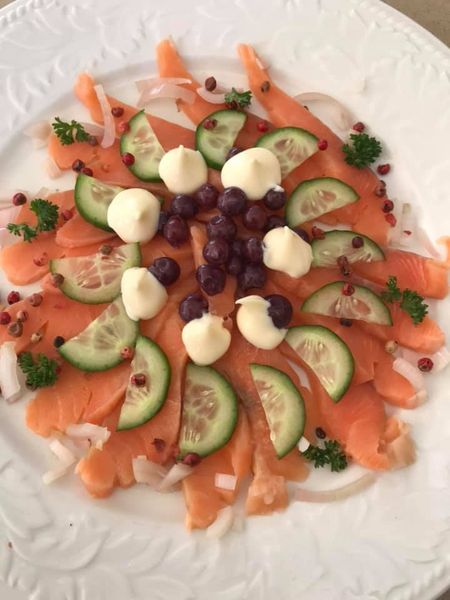 1 side of salmon (about 1kg), skinned and de-boned
1/3 cup each salt, sugar and gin
1 tsp pink peppercorns
1 tsp cumin seeds
1 tsp juniper berries
2 tsp coriander seeds
Finely grated rind of 1 lime
To serve: 
Kewpie mayonnaise
Finely sliced spring onions or finely chopped onion
Pickled grapes (see below)
Baby cucumbers, sliced and halved (optional)
Pink peppercorns (optional)
Cut salmon in half across the middle of the fish. Place spices in a mortar and pestle and grind fairly finely. Place in a bowl with remaining ingredients and mix well. Spread about a third in a shallow glass dish, then place one piece of fish on top, then another third of the spice mix, the second piece of fish and remaining spice mix. Cover with plastic wrap or a plastic bag, then place a plate or a board on top and a couple of cans of tomatoes or whatever, to weigh it down. Refrigerate for 2-3 days, turning the fish once or twice.
Remove the salmon from the gin marinade, scrape off the spice mix and pat dry with paper towels. Wrap each piece in plastic wrap and freeze until needed.
To serve, slice salmon thinly and arrange on individual starter plates or Chinese spoons. Garnish with Kewpie mayonnaise, spring onions, baby cucumber (optional) and drained pickled grapes. If liked sprinkle with a few pink peppercorns.
Pickled grapes:
½ cup each water, white or cider vinegar and sugar
Black seedless grapes cut into halves or quarters, depending on size
Heat water, vinegar and sugar in a small saucepan until sugar has dissolved, then tip into a jam jar. Add grapes. The quantity varies, but they all need to be submerged in the liquid. Keep in the fridge.