Chinese spoons are great for serving tasty morsels with drinks. Find them in Asian stores or collect them from second-hand shops, known as Op shops in many countries. I have more than two dozen and use them a lot.
When serving a canapé on a spoon you don't need a base of bread, toast or a cracker. The spoon takes its place. I like to keep the ingredients on hand to make my favourite combinations. So I've usually got prosciutto and soft blue cheese in the fridge (plus the walnuts and jam in the pantry) and when I've used them I add them to my shopping list. Same goes for the gravlax or smoked salmon, kewpie mayonnaise and pickled grapes.
Kewpie mayonnaise is a Japanese product sold in the Asian section of Australian supermarkets. Once you have pickled grapes (which are home made) in the fridge you'll find they go with lots of things as a tasty, fresh garnish, so make more than you need.
I haven't put an ingredients list or method for the first two ideas. Just arrange the components on the spoons as shown in the photos. You can whip up a tray of one or two of these combinations in no time at all.
(1) Prosciutto (or jamon serrano), creamy blue cheese, a lightly toasted walnut or pecan half, half a teaspoon of fruit jam or jelly or paste and a coriander leaf (optional, not in photo).
You can use virtually any sweet jam, jelly or paste such as cranberry, plum or quince.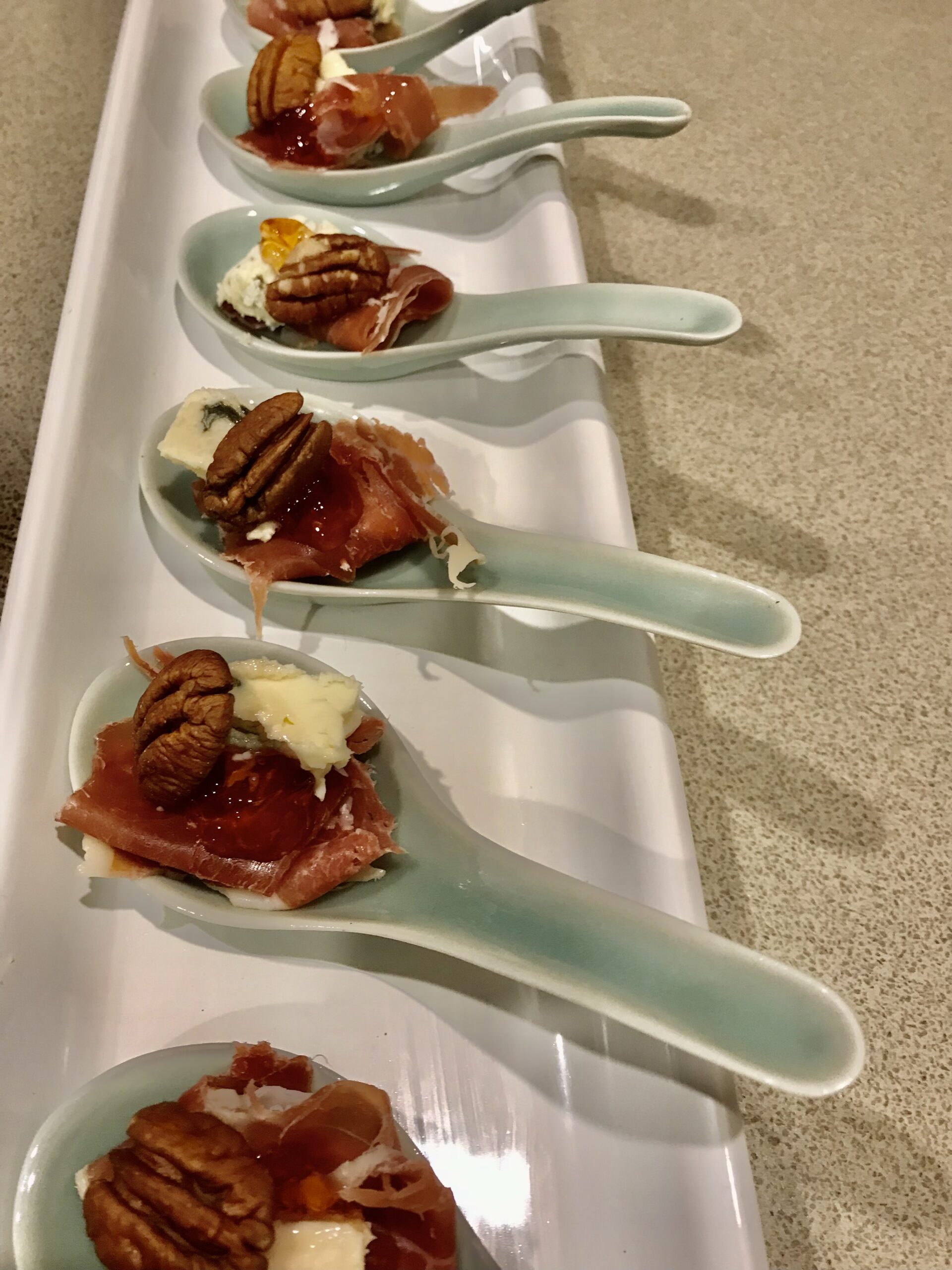 (2) Gravlax (or smoked salmon or trout) with kewpie mayonnaise, spring onion and pickled grapes.
The pickled grapes are home-made and keep for a couple of weeks in the fridge. The ones in the photo are very small ones we grow and freeze. They keep for months in the freezer and I take them out as I need them for pickling. If you use larger fresh grapes, cut them in halves or quarters.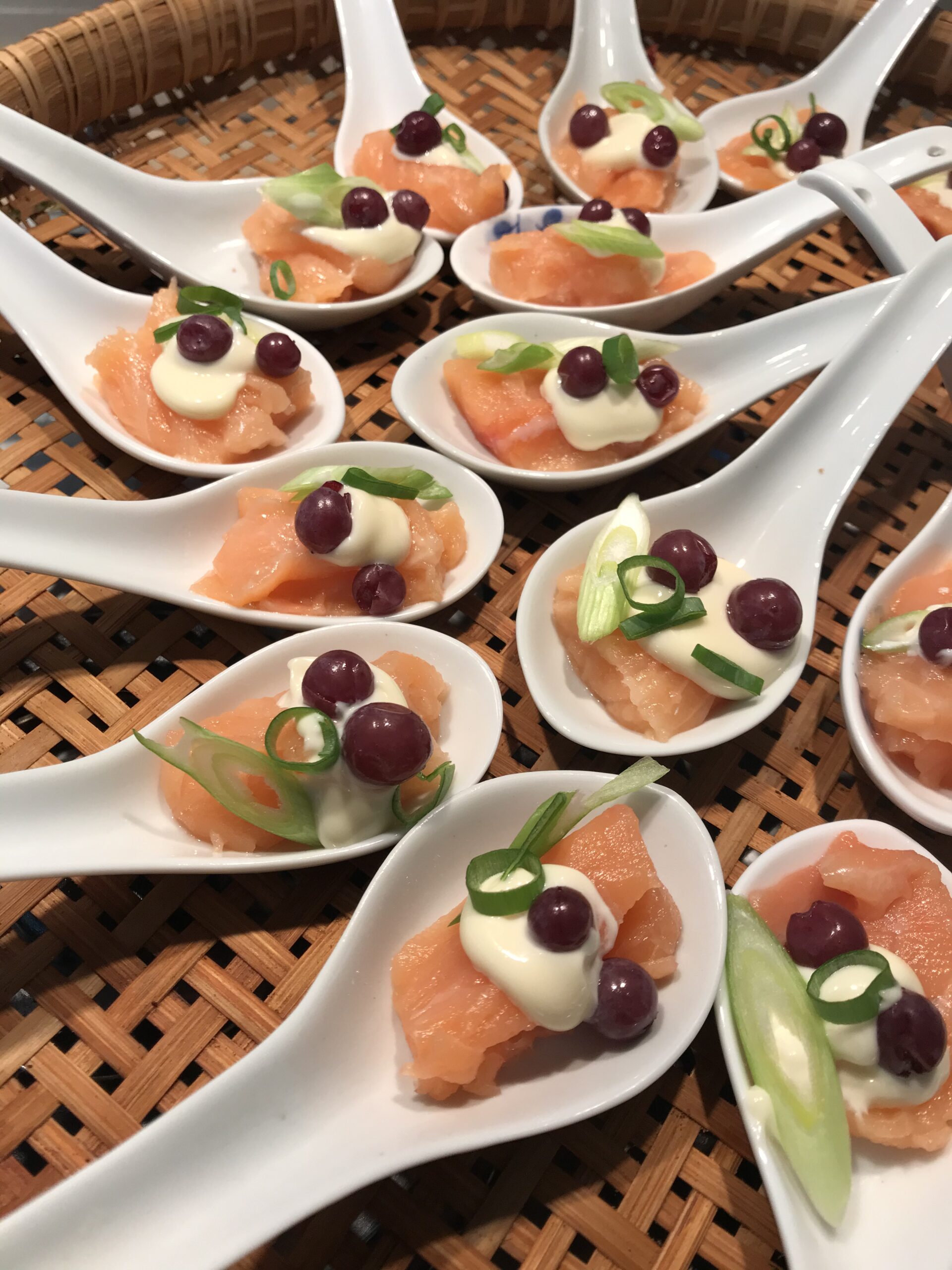 (3) Tuna and Avocado Spoons with Wasabi Dressing
200-250g piece of sashimi-grade tuna
1 or 2 avocados, halved and thinly sliced
Fresh Coriander leaves
Lightly toasted sesame seeds to garnish – photo shows white but black ones look good
Dressing:
1 Tbs lemon juice
1 Tbs soy sauce
1½ Tbs sesame oil
2 tsp finely grated fresh ginger
1 Tbs brown sugar
¼ tsp wasabi paste, or to taste
Slice tuna thinly. This is easier to do if the tuna has been frozen and is only partially thawed. Arrange a piece on Chinese spoons, top each with a slice of avocado and a coriander leaf. Drizzle with dressing, sprinkle with sesame seeds and serve when the tuna has thawed – it will only take a few minutes.
Dressing: Place all ingredients in a jar with a lid and shake vigorously.
Makes 16-20 spoons