A family birthday is a good excuse to cook up a storm and open a few bottles of good wine. Last weekend was one such occasion, so I worked out a menu which included some of the birthday boy's favourite foods.
Instead of a starter I made 4 different finger foods from Drinks and Nibbles, a Marie Claire book by Michele Cranston, served with Chile's delicious national cocktail Pisco Sour, which we're all rather partial to after a four year posting to Santiago.  The grilled prawns were definitely the hot favourite, followed by the seared tuna, then the ceviche and lastly the watermelon and feta squares. But they were all good.
For the main we had rack of lamb with herb and caper crust, served with thyme infused carrots and minted peas – all recipes from this month's Delicious magazine.  Individual potato soufflés, inspired by a meal we enjoyed at the Artisan restaurant recently, completed the plate.  I had to invent the recipe, but they turned out well.  As you can see in the photo, the plating of the main course left something to be desired – a result of too many cooks in the kitchen, all trying to get the various ingredients onto the plates and onto the table before they went cold!  D'Argenberg's Footbolt Shiraz was a good choice to go with the lamb.
For dessert we had a tasting plate of three small desserts –  all faves of the birthday boy – chocolate ganache with pink peppercorns, white chocolate mousse with raspberry coulis and a salted caramel tartlet.
Here are the recipes, tweaked and adjusted a bit as usual.  I have changed the cooking method for the carrots, because they ended up more or less steamed rather than glazed as I would have liked them.  This method will achieve that.
Prawns with Coriander and Lime
2 Tbs coriander stalks
2 Tbs chopped fresh ginger
2 cloves garlic, roughly chopped
1 lemongrass stem, white part only, roughly chopped
¼ cup vegetable oil
1 tsp ground coriander
20 large raw prawns, peeled and deveined (or 40 smaller ones)
½ cup coriander leaves, roughly chopped
¼ cup lime juice
¼ cup olive oil
1 tsp sugar
A pinch of salt
20 small wooden skewers, soaked in hot water for 20 mins
Thread prawns onto skewers – using one prawn per skewer if large and two if smaller, then place in one layer in a shallow dish. Place coriander root, ginger, garlic, lemongrass, vegetable oil and ground coriander in food processor and blend to a paste, then pour over the prawns, turning them to coat.  Leave to marinate, covered, in the refrigerator for at least an hour.
Place chopped coriander leaves, lime juice, olive oil, sugar and salt in a jar with a lid.  Shake to combine then put aside. Grill prawns on a moderately hot BBQ or grill for 2-3 minutes each side.  Place on serving dish and drizzle with the coriander dressing.
Makes 20
Seared Tuna with Lime Leaf and Peanuts
2 Tbs tamarind water
1 Tbs palm sugar, chopped small or substitute brown sugar
⅓ cup lime juice
1 Tbs grated ginger
1 Tbs fish sauce
2 tsp sesame oil
1 small red chilli, seeded and finely chopped
1 Tbs finely chopped kaffir lime leaves
1 Tbs chopped lemongrass, white part only
300g tuna fillet, cut into logs about 2cm thick and wide
3 Lebanese cucumbers
½ cup coriander leaves
½ cup toasted and chopped peanuts
Place tamarind water, palm sugar, lime juice, ginger, fish sauce, sesame oil, chilli, kaffir lime leaves and lemongrass in a jar with a lid.  Shake then put aside.  Peel and slice cucumbers and cut into 1cm rounds.
Heat a lightly greased frying pan over high heat and sear the tuna fillets for 1 minute each side.  Remove from  heat, season with a little salt, then cut into pieces about the same size as the cucumber rounds.  Add coriander and peanuts to the dressing in the jar, shake then spoon some onto each square of tuna, then place onto a cucumber round and arrange on serving tray.  If you put the tuna on the cucumber first, then the dressing, it tends to go everywhere.
Makes 30
Ceviche with Coconut Dressing
500g firm white fish fillets (e.g. Hoki, Barramundi)
juice of 3 limes
100ml coconut cream
2 tsp grated ginger
½ tsp turmeric
1 tsp sugar
1 Tbs finely chopped coriander root/stalk
½ tsp salt
2 spring onions, finely sliced on the diagonal
Cut fish into bite-sized cubes and place in a glass or ceramic dish.  Cover with lime juice and refrigerate 2 hours.  Mix coconut cream, ginger, turmeric, sugar, coriander root and salt.  Drain fish, discarding lime juice and mix into coconut dressing.  To serve, place a cube of fish onto each Chinese spoon and garnish with the spring onion.
Makes about 40
Watermelon and Feta Squares
½ large seedless watermelon
100g creamy feta cheese
1 tsp sumac
6 pitted black olives, finely sliced
1 Tbs extra virgin olive oil
2 Tbs very finely chopped flat-leaf parsley
1 tsp finely chopped thyme leaves
Cut watermelon into 2cmx2cm, bite-sized cubes. Cut feta into 1cm cubes. Mix sumac, olives, olive oil, parsley and thyme.  Place a small amount on a feta cube, then place the feta cube on a watermelon cube and arrange on serving plate.  Repeat with the rest of the cubes and serve immediately.
Variations: use green olives instead of black; use basil or mint instead of thyme
Makes about 25
Roxana's Pisco Sour
½ bottle Pisco (about 375ml)
6 ice cubes
2 Tbs icing sugar, or to taste
½ cup lemon or lime juice, or a mixture
½ an egg white
Place pisco, ice and sugar in blender and blend for 2 minutes. Add lemon juice, mix for 2 minutes, then add egg white and continue to mix until sugar has completely dissolved. Pour into 6-8 cocktail or champagne glasses and if liked place a few drops of Angostura bitters on top of each.  Serve immediately.
Serves 6-8
Lamb Rack with Caper and Herb Crust and Rhubarb Compote
Olive oil
2 French-trimmed 8-cutlet lamb racks (see note below)
8-12 shallots, peeled and halved lengthwise
Rhubarb compote (see below)
Caper & Herb crust:
2 Tbs salted capers, rinsed and drained
4 sprigs rosemary, leaves picked
½ cup flat leaf parsley leaves
½ cup mint leaves
8 cloves garlic
2 Tbs olive oil
finely grated zest and juice 1 lemon
2/3 cup (100g) peanuts
For the crust place all ingredients in food processor except the peanuts and process until finely chopped.  Add peanuts and process briefly leaving it quite chunky.  Set aside.  Heat oil in a large frying pan over medium heat.  Season lamb racks with S and P and cook in two batches, for about a minute each side, or until nicely browned.  Rest for 15 mins then press the crust onto the fatty side of each lamb rack.   Place shallots in a baking tray, drizzle with some olive oil, then place the lamb racks on top, propping the bony sides up against each other.  (I prepared the dish to this point in the morning)
Preheat oven to 200°C. Roast lamb for 35 minutes for medium-rare (see note below) or until cooked to liking.  Rest for 10 mins then carve into individual cutlets and serve with the roasted shallots and rhubarb compote.
Note: the Delicious magazine recipe calls for spring lamb.  The lamb racks I used were larger and had 9 cutlets each.  I had also done the browning earlier in the day, so they had got cold.  So I roasted them for 45 mins, plus resting time and they were perfectly cooked, medium-rare. If the crust starts to get too brown during cooking time, cover loosely with a piece of foil.
Serves 8, two cutlets each
Rhubarb Compote
2 bunches rhubarb, washed and trimmed
1/2 cup caster sugar
1/2 cup water
1 1/2 Tbs pomegranate molasses (from delis and specialist cookshops)
Cut rhubarb into 1-2cm pieces. Place in a saucepan over medium heat with sugar and water.  Bring to the boil, then simmer for 10-12 mins or until thick.  Add pomegranate molasses, place in serving dish and put aside to cool.  Serve with lamb.  It would also be nice with chicken, pork or ham. (Note: the recipe in the magazine used 2 cups of water which was far too much!)
Thyme Infused Carrots
2-3 bunches baby carrots
40g butter
2 tsp thyme leaves
1 Tbs olive oil
1/4 cup white wine
Juice 1 orange
Scrub carrots and trim, leaving a short bit of green at the ends, then halve lengthwise.  Cook in boiling salted water until just slightly under-cooked.  Refresh under cold water, drain then put in a frying pan which is wide enough to fit the carrots.  Add remaining ingredients then put the pan aside until close to serving time.  Bring to the boil then simmer, turning the carrots until they're nicely glazed and the liquid has evaporated.  Serve immediately.
Serves 8
Minted Baby Peas
4 cups frozen baby peas
1 tsp sugar
30g butter
1/4 cup mint leaves, finely chopped
1/4 cup flat leaf parsley leaves, finely chopped
S and P to taste
Cook peas in boiling salted water for 2-3 mins.  Refresh under cold water, then drain.  Place in a saucepan with remaining ingredients.  Can be prepared ahead to this stage.  At serving time reheat over medium heat, stirring.  Season to taste and serve immediately.
Serves 8
Potato Soufflés
80g butter
1/2 cup plain flour
450ml (just under 2 cups) milk
shake of ground nutmeg
2 cups mashed potatoes (mashed with some cream and a large knob of butter)
S and P to taste
4 eggs
1 beaten egg for painting the soufflés prior to baking
Set oven to 180°C and oil about 10 half cup soufflé dishes and place them on a baking tray.  Preheat oven to 200°C.  In a non-stick saucepan heat butter and when melted add flour.  Stir for 2-3 minutes until the flour is cooked but not coloured, then gradually add the milk, mixing to incorporate before you add more.  When sauce is thick and smooth add nutmeg, mashed potato and season to taste.
Remove pan from heat and add the egg yolks one by one, placing the whites in a large mixing bowl.  Beat the whites until soft peaks form, using electric beaters.  Add some of the sauce to the whites and mix well, then add the rest and mix thoroughly using a plastic spatula.  Divide mixture between the soufflé dishes, filling them almost to the top. Bake for about 15 minutes or until risen and golden brown.  If liked you can serve them now, leaving them in the dishes and just sitting them on the side of the dinner plates.  Or you can use the following twice-baked method which takes a bit of the stress out of the last-minute nature of soufflés.
Remove from the oven and leave to cool.   Line a baking tin with baking paper and spray it with oil, run a knife around each soufflé and tip onto the paper, leaving a space of 2-3cm between each one. Recipe can be made ahead to this point and kept refrigerated and covered, for up to 24 hours.
To serve set oven to 200°C.  Using a pastry brush, paint the top of each soufflé with a little beaten egg, then bake for 10-15 minutes, or until puffed and golden.  If serving with the rack of lamb, place in the oven during the last 10 mins of the lamb's cooking time, then they can continue to cook when lamb is removed to rest for 10 mins.  Soufflés will take slightly longer if they've been in the fridge. Remove with a fish slice to serving plates.
Makes 10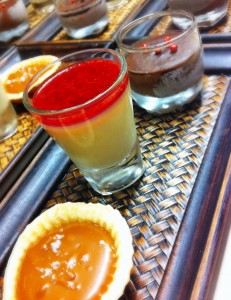 Tasting Plate of Favourite Desserts
Dark Chocolate Ganache:
200ml cream
150g dark/bitter chocolate
pink peppercorns (from specialty shops – dry, slightly perfumed not the ones in brine)
White Chocolate Mousse with Raspberry Coulis
Mousse:
150g white chocolate
2 Tbs milk
1 tsp vanilla essence
1 tsp gelatine
200ml cream
2 eggs
Coulis:
1 cup raspberries, fresh or frozen
1/4 cup caster sugar
Salted Caramel Tartlets:
8 small tartlet shells made with sweet shortcrust pastry, baked and cooled
1 can Nestlé Top 'n Fill Caramel
250ml cream
Maldon or Murray River salt flakes
Chocolate Ganache: heat cream to boiling point.  Add chocolate broken into squares and stir until melted.  Divide between about 8 shot glasses (will depend on size) then chill or you may prefer them at room temp.  Serve sprinkled with a few pink peppercorns.
White Chocolate Mousse with Raspberry Coulis: place chocolate, milk and vanilla in a bowl over simmering water until chocolate has melted, stir well and remove from heat. Dissolve gelatine in a Tbs of water, zap in the microwave then mix into the chocolate. Cool a bit then mix in the egg yolks. Whip the egg whites first then using the same beaters whip the cream (not the other way round as the whites won't whip with greasy beaters!). Fold the cream into the chocolate, then lastly the egg whites. Pour into about 8 shot glasses (will depend on size) leaving a small space at the top for the coulis. Refrigerate several hours or overnight. Coulis: defrost the raspberries and mix with the sugar. Leave for a while so the sugar dissolves, whiz in a blender, then push through a sieve, discarding the seeds. To serve, pour a layer of coulis on top of each chocolate moussse.
Salted Caramel Tartlets: in a small saucepan heat cream and caramel Top 'n Fill gently until thoroughly incorporated.  Cool slightly then use to fill tart shells.  Store at room temperature for up to several hours.  Serve sprinkled with a few salt flakes.  This is enough filling for about 20 tartlets.
Arrange the three desserts on a small plate or individual serving tray (as shown in photo).
Serves 8