We're very fond of Moroccan flavours so this recipe caught my eye when it appeared in the latest Delicious magazine. It comes from Mojo, Luke Mangan's new wine bar in Danks Street in Sydney, which serves "sharing plates" to go with the wine.
Serve it on its own or with grilled lamb cutlets or my Moroccan lamb. As we're in the middle of winter I served it slightly warm and it was fantastic – definitely a keeper.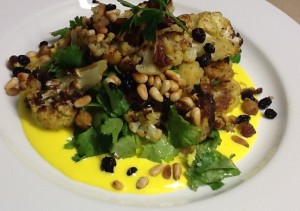 1 whole cauliflower
400g can chickpeas, rinsed and drained
1/3 cup olive oil plus extra to serve
2 Tbs Ras el Hanout Spice Mix (bought or make your own, see below)
½ bunch coriander, leaves picked off
½ bunch Continental parsley, leaves picked off
1/3 cup port
1/3 cup currants
2 Tbs white wine
2 pinches saffron strands
2/3 cup thick Greek-style yoghurt
Juice ½ lemon, or to taste
½ tsp Dijon mustard
1/3 cup pine nuts, lightly toasted
Preheat oven to 200ºC. Trim cauliflower removing green leaves and stem. Slice cauliflower into 1cm slices from top to bottom – some will fall off as florets. Place in a roasting pan with chickpeas, oil and spices. Toss with your fingers to coat everything thoroughly. Bake 20-25 mins or until tender and golden. Cool a bit then mix with the herbs.
Meanwhile heat port in a pan or microwave. Add currants and leave to soak for 10 mins or until plump, then drain. The recipe says to discard the port, but why not drink it? Heat wine in a pan or microwave, add saffron and stand 15 mins, then strain into a bowl, discarding saffron. Add yogurt, mustard and lemon juice to taste and mix well.
Divide yoghurt dressing between 4-6 serving plates in a puddle in the middle. Top with cauliflower mixture, garnish with currants and pine nuts and drizzle with extra oil. Alternatively serve in one large serving bowl, drizzled with the dressing.
Serves 4-6
Ras el Hanout Spice Mix
3 Tbs black peppercorns
2 tsp powdered ginger
2 tsp cumin seeds or powder
2 tsp coriander seeds or powder
2 tsp nutmeg
1 tsp paprika
1 tsp cardamom
2 tsp turmeric
1 tsp chilli flakes or powder
¼ tsp cloves
2 tsp coarse salt
Grind the whole spices and salt to a powder in a spice mill or mortar and pestle. Add the powdered spices and mix well. Keep in a jar with a lid. Best used within a couple of months.