I grew up in a house where beetroot – boiled, peeled, sliced and doused with malt vinegar – was nearly always on the table. My mother made a dish full every week and we ate it as a side dish.
Since then I've found lots of different ways of serving this somewhat underrated vegetable. I particularly enjoy it without the addition of vinegar, so the lovely earthy taste shines through. Roasted and served in a salad with rocket, feta or goat's cheese and maple-glazed pecans or walnuts it's absolutely delicious. But I seldom served it raw until I came across this recipe which will please all beetroot fans. It's even better the next day and goes down very well at a BBQ.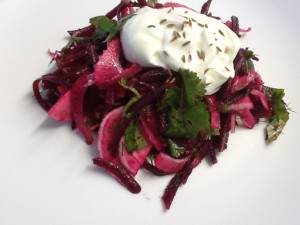 250-400g peeled and coarsely grated raw beetroot
70g dried figs, chopped (or substitute raisins, cranberries or other dried fruit)
lots of chopped fresh herbs – whatever you have (dill, coriander, parsley)
1 small bulb fennel finely sliced
¼ cup lemon juice, or to taste
1-2 Tbs extra virgin olive oil
salt and freshly ground black pepper
¼ cup mayonnaise (preferably home made)
¼ cup plain yoghurt
1 Tbs cumin seeds, toasted in a dry frying pan
Mix beetroot, figs, herbs and fennel, then add oil, lemon juice and seasoning to taste. Make an hour or two before serving then tip into a serving bowl or spoon onto individual serving dishes. Mix mayonnaise with yoghurt and dollop over the top. Sprinkle with the cumin seeds.
Serves 4-6
Note: the mayo-yoghurt topping is optional