When we were living in Pretoria, South Africa, in the late 1980s someone brought a delicious spinach salad to a pot luck BBQ we were hosting. I made a mental note of the ingredients in the salad, but it took me a while to get the sweet and sour red dressing right.
This salad is very popular as part of a buffet or to accompany a BBQ. The ingredients are unusual and the contrast of the spinach and eggs with the red dressing looks good. I used to call it Sweet and Sour Dressing, but as everyone in the family called it Red Dressing, I decided to go with the flow. Serve in a large shallow bowl, so there is only one layer of each ingredient, then spoon the dressing over at the last minute and serve without mixing.
The bowl in the photo is hand made and was bought at the craft market at Los Dominicos in Santiago, Chile. We lived in Santiago for 4 wonderful years and every time I return I end up bringing back a salad bowl for someone who has admired mine and asked for the spinach salad recipe. It's a perfect size and shape for this salad.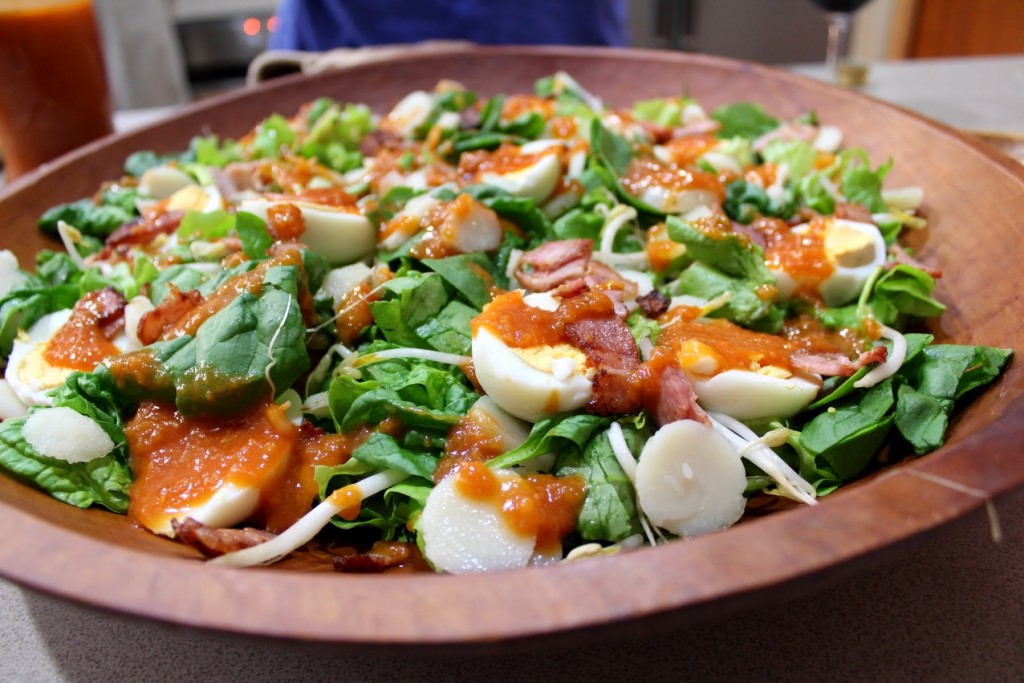 2-3 packets baby spinach leaves or use half spinach and half lettuce leaves
1-2 cups bean sprouts
4-6 hard boiled eggs
4-6 rashers bacon, diced
1 can water chestnuts
Red Dressing (see below)
Wash and dry spinach and remove stalks. Wash and dry bean sprouts and sprinkle over. Drain and slice water chestnuts and sprinkle over. Cut eggs into halves or quarters, lengthwise and arrange over the salad. Can prepare ahead to this stage. Just before serving fry the bacon in a pan without oil until crisp, dry on paper towels and sprinkle over the salad. Vegetarians can leave out the bacon. Just before serving spoon over some Red Dressing.
Serves 8-10 or more as part of a buffet
Red Dressing
¼ cup sugar
a pinch of salt
1 small onion or ½ medium
½ cup cider or white wine vinegar
1 cup vegetable oil
1 Tbs Worcestershire sauce
½ cup tomato ketchup
Process all ingredients in food processor until smooth. Keep in the fridge in a jar with a lid. Shake well before using. Goes well with any salad but especially with Spinach Salad.