It's that time of year when there are lots of gatherings where guests are asked to "please bring a plate". It may not be common in all countries, but here in Australia what we call Pot Luck lunches or dinners, where everybody makes a contribution, are quite normal. Picnics, beach parties, family or work gatherings to celebrate Christmas or New Year, which of course is the height of summer here. It's hard to get through December and January without being asked to bring a plate.
A Greek friend arrived in Canberra from Athens in the 1960s with very little English. When he and his wife were invited for lunch and asked to bring a plate they were somewhat perplexed. If their hosts didn't have enough plates, perhaps they were also short of glasses and cutlery. So they brought their own, never imagining they were expected to bring food.
Today's photo shows a delicious salad which can be put together in no time with 5 ingredients picked up from the supermarket. It's so easy I'm not even going to write a recipe. Just layer a packet of washed rocket, then a packet of prosciutto or jamon serrano, cut into smaller pieces with scissors, some small chunks of a soft creamy blue cheese (I used Gorgonzola from Aldi) and walnut or pecan halves. Just before serving, drizzle with some extra virgin olive oil  and balsamic glaze.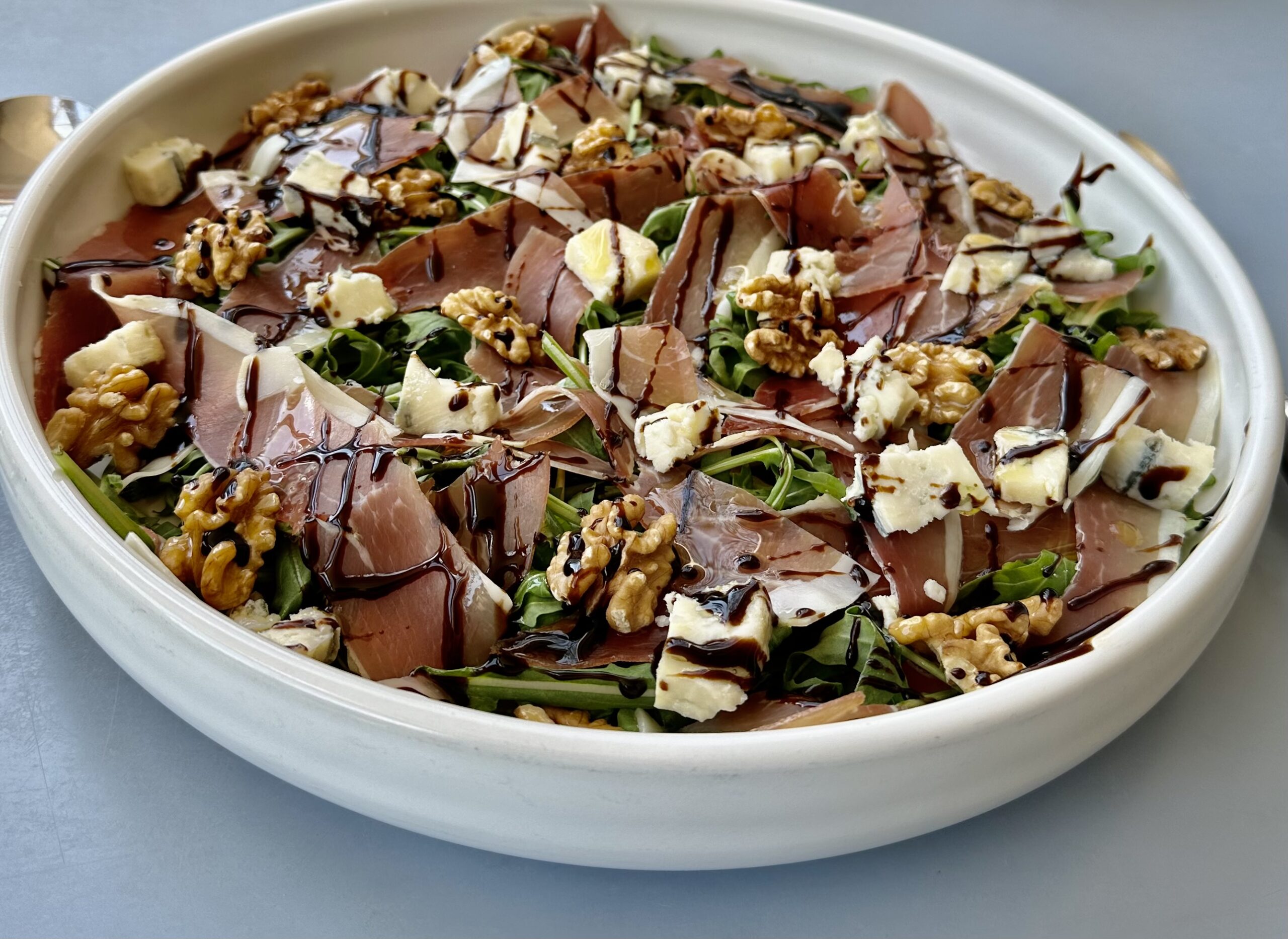 Here are some other recipes you might like to try next time you're asked to bring a plate.
I've taken Spinach Salad with Red Dressing to many Pot Luck lunches and dinners over the past 3 or 4 decades. Even the older kids like it,
Beef Teriyaki can be served hot or at room temperature. Either way it's delicious.