For over two decades, the iconic Omaha restaurant Dixie Quicks drew customers of all ages and backgrounds like a magnet, for good food, acceptance and respect. René Orduña ran the restaurant with his husband Rob Gilmer and it soon became a hotspot for artists, drag queens, musicians and creative types, giving sanctuary and guidance to gay Omahans.
When René died of cancer in 2016 Rob continued to run the restaurant on his own for two years. But it was not the same. "This was Renés restaurant" he said. "He was the catalyst, he was the force." So after 22 years in business Dixie Quicks finally closed its doors in January 2018.
René gave his recipe for Chicken with Pernod to my cousin Mary Beth who lives in Omaha. It was one of the most popular dishes on the menu and her favourite.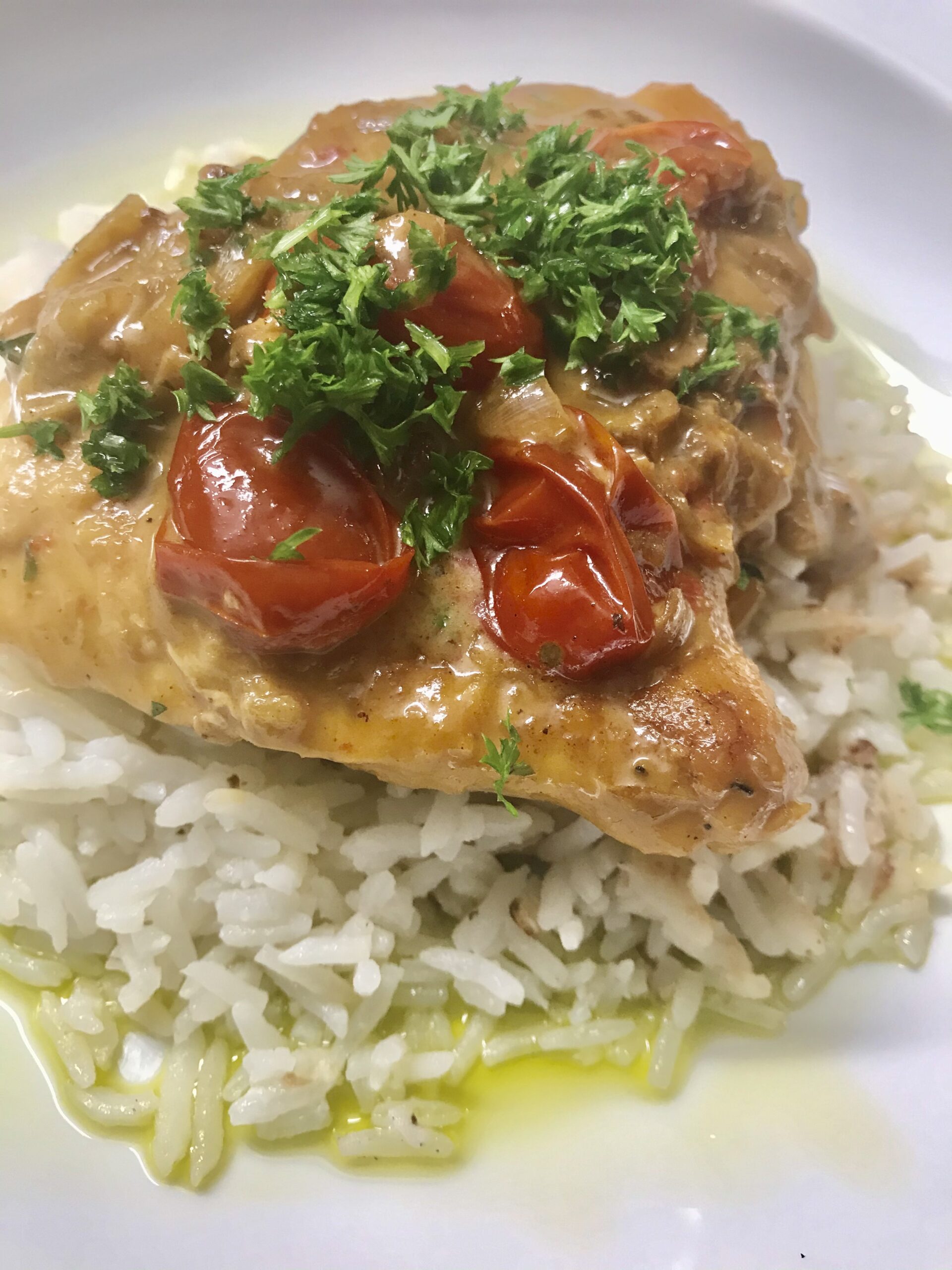 2 large skinless boneless chicken breasts (or 4 small ones)
1/3 to 1/2 cup plain flour
Salt and freshly ground black pepper, to taste
2 tsp butter and 2 tsp oil
1 large shallot or 1 small onion, finely diced
250g tomatoes cut in quarters or cherry tomatoes, halved
¼ to ½ cup chicken stock
½ cup cream (or coconut cream)
½ cup Pernod
To serve:
Steamed Rice
Finely chopped parsley
Trim chicken breasts, cut each one in half and hammer out a bit with a meat mallet. Season the flour and use it to coat chicken on both sides, discarding any excess. Heat butter and oil in a frying pan which holds the 4 pieces of chicken in one layer. Brown chicken on both sides, then lower the heat and continue to cook until cooked through. Remove from pan.
Add shallots or onion to the pan and cook, stirring over low heat until soft. Add tomatoes and a little salt and pepper. Return chicken to the pan, add Pernod and stir to deglaze the pan. Flambé, shaking the pan until the flames subside. Add chicken stock and cream and cook, stirring and turning the chicken until sauce has thickened and reduced a bit. This will only take a coupe of minutes. Check for seasoning.
Serve over steamed rice, sprinkled with parsley.
Servs 4