Food writer and restaurant critic Jill Dupleix has been contributing to the Australian food scene for several decades.
This is one of her recipes, slightly adapted. The original version uses a mixture of two tablespoons each of maple syrup, miso and soy sauce to brush onto the chicken before baking. It's quite a salty mixture and I found I had far too much, so when I made it the second time I used half. I also omitted the garnish of deep fried vermicelli noodles, which I don't think is necessary. Depending on the size of your prosciutto slices, you will need one or two per serving. You can get away without tying the bundles with kitchen string, but they're less likely to burst open if you do.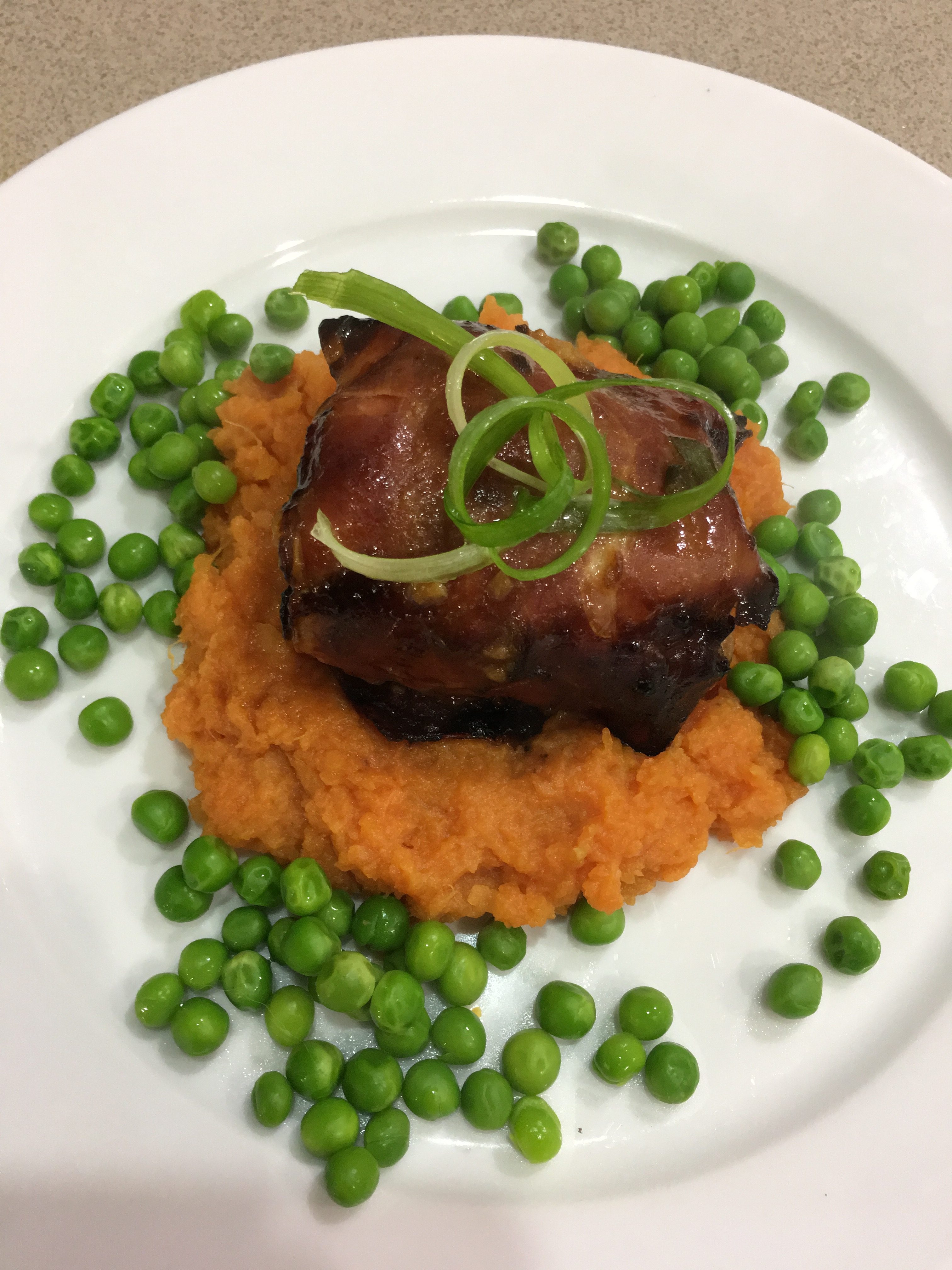 6 large chicken thighs, skinless and boneless
4 spring onions, all the white and most of the green
2 cloves garlic
2 Tbs olive oil
6 or 12 thin slices prosciutto (or rindless streaky bacon)
1 Tbs miso paste
1 Tbs soy sauce
1 Tbs maple syrup
To serve:
1 spring onion
Mashed sweet potatoes
A green vegetable such as peas or brussels sprouts
Trim chicken thighs of any excess fatty bits. Place chopped spring onions, garlic and oil in food processor and process until chunky-smooth. Place prosciutto on work surface, slightly overlapping if you're using two. Place a chicken thigh on top. Spread each one with some of the spring onion mixture, then roll up, placing the join underneath and tie with a piece of kitchen string. Place chicken rolls on a baking tray lined with baking paper. If liked, prepare ahead to this stage and leave in the fridge for up to a few hours.
Preheat oven to 180°C. Mix miso paste, soy sauce and maple syrup and brush over the rolls. Bake for 25-30 mins or until cooked through. They will take slightly longer if they've been in the fridge prior to cooking.
To make the garnish, cut spring onion into 4 cm lengths, then into very thin strips. Place these in a bowl of iced water so they curl. Serve each chicken roll on a nest of mashed sweet potatoes, either whoile or sliced, garnished with the spring onion curls and green peas.
Serves 6