This is another great recipe from Delicious magazine, with a few slight changes and variations. A perfect mid-week dinner, with some leftovers for sandwiches.
The original recipe uses 2 Tbs of Ras el Hanout – a Moroccan spice blend available in some specialist shops. But it's not difficult to make, so I have explained how to do this. Don't worry if you're missing one of the spices, just add something else.
In the salad the original recipe uses freekeh – an ancient, but now new and trendy grain. I used pearl barley instead. You could also substitute burghul (cracked wheat) or couscous. The second time I made this dish I served the chicken and onions on mashed sweet potato instead of the grain salad, which was also very tasty.
Costco sells two small punnets of fresh pomegranate seeds for about $10. Freeze them in ice cube trays, then you can whip a couple out to garnish dishes like this and add a splash of colour.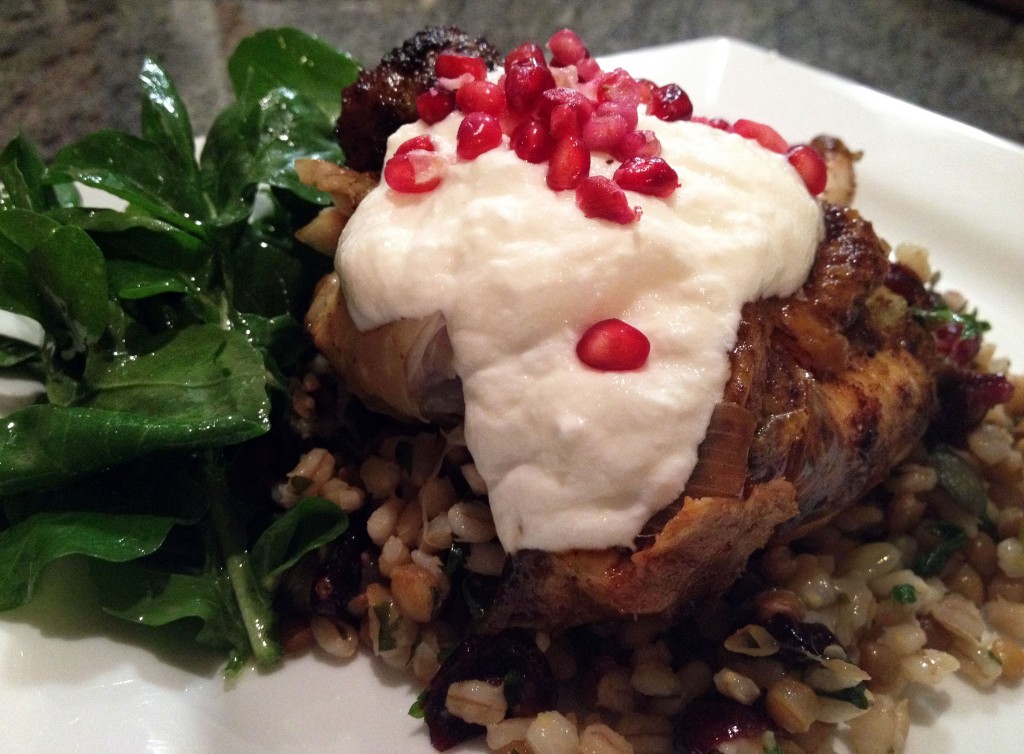 1.5kg whole chicken
2 Tbs Ras al Hanout (see below)
1 tsp salt and lots of freshly ground black pepper
2 Tbs olive oil
2-3 large onions, peeled and very thickly sliced
Grain salad:
1 cup barley
1 can lentils (or cook some dried lentils)
1/3 cup pine nuts
1/3 cup pumpkin or sunflower seeds, or a mix
2 Tbs capers, rinsed and drained
½ cup dried cranberries, raisins or sultanas
1 cup coriander leaves, finely chopped
1 cup flat parsley leaves, finely chopped
½ cup mint leaves, finely chopped
Dressing:
2-3 Tbs lemon juice
¼ cup olive oil
Salt and freshly ground black pepper to taste
To serve:
2 Tbs pomegranate molasses (see below)
Thick Greek-style plain yoghurt
Seeds from 1 pomegranate (optional)
Rocket salad
Pre-heat oven to 180°C. Rinse and pat chicken dry with paper towels. Mix Ras el Hanout with the salt, pepper and the 2 Tbs oil and brush all over the chicken, both sides and inside. Place onion slices in a roasting pan and sit chicken on top. Roast for between an hour and a quarter and an hour and a half, or until juices run clear when thickest part of chicken thigh is pierced with a skewer. After about 40 mins of cooking, turn chicken over and about 20 mins before it's ready, turn it back over again. When you turn the chicken, move the onions around a bit so they don't burn. Add about ¼ cup of water if they're starting to burn and stick.
Meanwhile cook barley in boiling salted water for about 30 mins or until al dente. When almost cooked add the drained lentils. When barley is cooked drain both and place in a bowl. Add remaining ingredients. Mix dressing ingredients and mix with grains.
When chicken is cooked brush all over with Pomegranate Molasses then cover loosely with foil, turn off the oven and leave it in there for 10-20 mins or until you are ready to serve. The chicken will continue to cook, resulting in meat that is almost falling off the bone, but we liked it that way.
Carve chicken into portions and serve with some of the onions on a bed of grain salad. Top with a dollop of yoghurt and some pomegranate seeds and serve a rocket salad, dressed simply with a little olive oil and lemon juice, on the side.
Serves 4-6
Notes:
Ras al Hanout: An Australian tablespoon = 20 mls and a teaspoon = 5 mls. So to make 2 Tbs of spice mix you need 8 tsp of ground spices. Mix together 1 tsp of each of the following: cumin, coriander, paprika, ginger, cardamom or fenugreek and turmeric. Then add ½ tsp each of cloves and nutmeg. And ½ to 1 tsp chilli powder, to taste. For kids you may prefer to leave the chilli out altogether.
Pomegranate Molasses: a sweet and sour sauce from Morocco available in some specialist shops. If you don't have any either leave it out, or substitute 1 Tbs Thai Sweet Chilli sauce or honey mixed with 1 Tbs balsamic vinegar.
Variations: instead of serving chicken on grain salad, serve it on mashed sweet potato or pumpkin (add butter, S and P).