These little savoury pastries are a great addition to lunch boxes, picnics and buffet lunches. They are also great to serve with drinks. Most kids love them and it's a good way to get them to eat some green veggies.
Once cooked and cooled, if not serving immediately, you can keep them in the fridge for a few days or freeze them. They will just need a few minutes in a hot oven or an air fryer to heat up.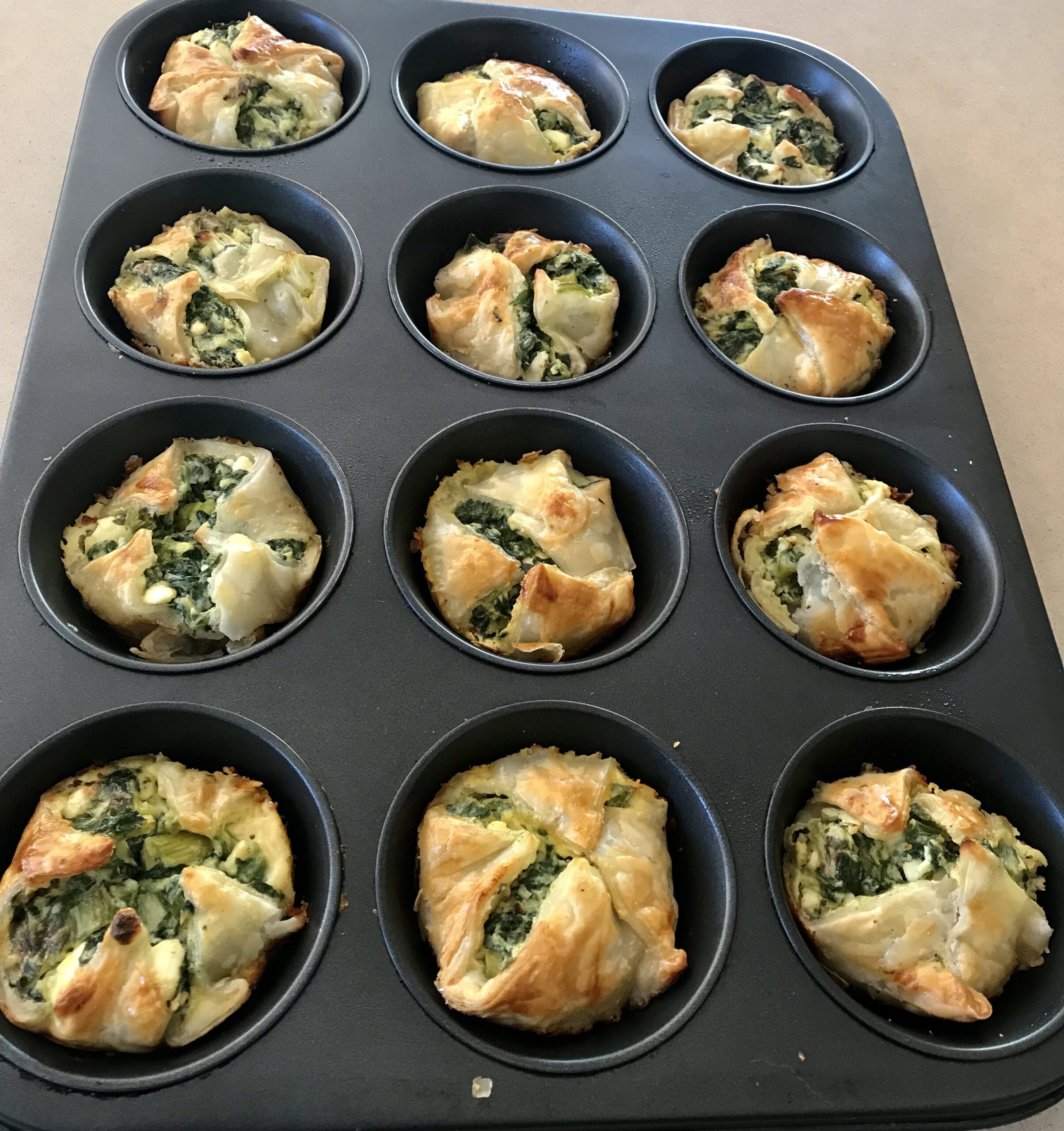 1-2 sheets bought puff pastry
Filling:
About 225g frozen chopped spinach, thawed (I used half a 450g pkt of spinach nuggets)
100g feta cheese, crumbled
¾ cup thinly sliced spring onions
2 cloves garlic, crushed
1 egg
1 Tbs olive oil
1 Tbs chopped fresh parsley
Salt and freshly ground black pepper, to taste
Extra:
1 beaten egg to brush
Preheat oven to 200°C. Squeeze any liquid from the spinach then mix it with remaining filling ingredients. Cut out 12 squares of puff pastry, approximately 8cm or 3 inches square. I got nine from one sheet of ready-rolled puff pastry.
Lightly but thoroughly (mine got a bit stuck) oil a 12 hole muffin pan and place a pastry square in each. Place a rounded tablespoonful of filling in each, then go back and use the rest to top them up. If you have too much you could use another muffin pan and make a couple more but I found the mixture made exactly 12.
Pull the four pastry points over the top of the filling and pinch lightly together. Brush with beaten egg, then bake for 20 minutes or until golden. Serve warm or at room temperature. Can be kept in the fridge for 2-3 days and reheated for a few minutes in a hot oven or frozen.
Makes 12