While in London for a weekend last month we caught up with some old friends over dinner at one of Yotam Ottolenghi's six restaurants. Tucked away in a narrow Georgian alleyway, Spitalfields is the largest of his restaurants and it's open for breakfast, lunch and dinner. Apart from the restaurant, there's a deli which sells salads, pastries and other delicacies for customers to take home.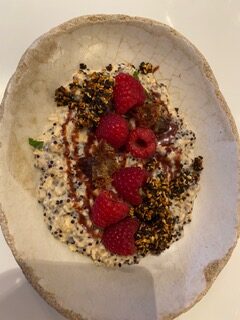 Plates at Spitalfields are designed to be shared. Many but not all are vegetarian. We enjoyed the meal so much we came back on our own next morning for breakfast. I had the Quinoa, Chia Seed and Cardamom Muesli with Raspberries, which was delicious and not too heavy after our feast the previous evening.
When we paid the bill we were given a card with this fried egg recipe from Ottolenghi's latest cook book Extra Good Things. I made it, it was delicious and here it is. Serve it for breakfast, brunch or as a light lunch or dinner.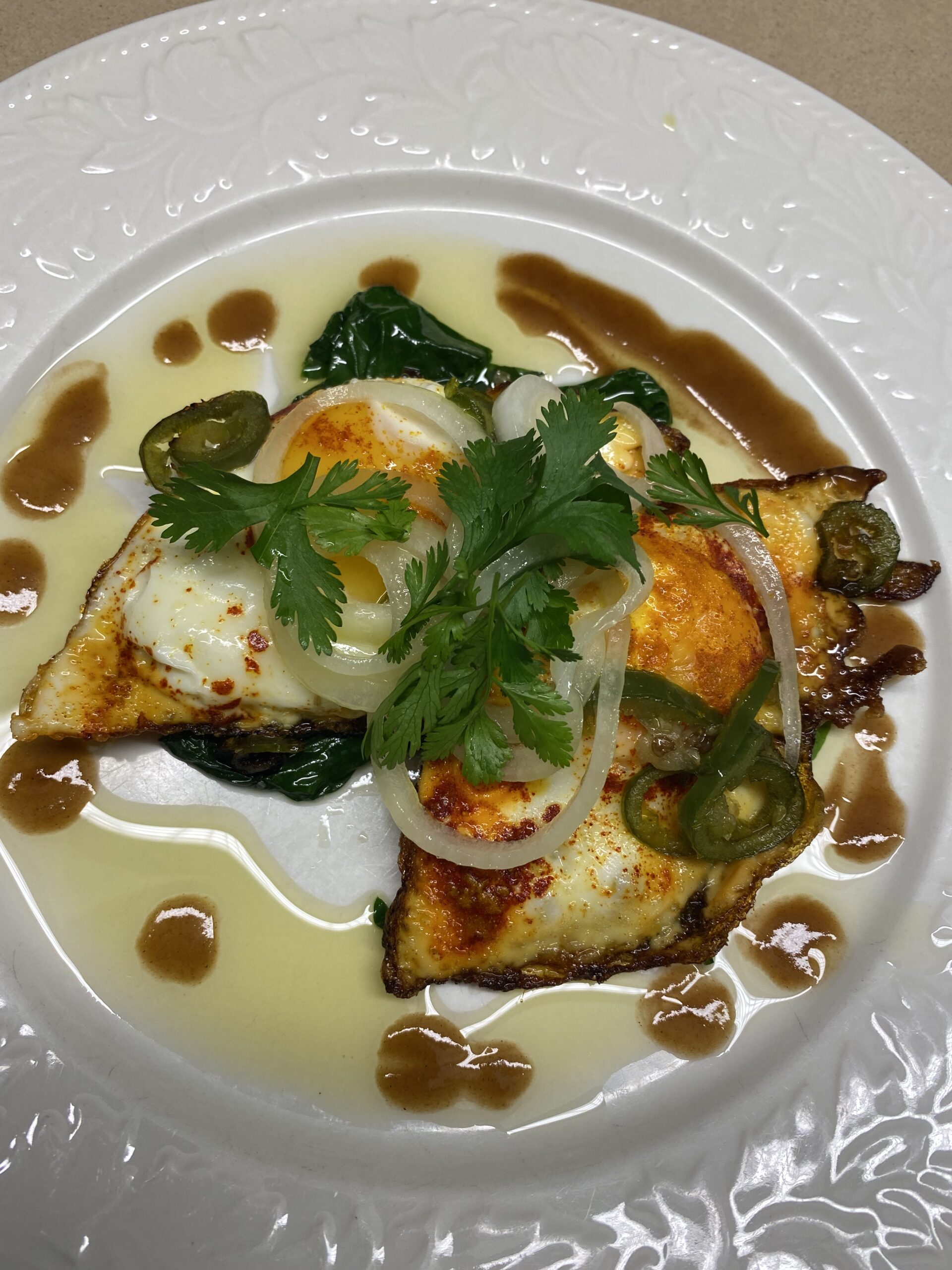 1 shallot or half a small onion, finely sliced into rounds
2 tsp lime juice
3½ Tbs olive oil
2 cloves garlic, crushed
200g baby spinach
½ tsp ground turmeric
4 large eggs
1 green chilli, finely sliced into rounds, seeds and all
salt
Fresh coriander
Tamarind Dressing:
2 Tbs tamarind paste
1 tsp fish sauce
1 Tbs lime juice
2 tsp brown sugar
Place the shallot or onion rings in a bowl with the lime juice and a pinch of salt. Mix well then leave to pickle. Place all ingredients for the dressing in a small jar with a lid and shake well. Add between half and 1 tablespoon of water and shake again, so it's not too thick.
Heat 1 Tbs olive oil in a large frying pan. Add the garlic and stir for a minute, then add the spinach, a good pinch of salt and stir fry for a couple of minutes, or until wilted. Remove to a warm plate and wipe out the pan.
Add remaining oil to the pan with the turmeric and stir to combine. Add the chilli slices and stir fry for a minute or so, then push them to one side. Break in the eggs, using a spatula to keep each one separate. Spoon the chillies and some of the oil on top of each egg, then season with salt. Cook the eggs  to a point where they are crispy underneath but the yolks are still soft. Don't turn them over.
Divide the spinach between two warmed serving plates. Top with two eggs each, the chillies, a few onion rings and any oil left in the frying pan. Drizzle with some of the tamarind dressing and garnish with coriander.
You will have some onions and dressing left over – use on roast potatoes or grilled steak.
Serve with warm flatbread, pita bread or naan to mop up the juices.
Serves 2