The Parlour Wine Room in New Acton Canberra has a great lunch menu at the moment where you can choose a main course from a selection of about half a dozen options for just $16, including a glass of wine or beer. I chose Spanish Eggs and it really hit the spot. The servings were quite large – I think there were 3 or 4 eggs per serve – so I have cut back a bit in my version. If you're hungry this recipe will serve two rather than four.
Jamon is the Spanish word for ham and usually refers to dry-cured hams. Substitute Italian prosciutto or German black forest ham. I used the latter from Aldi.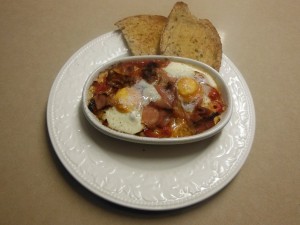 1 large onion, peeled, halved and sliced
4 red capsicums, seeds removed and sliced into strips
¼ cup olive oil
Salt, pepper and a pinch of sugar
8 eggs
8 slices Spanish jamon (prosciutto or black forest ham)
4 slices sourdough bread, toasted and buttered
Maldon sea salt and freshly ground black pepper
Heat oil in a frying pan and add the onions. Fry gently until softened then add the capsicum strips. Continue to fry gently for 15-20 minutes, stirring often. Add half a cup of water and continue to cook until the liquid has evaporated and the mixture is soft. Can be pepared to this stage and kept in the fridge until needed.
Preheat oven to 180ºC. Divide onion and capsicum among four individual oven-proof shallow dishes. Break two eggs into each dish and top with the ham, cut with scissors into pieces about 2-3 cm long.
Bake for about 8 minutes, or until eggs are set and ham is crispy. Season with salt and pepper. For a low carb meal skip the toast!
Serve with buttered sourdough toast on the side.
Serves 4