This colourful salad is perfect for late summer entertaining, when tomatoes are at their best and you may have some in the garden.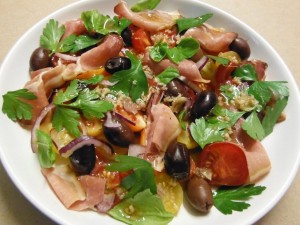 250g baby tomatoes (preferably some red, some yellow)
4 slices Spanish Jamon or Prosciutto
About 16 black olives, stoned if preferred
½ red onion, thinly sliced
Basil and flat leaf parsley to garnish
Dressing:
1 Tbs sherry or red wine vinegar
2 Tbs Extra Virgin Olive Oil
1 small clove garlic, crushed
Salt and freshly ground black pepper to taste
Halve tomatoes and arrange on one shallow serving dish or 2 individual plates.
Cut jamon slices into about 4 pieces and arrange in between the tomatoes. Scatter with the olives and onion. Shake dressing ingredients in a jar and drizzle over. Garnish with the torn basil and parsley leaves and serve with crusty bread.
Serves 2 as a starter or 4 as a side dish
Variation: add some cubes of Spanish manchego cheese. Or feta or goat's cheese.