Caprese Salad is a very simple dish consisting of sliced tomatoes and fresh buffalo mozarella with fresh basil, olive oil and seasonings. It's one of the best ways to enjoy perfect tomatoes in summer. In the photo I used Farmhouse-style cottage cheese from Costco instead of mozarella. But you could substitute any soft, mild-flavoured, sliceable cheese such as "queso fresco" (widely available in South America), goat's cheese or a creamy feta. It won't be an authentic Caprese Salad without the mozarella, but it will still taste good.
Drizzle with your best extra-virgin olive oil, then season with crunchy Maldon-style sea salt and freshly ground black pepper. A little balsamic vinegar or balsamic glaze (which is thicker) is a good addition. A loaf of fresh bread – preferably Italian – a bottle of wine and lunch is ready.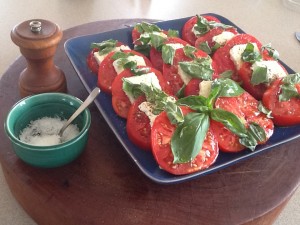 1 kg vine-ripened tomatoes
About 250g fresh buffalo mozarella (or substitute – see above)
Fresh basil
Extra-virgin olive oil
Maldon style salt flakes
Freshly ground black pepper
Balsamic vinegar or glaze (optional)
Cut tomatoes horizontally into thick slices, discarding both ends. Slice cheese. Arrange tomatoes and cheese on a shallow serving dish, as shown in photo. Sprinkle with torn up basil leaves, drizzle with oil and season with salt and pepper. Drizzle with some balsamic vinegar or glaze, or let people add this if they like at the table. Serve with crusty bread.
Serves 4