According to Wikipedia, Aleppo pepper is a variety of capsicum used as a spice, particularly in Turkish, Middle Eastern and Mediterranean cuisines. Also known as Halaby pepper, its pods are ripened, semi-dried, de-seeded and crushed.
I've been seeing quite a few recipes which call for this spice and realised it was one which, believe it or not, I didn't have in my collection. It's not sold in Australia in your average supermarket selection, but I found it at The Essential Ingredient.
If you look at images online you will see that Aleppo Pepper varies in colour from bright red through to a dark brownish red. I suggest you buy a bright red one, as the colour is a big part of the appeal of this spice. The flavour is somewhere between a spicy, tangy pepper and a very subtle chilli.
This recipe can be halved or doubled. If preferred, you can use chicken breasts or bone-in pieces, such as wings or drumsticks, instead of boned thighs, adjusting the cooking time accordingly. I prefer to use thighs as chicken breasts tend to be a bit dry.
This recipe is easy and absolutely delicious, with a subtle pepperiness and a very attractive colour. You will want to make it again. Perfect for a weekend BBQ, but it can also be cooked in the oven.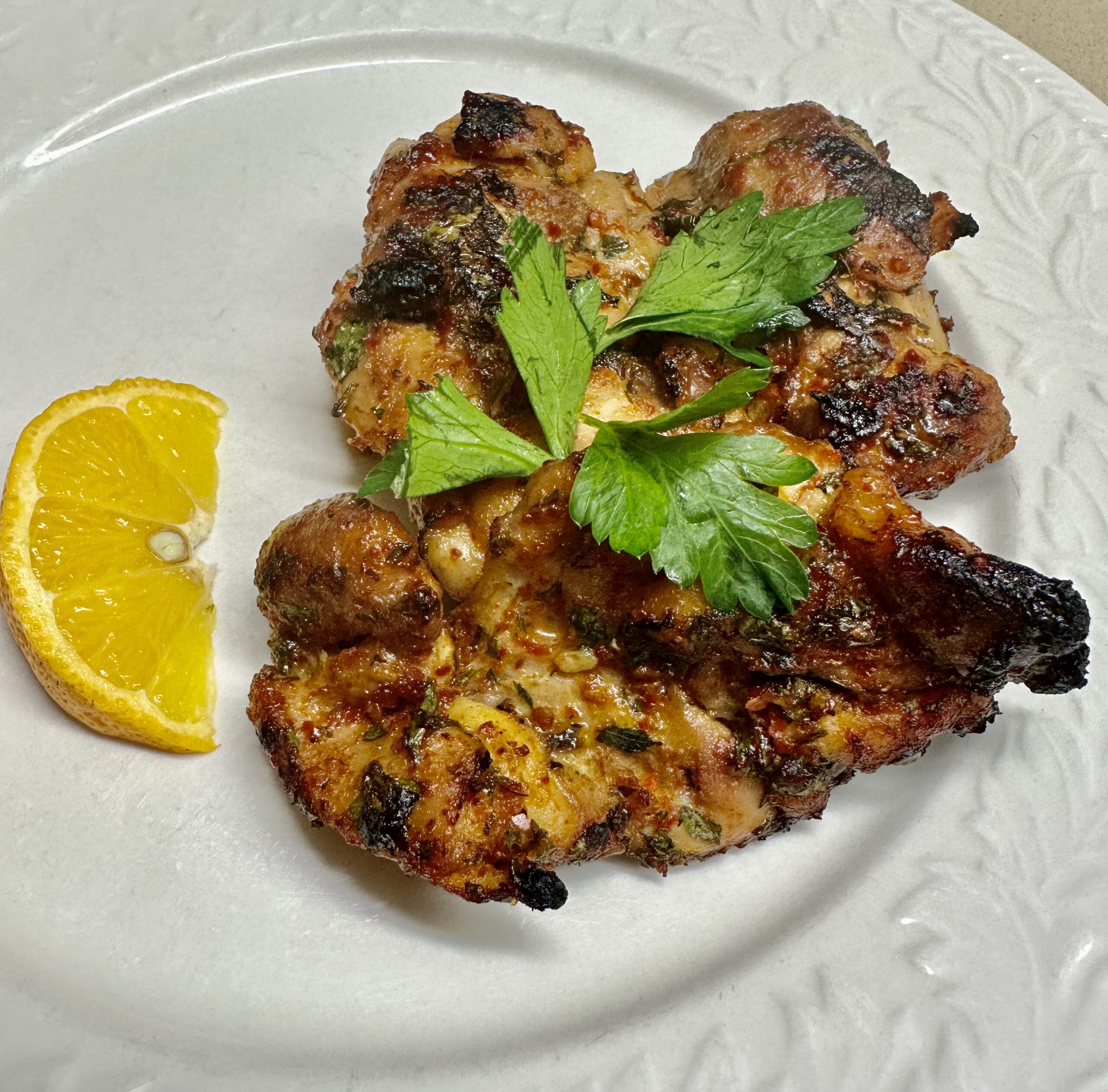 1 kg boneless, skinless chicken thighs
Juice of 1 lemon or 2 limes
2 Tbs Aleppo pepper
2 Tbs olive oil
Salt to taste
2 cloves garlic, crushed
1 Tbs honey
2 Tbs finely chopped parsley
To serve:
Lime wedges
Trim chicken pieces of any excess fat. Place in bowl with remaining ingredients. Mix well, then leave to marinate for at least half an hour or overnight if that suits you.
Cook the drained chicken in a preheated oven 200°C for 20-30 minutes or on a BBQ – preferably a charcoal grill. If cooking in the oven, cook in a single layer and you may want to line the baking sheet with baking paper which comes up the sides a bit, to make the washing up easier. Burnt honey is always a pain to clean!
Garnish with lime wedges to serve.
Serves 6-8