For Valentine's Day we had a fantastic dinner at a new restaurant in Canberra called Soju Girl.  In fact it was so good that we've booked to go again with 3 other couples so we can have the banquet, which they only do for a minimum of eight.
Inspired by the presentation of one of their dishes I came up with this recipe which makes a delicious starter or canapé.
Prawn Pancakes with Green Shallot Dressing
Pancake batter:
2 eggs
4 heaped Tbs plain flour
2 Tbs vegetable oil
pinch of salt
1 cup milk
½ cup water
Filling:
500g peeled cooked prawns
½ cup mayonnaise (preferably home-made)
Juice and grated rind of 1 lime or half a lemon
Salt and pepper to taste
1 Tbs snipped chives
Green Shallot Dressing:
½ cup vegetable oil
2-3 green shallots (spring onions), green part only
Salt and freshly ground black pepper to taste
pinch sugar
lemon juice or white vinegar to taste
To serve:
Extra chives
Some salmon roe (not shown in photo) would look nice too
Place all ingredients for pancakes in food processor and process until smooth, stopping to scrape down the sides.  Add a little more water if necessary to make a thin batter which coats the back of a spoon.  Heat a small non-stick omelette pan and use about 3 Tbs batter to make thin pancakes, stacking them in a pile as you make them.  You won't need to oil the pan as the batter contains oil.  Pancakes should be light golden and will take only 30 seconds or so to cook on each side.
Place prawns in food processor and blitz until chunky.  Tip into a bowl and add remaining ingredients.  Lay pancakes out on the bench top and use about 3 heaped tablespoons of filling for each pancake.  Place the filling in a fat sausage shape along one side, then roll up tightly.  Place on a plate, cover with plastic wrap and refrigerate until serving time.  You may run out of filling and have pancakes left which can be used for something else.
Place dressing ingredients in food processor and blitz until chunky-smooth.  Place in a bottle with a squirty top if you have one.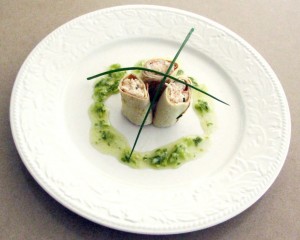 To serve, cut the ragged ends off each pancake then slice evenly into three.  Arrange three little chimneys on each serving plate and surround with some of the dressing.  If liked, garnish with extra chives as shown in the photo.
To serve as finger food with drinks, cut the pancakes into thinner slices, arrange on a platter and serve the sauce in a separate dish so people can dunk them in.
Makes about 8 pancakes
Variations:
to bulk up the filling and make it go further you could add a diced firm avocado and perhaps a touch of finely chopped fresh red chilli.
use crab meat instead of prawns
add some Asian flavours to the prawn/mayo mix such as grated ginger, chilli, Fish Sauce