Everyone is short of time.  So while I love to cook, I'm always looking for ways to produce delicious food in record time.  This ice cream recipe, which can be adapted and varied with different berries, is a real winner.  Whip it up a couple of hours before dinner and by the time you reach dessert time it will have firmed up enough to scoop.  You can use fresh raspberries instead of frozen, but the advantage of frozen berries is that it turns the rest of the ingredients into instant ice cream.  I have put 500-600g of raspberries so you know that if your supermarket sells them in half kilo bags you don't need to buy two!
Quick Raspberry Ice Cream with Raspberry Compote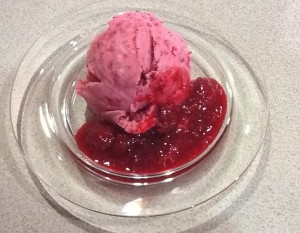 Ice Cream:
500-600g frozen raspberries
600ml thick Greek-style yoghurt
300ml cream
1 cup icing sugar, or to taste
Raspberry Compote: 
2-3 cups frozen raspberries
¼ cup sugar, or to taste
Place all ingredients for ice cream in food processor and process until mixed. Leave it a bit chunky with some bits of raspberries still visible. Place in freezer for an hour or two or until firm enough to scoop into balls with an ice cream scoop dipped into hot water.  If left in the freezer for longer you will need to remove it about 10 mins before serving so it's not rock hard.  For the compote, mix raspberries with sugar and leave to thaw, stirring from time to time.  Serve chunky or if preferred, push through a sieve and serve as coulis.
Makes about 1.5 litres of ice cream