Last weekend we had lunch at The Old Cheese Factory at Reidsdale.  There was a cool wind, but we sat outside because we had two dogs with us.  Matthew had a nice time talking to the owners Robert and his son Gary about growing apples, asparagus and other gardening stuff. They make their own cider, ginger beer, apple juice, elderberry wine, elderflower sparkling wine and other beverages.  We tasted most of the above and found them all delicious.  The cider is dry, just the way I like it. The Old Cheese Factory serves simple lunches at weekends (best to book) and they also run bread-making, cheese-making and sausage-making classes taught by local artisans from Braidwood.
Matthew and I had the Ploughman's lunch with a glass of apple cider.  Catherine more sensibly chose a hot dish, described as a beef and eggplant pie with red wine and polenta and a glass of apple juice.  She said the pie was delicious – a variation on a shepherd's pie.  I decided to make something similar using mushrooms instead of eggplants and the result made a tasty family meal.
Beef and Polenta Pies
Beef filling:
1 Tbs olive oil
1 large onion, chopped
2 cloves garlic, crushed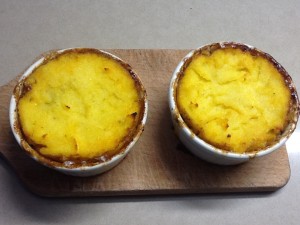 250g mushrooms
500g lean minced beef
1 Tbs tomato paste
1 tsp sugar
1/4 cup sherry or red wine
1 beef stock cube
2 tsp dried mixed herbs or oregano
1 tsp ground cumin
1 cup water
Extra half cup of water mixed with 3 tsp cornflour
salt and freshly ground pepper to taste
Polenta topping:
2 cups milk
1 cup water
3/4 tsp salt or garlic salt
1 cup instant polenta
1/4 cup grated Parmesan cheese
2 Tbs butter
1 egg, beaten
1/4 cup grated Parmesan, extra
Heat oil in a large frying pan.  Cook onion and garlic over a moderate heat until softened but not browned.  Wipe mushrooms and cut in halves or chunky slices – you don't want them to get lost in the filling.  Add to the pan with the mince and keep stirring for about 5 minutes or until the meat has browned a bit.  Add remaining ingredients except cornflour mixture and simmer for 15-20 minutes or until meat is tender.  Add cornflour mixture and stir till thickened.  Adjust seasoning – you may not need any salt if stock cube is salty.  Spray six 1 cup souffle or ramekin dishes with oil and divide filling among them.
Bring milk, water and salt to the boil in a medium saucepan.  Add polenta and stir constantly for 3-5 mins until polenta thickens and pulls away from sides of pan.  Add parmesan, butter and egg and remove from heat.
Preheat oven to 180°C. Place 2-3 Tbs of polenta on top of meat filling – whatever fits – and spread with a knife to cover completely.  You will probably have some polenta left over.  Sprinkle with extra cheese.  Place pies on a baking tray and bake for about 25 mins or until golden brown. Serve immediately with a salad or green vegetable.
Note: Unbaked pies can be stored in the fridge, loosely covered, for a day or so. For larger appetites make in four larger dishes, or if preferred use one large dish.
Serves 4-6