These delicious tartlets make a perfect lunch in summer – combining all the flavours of the Mediterranean in one easy and adaptable dish.  The layers can be prepared the day before and assembled just before serving.  Vegetarians who don't eat fish can omit the prawns.  If you can't find yellow capsicum use all red ones.
Three sheets ready-rolled puff pastry squares (25x25cm)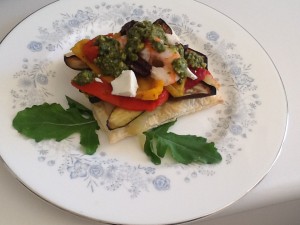 100g feta cheese, crumbled
400g peeled cooked prawns, tails left on (optional)
½ cup black olives, pitted and halved
½ cup semi-dried tomatoes, chopped (optional)
Onion Marmalade:
3 large onions, finely chopped
2 Tbs butter
2 Tbs olive oil
1 Tbs white balsamic or white wine vinegar
2 tsp sugar
Grilled Vegetables:
4 small eggplants (the long thin ones)
4-6 zucchini (courgettes)
2 red capsicum (peppers)
2 yellow capsicum (peppers)
olive oil spray
Pesto:
2 Tbs pine nuts, lightly toasted
1 clove garlic, crushed
3 Tbs grated Parmesan
1 cup basil leaves
4-5 Tbs olive oil
Preheat oven to 200°C.  Cut each pastry square into four smaller squares, approx 12.5 x 12.5cm.  Place on baking sheets lined with baking paper, prick with a fork then bake for about 15 mins or until golden brown.  Cool and store in a container with a lid.  If you can't find ready-rolled pastry use block puff pastry and roll it out yourself.
In a large frying pan cook onions with butter and oil over a medium to low heat for about 40 minutes, stirring often, until soft and golden.  Don't let them brown.  Towards the end of the cooking time add vinegar and sugar.  Store covered in the fridge.
Wash and dry eggplants and zucchini and slice lengthwise about half a centimetre thick.  Spray both sides with oil then pan fry, grill or cook on a griddle until lightly browned and tender.  Place peppers on an oven tray and cook under a hot grill, turning once, until somewhat blackened and blistered.  Remove, cover loosely with foil and when cool enough to handle remove skins, seeds and membranes and cut into 4 – 5 lengthwise strips.  Store vegetables, covered, in fridge.
Place all ingredients for pesto in food processor.  Process to a puree, stopping to scrape down halfway through and store in a container in the fridge.
To serve, place pastry squares on individual serving plates.  Spread with onion marmalade, then top with some grilled eggplant, zucchini and peppers.  Arrange a few prawns on top, then crumbled feta, olives and semi-dried tomatoes.  Thin down pesto with some extra olive oil, then drizzle over the tarts.  Serve with a rocket salad.
Serves 12