This recipe came from iamafoodblog.com and was recommended by son David. Eggplants are one of our favourite vegetables so I immediately added two eggplants to my shopping list. The rest of the ingredients are ones I have in the pantry.
David added the final drizzle of tahini and described the dish as "num nums" which, according to the Slang Dictionary, is Australian slang for tasty food. It has always been a favourite adjective in our family when we're talking about food, which we do quite a lot.
Miso paste is sold in Asian shops and some supermarkets. It keeps in the fridge for quite a while and is useful in Japanese-style marinades, adding both flavour and texture. Try spreading a little on salmon fillets before you cook them.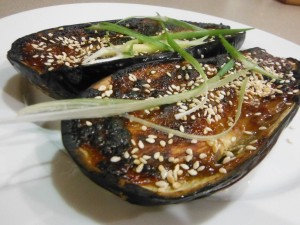 2 eggplants (aubergines)
1-2 tsp sesame oil
1 Tbs mirin or rice wine vinegar
1 Tbs sake or dry sherry
2 Tbs sugar
2 Tbs Shiro miso (white miso paste)
To serve:
Toasted sesame seeds
Spring onions, thinly sliced lengthwise
Tahini paste (optional)
Preheat oven to 200°C. Line a baking tray with baking paper. Cut eggplants in half lengthwise and brush cut sides with sesame oil. Place cut sides down on the baking paper and bake for 15-20 mins or until quite soft when squeezed. Time will vary according to size of eggplants.
Meanwhile place mirin or rice wine vinegar and sake or sherry in a small saucepan. Turn on the heat and add the sugar and miso paste, stirring to combine. Simmer for a few mins then turn off.
When eggplants are done remove from the oven and switch on the grill. Divide miso mixture between the cut surfaces of the eggplants then grill for 1-2 mins or until caramelised. Be careful they don't burn.
Serve garnished with toasted sesame seeds, spring onions and a drizzle of well-stirred tahini paste.
Serves 2-4