This quick and easy side dish is originally from Nigella Lawson. I've made it several times and adjusted it slightly by adding a touch of honey, which I think is an improvement. If preferred just leave it out.
It goes particularly well with lamb and is a perfect addition to a summer barbecue. It also makes a tasty lunch with the addition of crumbled goat's cheese or feta and crusty bread to mop up the juices.
Recipes using eggplants usually require you to salt, drain, rinse and dry them. This process is said to draw out the bitterness, but to be honest I'm not convinced it makes much difference. You will be relieved to hear that you don't need to do it in this recipe. As you can see in the photo, the eggplants I used weren't really tiny ones, but they weren't massive either. Use whatever you can find. If you leave the onions to pickle for longer, before adding the oil, they get softer. Any leftovers are very tasty.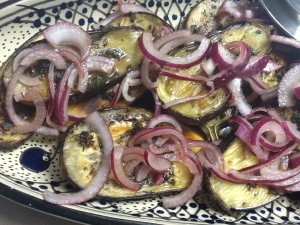 500-700g small/baby eggplants (aubergines)
3 Tbs olive oil
3 Tbs chopped fresh oregano or marjoram (or 3 tsp dried)
Salt
1-2 red onions, depending on size, halved and thinly sliced
3 Tbs red wine vinegar
½ tsp salt
¼ cup water
3 Tbs extra virgin olive oil
2 tsp honey
1 clove garlic, finely chopped
Freshly ground black pepper
Fresh oregano or marjoram, chopped, to garnish
Preheat oven to 200º C. Slice eggplants in half lengthwise. Keeping the stalks on makes the dish look more rustic. Place the regular olive oil in a shallow roasting pan and mix in the fresh or dried herbs. Rub the cut side of each eggplant in the oily mixture to coat it, then arrange them cut side up in the pan. Season with salt then bake for 15-25 minutes or until tender and starting to turn golden brown. Cooking time will depend on the size of the eggplants.
Meanwhile mix onion with vinegar, salt and water and set aside to macerate for an hour or more, mixing from time to time. Recipe can be made several hours ahead to this point.
To serve, arrange eggplants on a serving platter. Add the extra virgin olive oil, the garlic, honey and pepper to any juices left in the baking pan. Drain the onions, discarding liquid and add them to the pan and mix well. Distribute onions over the eggplants and sprinkle the fresh herbs over the top. Serve at room temperature.
Serves 4-6
Notes: substitute other fresh herbs in season such as coriander or basil. If liked, crumble some goat's cheese or feta over the top to make the dish more filling.